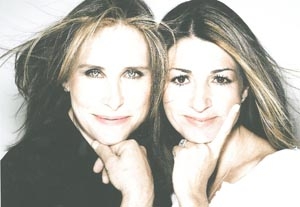 Ten years ago, casting directors Brooke Thomas and Mary Egan Callahan realized they were soul mates—at least when it came to commercial acting. The two joined forces to teach a class in on-camera commercial technique, placed an ad in Back Stage, and have been advising students in the art of acting in advertisements ever since.
"You have to have a certain confidence in being yourself in front of the camera rather than taking on a character, as you do in the theater and film." Thomas explains. "It is the ability to truly relax and have confidence in being yourself that makes for a good commercial actor."
In their three-part intensives, held monthly, students learn about on-camera auditioning and working with cue cards and commercial copy, as Thomas and Callahan, casting directors at House Production and Casting, stress the differences between commercial, stage, and film acting. That may sound straightforward enough on paper, but in practice Thomas has noticed that something as simple as listening (or not) can derail an actor.
"So many times, actors come in to audition and they're so nervous or excited that they completely miss any direction that is given to them," she says. "Pay attention and get a sense of the copy, consider the brand, watch the temperament of the casting director, and listen to his or her direction and suggestions."
Actor Kamal Jones says Thomas and Callahan's workshop gave him a greater understanding of the commercial craft: "Before I took the class, I didn't know how to apply my training as an actor to the commercial world. I believed in the misconception that commercial acting is all about [being] fake and exaggerating. Brooke and Mary make the commercial world sync with the acting world by highlighting the important parts of an audition: Who are you talking to? What is your relationship with that person? Is it creating the right behavior for the product? This is the language I speak from my training as an actor, and I would never again look at commercial work as being fake."
Brooke Thomas and Mary Egan Callahan, c/o Rourke Media Group, 51 MacDougal St., Suite 149, New York; www.brookeandmary.com
Runners-Up:
- Jagger Kaye,
www.castingsnclasses.com
- Barry Shapiro, Actors Connection, (212) 977-6666;
www.hermanandlipson.com/classes
- Tisha Loli, Actors Connection, (212) 977-6666