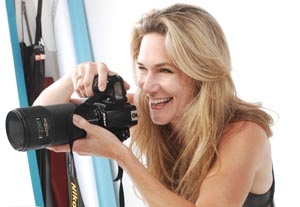 Cathryn Farnsworth
Formerly an actor, photographer Cathryn Farnsworth recalls having her headshots taken after coming to L.A. from Colorado: "The first shoot I did was $1,200—that was with the photographer and makeup artist—and they didn't talk to me, really. It was all about their connection. It was just about them. And I felt when I got the shots, they were technically right, but they weren't me. Not only was the hair and makeup not me, it was not a way I would have promoted myself. I was basically unhappy with the photos."
That experience has shaped Farnsworth's approach to her headshot business, emphasizing the building of a personal connection with each client and creating a relaxed atmosphere so his or her true personality shines through.
Farnsworth, an 11-year veteran of the headshot business, has worked out of a studio before but now prefers doing shoots at her Toluca Lake home. She believes the informal atmosphere, combined with her insight as a former actor, helps get clients in the right frame of mind for their shoots. "I do it in a very fun, safe environment. We listen to music; it's a very relaxing space," she says.
"When I first started shooting, people would come to me and be like, 'Ugh, I have bags under my eyes because I didn't sleep all night, I was so nervous.' And I was like 'Wait, why are you nervous?' " Farnsworth says. "And I realized, they're coming off a different experience with headshot shoots. They don't realize that this is something so fun, so creative, and so relaxing, that there's zero reason to be nervous."
Cathryn Farnsworth Photography, Toluca Lake, (818) 481-5551,
www.cathrynfarnsworthheadshots.com
Runners-Up:
Caroline White, (917) 592-8685,
www.carolinewhitephotography.com
Greg Crowder, (323) 938-2727,
www.gregcrowderphotography.com
Simon Gluckman, (323) 822-0246,
www.simongluckman.com