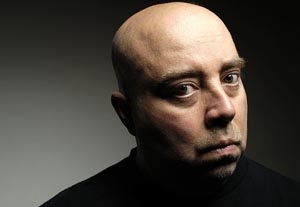 Back Stage readers appreciate David H. Lawrence XVII's acumen and his ability to give students their money's worth. "[He] understands the industry better than anyone," says actor Erica Hanrahan. "When you finish his intensive, you leave with a mini–demo reel." And, she adds, he's more affordable than other voice/voiceover instructors. Stephanie Clayton puts it succinctly: "Great ear for what works best."
Since his second Readers' Choice win last year, Lawrence has added a new offering to his roster of voice-oriented classes. It's called "Alone and Afraid in the Dark: The Art of Self-Direction." The syllabus covers what Lawrence calls "the sea change that's occurred in how voice talent get auditions and how they reply to auditions."
When he started out as talent in the business, Lawrence would spend hours each workday traveling to his agent's office or to casting directors' offices for voice auditions. Now most such auditions are recorded from actors' homes. "But what that leaves us with as voice talent is the sort of de facto requirement to be able to direct ourselves," Lawrence says. "That's not usually a skill that somebody gets taught."
For on-camera work, he points out, a director or producer is customarily at hand to provide adjustments for the actor. But voice performers in today's tech-rattled world are frequently left high and dry. That's the issue Lawrence's new class addresses.
In last year's Readers' Choice interview, Lawrence talked about the importance of voice talent finding their "signature voice." This year, he elaborated on that theme, noting that some actors have the same essential voice whether they're on camera or off. "Unless he's asked to do something really sonorous, when you talk with Morgan Freeman, he sort of talks the same way he does when he does commercials," Lawrence points out.
What he finds especially exciting is helping a commercial actor take his or her natural, signature voice and create range-expanding adjustments. He notes, however, that agents and managers sometimes want a "Swiss Army knife" demo: one that will "cover all the bases." That practice, he believes, is like having a single headshot for all marketing purposes. So, he suggests, "What you want to do is expand your portfolio of demos so that your signature voice rings true in different categories of voice work: commercials, narration, audio books, and so on."
David H. Lawrence XVII, (818) 326-7700, www.davids.com
Runners-Up:
- MJ Lallo, Mj Productions, (818) 749-5255,
www.creatingvoices.com
- Cathy & Harvey Kalmenson, Kalmenson & Kalmenson, (818) 377-3600,
www.kalmenson.com
- Tony Gonzales, (818) 269-5078,
www.kidsvo.com