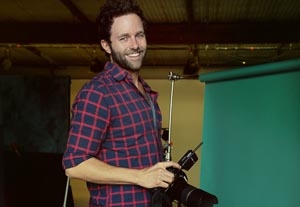 Much has changed for David Muller since he won last year's Readers' Choice Award for favorite headshot photographer (session under $400). The repeat champ says the exposure in Back Stage significantly raised his profile in the headshot business, and he moved out of his former studio and began working out of a 3,000-square-foot sound stage he purchased in January. The facility came with a complement of lighting equipment and other production gear, and it "allows me to get a little more creative with my headshots," Muller says. "It's definitely opened me up as a photographer."
A former actor, Muller places a premium on putting his clients at ease. "I try to develop a rapport with the actor and encourage them to be themselves. I try to just make conversation with them, and sometimes I even shoot while we are talking because at that point they're not worried about 'How am I looking?' And in the meantime, I'm getting some shots that are more on the candid side of things. And I think that's the best way to really capture the actual person's personality."
But Muller says his top priority is helping actors land work. "When I was strictly an actor and I would go in for headshots, I was just interested in me liking them and looking good in the photos," Muller says. "At one point a few years ago when I was still doing both photography and acting, my agent wanted me to get new headshots. So I went to a headshot photographer and that was the first time I had a different experience, because I think I had learned from shooting other people's headshots that it's less about you personally liking them and more about getting the specific character you want to get so you can get work."
David Muller Photography, 905 N. Cole Ave., Hollywood, CA 90038; (323) 463-1134;
www.davidmullerphotography.com
Runners-Up:
- Caroline White, (917) 592-8685,
www.carolinewhitephotography.com
- Greg Crowder, (323) 938-2727,
www.gregcrowderphotography.com
- Simon Gluckman, (323) 822-0246,
www.simongluckman.com