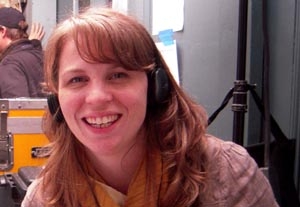 Vocal and dialect coach Kohli Calhoun amused herself as a child by speaking in silly accents and became interested in dialects while studying at New York University. Over the course of her career, she has worked on film, television, and theater projects. She currently teaches voice, speech, and dialects in her alma mater's drama department and serves as a dialect coach at the Stella Adler Studio of Acting.
"I do my best to attempt to not impose what I think is the right answer," Calhoun says. "It's a journey where we're going to see where we need to go together." She adds, "I like to take a much more individual approach, and a big part of what I do is empowering my students."
"She is able to bring her personality into the work," says actor Benjamin Campbell, who studied with Calhoun for about two years. "She makes you feel comfortable about putting your whole self into your work, because she puts her whole self into her teaching."
Calhoun especially enjoys working with non-American actors. "I love helping them sound as perfectly American as possible," she says, "because it's an accent that I know and it can get them far if they master it."
According to Irish actor Saoirse Ronan, star of the film "Hanna," "The great thing about working with Kohli is that even when you're at the end of a long day's work and you're really tired, she has this amazing energy! Having people like that on set is so important. We worked together every day for about two months, and she has become a great friend of mine. We played the uke, we played Uno, and she made me sound good—what more could an actor ask for?"
Calhoun offers this piece of advice to actors trying to learn an accent: "You need to realize that at first it's probably not going to be so good, but every single moment that you work at it, it's going to get easier and better. When I'm working on a new accent myself, it's kind of horrible, but over time it gets better…. We can all do it."
Kohli Calhoun, Stella Adler Studio of Acting, 31 W. 27th St., 3rd floor, New York; (212) 689-0087; www.kohlicalhoun.com

Calhoun was the Readers' Choice winner in this category in 2010.
Runners-Up:
Page Clements, (212) 741-0209,
www.tschreiber.org
Amy Stoller, (917) 319-7448,
www.stollersystem.com
Nancy Mayans,
www.nancymayans.com