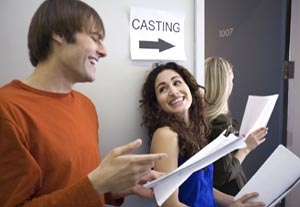 Here are the 2010 Los Angeles Reader's Choice results for categories dealing with casting directors.  To look at all of the categories, be sure to visit the main page.
Favorite Casting Director Workshop:  Talent to Go
Six years ago, accomplished actors Patricia Tallman and Judy Kain found that work had slowed for each of them. They decided it was time to create a casting director workshop that would help experienced actors further their careers in a way that showcased the actors' strengths.
"When I get a piece of copy, I get coached and I'm familiar with that copy," says Kain. "We were not going to do one of those cold-reading workshops—not that there's anything wrong with them—but we wanted to do something where the actor could really put their best foot forward. Where it was advantageous for the actor. Where they could really show what they do best, so that the casting director can do what they do best, which is see talent. I wanted to create something that would be good for the actors and good for the casting directors."
So the pair formed Talent to Go. The enterprise uses a one-hour format in which actors meet with a casting person one-on-one and do a prepared scene that has been coached by Kain and/or Tallman. "That way they are going in absolutely at the top of their game," says Kain. "The CDs are able to give feedback specific to that actor, and any questions that the actor asks the CD are specific to themselves. The nerves are high, but once you do a couple, it allows you to go into an audition later on and feel like you know what you're doing. You feel like you have that muscle worked out."
Actor Leslie Simms loves the one-on-one aspect of Talent to Go's workshops. "You get five to 10 minutes with the casting director to do your scene and ask questions," says Simms. "It's not like other workshops where you're performing in front of a bunch of people and the casting person can just shuffle you off. With these workshops, they pay attention. I've been called back three times by one casting director I met there."
Regarding the Krekorian Talent Scam Prevention Act (for more info, go to www.backstage.com/bso/news-and-features-news/but-what-about-the-kids-1004043702.story), Kain says Talent to Go is bonded and complies with the law. Unfortunately, she notes, actors are not allowed under the law to give casting directors their headshots at the workshops. "A headshot is an actor's business card," Kain says. "It's what we have. Any other business is free and clear to leave their business card wherever they go. The CDs do take notes about the actors, but that's like a realtor leaving a notepad on your doorstep. A headshot is a marketing tool that the actor has, and now we can't use it. I hope that changes."
Talent to Go,
www.talenttogo.net
RUNNERS-UP:
Act Now!,
www.actnownetwork.com
"Tops!" — Eric Harrison
"They Rock!" — Hilary Pringle
ActorsWest,
www.actorswest.com
"Mike is so professional and brings in the best guests!" — Mark Dietz
"Nice people, low-key vibe, un-stressful, quality directors" — Scott Dewey
The Actor's Key,
www.actorskey.com
"Efficient online system, sides in advance, CD feedback! One nighters...so is also affordable, unlike the mandatory 3-4 night commitments of other workshops." — Jayne Clement
"They are definitely the best in town. The format is the best and the way it is run is super professional. Great readers." - Jeff Ellingson
—Jessica Gardner
Favorite Film Casting Director:  Marci Liroff
Marci Liroff, P.O. Box 57948, Sherman Oaks, CA 91413; (818) 784-5434;
www.marciliroff.com
"Gives good advice and has open calls to give unknowns an opportunity." — Anthony Bradford
"Her casting really gels with the productions and audience alike. The actors are all sincerely convincing as if they really were born to play the part." — Hayley Wagner
RUNNERS-UP:
April Webster, 800 Main St., Ste. 310, Burbank, CA 91506; (818) 526-4242;
www.awcasting.com
Chadwick Struck
"He is a great person who loves his job." — Takiya Coley
"Really easy-going, gives helpful feedback" — Rebecca Lynch
Debra Zane, (323) 939-5200
"AMAZING!!! So sweet and gracious, she puts you at ease as soon as you walk in the door." — Stacy Jorgensen
Favorite TV Casting Director:  Scott David
RUNNERS-UP:
April Webster, 800 Main St., Ste. 310, Burbank, CA 91506; (818) 526-4242;
www.awcasting.com
Erica Silverman
Michael Testa
Favorite Commercial Casting Director:  Ross Lacy
Ross Lacy, 15332 Antioch St., #720, Pacific Palisades, CA 90036; (323) 330-1020;
ross@rosslacycasting.com
;
www.rosslacycasting.com
RUNNERS-UP:
Francene Selkirk-Ackerman, Shooting From the Hip, 11317 Ventura Blvd., Studio City, CA 91604; (818) 506-0613;
franceneselkirkcasting@gmail.com
;
www.shootingfromthehipcasting.com
Chris Game
Danielle Eskinazi, 7700 W. Sunset Blvd., West Hollywood, CA 90046; (323) 969-8200;
info@daniellecasting.com
;
www.daniellecasting.com
Alyson Horn, 1020 N. Sycamore Ave., Los Angeles, CA 90038; (323) 874-8764;
assistant@alysonhorncasting.com
;
www.alysonhorncasting.com
Favorite Theatre Casting Director:  Michael Donovan
Michael Donovan, 7805 Sunset Blvd. Suite 200, Los Angeles, CA 90046; (323) 876-9020;
michaeldonovancasting.net
RUNNERS-UP:
Erika Sellin, casting director with Center Theatre Group
Amy Lieberman
Favorite CD to Invite to Your Performance:  April Webster 
April Webster, 800 Main St., Ste. 310, Burbank, CA 91506; (818) 526-4242;
www.awcasting.com
"She loves actors." — Del Hunter-White
RUNNERS-UP:
Bonnie Gillespie, Cricket Feet Casting, P.O. Box 1417, L.A., CA 90028; (310) 395-9540; info@cricketfeet.com;
www.cricketfeet.com/casting
"She is always looking for new faces" — Tanya Perez
"Every show, every season, she'll be there." — Alex Collins
Scott David
Chris Game
"Chris Game is more loyal and supportive of his students and fellow actors than anybody I've ever met! He makes a point to see all of his friends' and students' performances." — Shannon Costello
Favorite Casting Studio to Audition At:  CAZT Studios
CAZT Studios, 916 N. Formosa Ave., L.A.; (866) 925-2298;
www.caztstudios.com
"Just love the vibe and the fact that they put up your audition so you can see what you did." — Josh Carpenter
"Love the videos and CD feedback" — Jennie Floyd
RUNNERS-UP:
200 South, 200 S. La Brea Ave., L.A.; (323) 330-1020;
www.200south.com
"Always clean and busy." — Nancy Rodriquez
"The casting Directors and their associates are always friendly and helpful when we audition." — Kathrin Middleton
Ocean Park Casting, 2701 Ocean Park Blvd., Santa Monica; (310) 581-3000;
oceanparkcasting.com
"Casual, quick and gets the job done." — Rosemarie Li
On Your Mark Studios, 13425 Ventura Blvd., Sherman Oaks; (818) 817-4300;
www.onyourmarkstudios.com
"Everyone is really friendly!" — Michael Welch