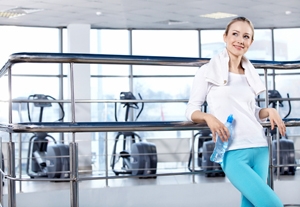 Here are the 2010 Los Angeles Reader's Choice results for categories dealing with health and fitness.  To look at all of the categories, be sure to visit the main page.
Favorite Gym:  24 Hour Fitness
Most-popular locations: Hollywood and Sherman Oaks.
"It's always open, and they have the newest and best equipment, as well as a pool for when I don't feel like being so hard on my muscles."
—Ben Begley, Hollywood location
"Can't help but love the view of that beautiful Hollywood sign I love so much!"
—Jovanna Ortiz, Hollywood location
"Great vibe and energy."
—Josh Carpenter, Hollywood location
"Open whenever you need it."
—Matthew Spencer, Hollywood location
"The best thing about the gym is having access to a wide variety of free classes. I was attracted to 24 Hour Fitness originally (in Denver) because of the amount of locations in the U.S. I also appreciate that they consistently keep their fitness equipment in good condition. My favorite classes are turbo kickboxing and yoga."
—Angie Light, Sherman Oaks location
"I looooove the classes! Even Mr. T works out there."
—Amy Karman, Sherman Oaks location
"I love the spa area, and the location is safe."
—Dawn Morrow, Sherman Oaks location
"Inspirational environment and great instructors."
—Mike Wade, Santa Monica location
24 Hour Fitness,
www.24hourfitness.com
RUNNERS-UP:
Gold's Gym, Hollywood,
www.goldsgym.com
Hollywood Wilshire YMCA,
www.ymcala.org/hw
LA Fitness, Universal City,
www.lafitness.com
—Janelle Tipton
Favorite Yoga Class/Studio:  YogaWorks
With more than a dozen Southland locations, it's no wonder YogaWorks topped our readers' picks for favorite yoga class/studio. Among the nationwide chain's other virtues are the rainbow of styles offered and its nearly 200 instructors, ranging from yeomen to superstars. Try a free orientation, purchase an introductory package, consult an adviser to find the right class, or pop in to one that sounds like heaven—but make sure it's the right level, or it could feel like hell.
Since yoga is about cultivating awareness and being present in your body, you can carry it right into your acting. Working with an experienced teacher is the best way to stay safe and get the most out of your practice. Among the YogaWorks teachers named by readers who took our survey are Whitney Allen, Nona Chiang, Joan Hyman, Clay Kyle, Amy Lafond, Jasmine Lieb, Vinnie Marino, Kia Miller, Kara Price, Stefan Storace, and Kimberly Wharton.
"Malachi Melville is a master teacher. Her class connects me to my body and alignment in a deep way and also lifts my mind and spirit."
—Justine Klineman
"Sara Ivanhoe has good energy and karma—she is a great teacher."
—Amy Mathieson
YogaWorks, various locations,
www.yogaworks.com
RUNNERS-UP:
Bikram studios, various franchises,
www.bikramyoga.com
"It's a bit of a hike, but it's the only yoga I've ever taken that not only relaxes and stretches me, but also makes me feel like I got a workout." — Jen Nitzband
"All of the instructors have a way of pushing you without pissing you off. It has been so fulfilling to explore Bikram in this environment." — Sarah Greyson
Bryan Kest's Power Yoga, Santa Monica,
www.poweryoga.com
"Rudy and Vytas are the best teachers if you want a tough workout. And it's by donation - so everyone can attend!" — Abigail Albrighr
Free yoga at Runyon Canyon,
www.myspace.com/runyoncanyonyoga
"It's Free!" — April Hobson
"If you want to consider yourself a true LA local, you need to get on this asap. You can't beat free Yoga Class (optional donations) up in the hills, where the air is fresh(er) and the view is beautiful. Great place to meet people, get great exercise, and Zen yourself out a bit from the busy life." — Ian Alexander Maddox
—Janelle Tipton