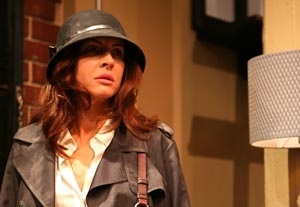 Michelle Clunie faced a tall order taking on Abby in "The Mercy Seat," a role that proved emotionally exhausting for no less a stage and screen veteran than Sigourney Weaver, who originated the character in Neil LaBute's two-hander Off-Broadway in 2002. Clunie appears to have been up to the demanding material, however, as Back Stage's readers selected her turn in VS. Theatre Company's spring 2011 production as the most memorable stage performance of the past 12 months.
Writing for Back Stage, critic Les Spindle singled out the actor: "Clunie brilliantly segues between harping harridan and vulnerable woman in love, illuminating the multiple dimensions of this ostensibly tough cookie."
Reader comments:
"Incredibly complex character handled with extreme gentleness and insight. My first time seeing her perform; I was blown away."
—Kevin Flynn
"Michelle Clunie was remarkable. It was nonstop hard-core emotional acting at her best!"
—Sepi Ghafouri
Runners-Up:
- The cast of "God of Carnage" at the Ahmanson Theatre
- Jane Fonda, "33 Variations" at the Ahmanson Theatre
- Johnny Clark, "The Mercy Seat" vs. Theatre Company at [Inside] the Ford