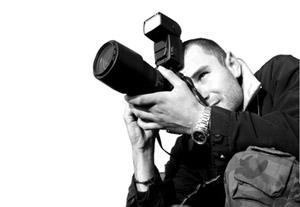 Here are the 2010 New York Reader's Choice results for categories dealing with headshots.  To look at all of the categories, be sure to visit the main page.
Favorite Headshot Photographer Over $400:  Douglas Gorenstein
"When I work with actors, I always remember that every actor is unique, with their own personality and style, which needs to come across in the photograph," says Douglas Gorenstein. "If it's not about you as the actor, then it's not going to serve you—and my job is to help, in my small way, to further your career."
Gorenstein has specialized in headshot photography for the past 15 years. He works with a broad range of actors, from professionals in film, television, and theater to those just embarking on a career. When we spoke, he had just completed an all-day photo shoot with the cast of next season's edition of "The Apprentice." Gorenstein has also compiled (with writer Patrick Borelli) a collection of funny and unusual actor headshots and résumés in the book "Holy Headshot!," published by Simon & Schuster in 2008.
Before scheduling a headshot session, Gorenstein first offers actors a free half-hour consultation, either on the phone or in person. "I ask them about their personal history, where they're from, what kind of acting they do, and what their goals are. The more information I have, the more I have to draw upon during the photo shoot," he explains. "Sometimes they might not remember telling me that they're from Texas, but then I can make a reference to the Dallas Cowboys during the shoot, which might surprise them or make them laugh and bring out a spontaneous moment."
Gorenstein typically blocks off three hours for a session. "He's very patient; he won't rush you out of his studio," says actor Drew Moore, who has been using Gorenstein's headshots for more than a year. "He takes a lot of time so you can get the shots that you need. They still look great—incredible quality—and I have four or five different looks I can go with."
Christopher Michael Kauffman, who had headshots taken by Gorenstein earlier this year, says, "Doug really knows how to set up a welcoming atmosphere. He even allows you to bring an iPod with your own music—something that allows you to feel in your most comfortable element. He's very skilled at allowing you, yourself, to come out in the headshot session."
"The most important thing is that the headshot look just like the actor on a really good day," Gorenstein says. "You don't want a shot with all kinds of dramatic mood lighting. You want a shot that looks like a real person, whether it's a serious or a smiling shot. When I look at a headshot, I judge it by whether it looks to me like a real moment: Is the person expressing an emotion that they're really feeling? So my job as a headshot photographer is to also be a great director, to bring out people's personality in front of the camera."
Douglas Gorenstein, 315 W. 39th St., Suite 1308, NYC; (212) 967-2810;
Douglas@douglasgorenstein.com
;
www.douglasgorenstein.com
RUNNERS-UP:
Peter Hurley, Chelsea Arts Building, 134 W. 26th St., Suite 1203, NYC; (212) 627-2210;
www.peterhurley.com
"I've never had a headshot I liked as much as the one with him - and the session was fun because of his energy, which I vibed on. Expensive, but worth it."  — Angel Desai
"Peter is the very best in the business, my shots get noticed on every audition!"  — Areshia McFarlin
Jordan Matter Photography, 200 Pinehurst Ave., #3A, NYC; (212) 592-3682;
jordanmatter@gmail.com
;
www.jordanmatter.com
"Jordan takes the time to truly pull the personality out of you, and a genuine you is captured on paper." — Daniel Dambroff
He makes a headshot this is a true representation of who you are. No one else will have your shot! It's nice to have a shot that's as much of individual as I am. And its natural light!" — Hamila Henderson
Barry Morgenstein, 135 W. 26th St., Suite 10C, NYC; (212) 647-1288;
photo@barrymorgenstein.com
;
www.barrymorgenstein.com
—Gerard Raymond
Favorite Headshot Photographer Under $400:  Sam Khan Image Works
To call headshots both "high quality" and "affordable" seems almost contradictory. But photographer Sam Khan has worked to make this a reality for actors on a budget. (Although our readers voted him their favorite photographer under $400, his basic rate is $450, with a $100 discount for students.)
"My favorite type of photography has always been photographing people," Khan says. "What I like about it is that...I can capture the true essence of my subject. There is nothing more honest than a headshot."
Actor Matthew Wages, who was referred by a friend, was immediately persuaded by Khan's skill. "When I first met with Sam, I knew he was different from other headshot photographers," Wages says, explaining that Khan seemed to "capture the essence" of the actor at his or her best. He "has the talent for his headshots to look edgy and urban but truthful and classic at the same time."
Wages was also impressed by the overall experience, especially Khan's willingness to spend as much time as necessary to perfect every aspect of the shoot: "He tried different lights—natural versus studio—and allowed me to hook up my iPod for music that made me feel comfortable and active. He looked at my clothes and commented on what colors worked and didn't work. Since he's conveniently located on 29th Street, we went over to H&M and even some street vendors to pick out...some colors and cuts that would work better with my skin tone and eye color. He was always giving positive feedback...and willing to give helpful hints."
Royce Bugarin also heard about Khan through a friend. Between the reasonable prices and the inviting atmosphere, the actor found himself at ease during the shoot. "He's just a great photographer and a really nice guy," Bugarin says. "You meet Sam and you just know what to do." He adds that clients will be surprised by their headshots, calling them "clean and natural. You would just be amazed with the results."
Equally impressed with her headshots, Jeanine Mangan has worked with Khan on a number of occasions. "His attention to detail and skill make him stand out from the rest," she says. "He takes the time to make sure you have exactly what you're looking for. He meets with you before the session to help you with wardrobe and any questions you may have."
Khan says the key to delivering great headshots is communicating with the client during the session: "I believe that every step of the shoot is of equal importance. But one of the most important elements is the communication aspect of the shoot. This helps me to better understand clients' needs and bringing the ideas to fruition for natural results."
Khan has been a headshot photographer for 10 years, but his love for his work remains undiminished. "I am very passionate and dedicated about photography," he says. "I offer a professional shooting environment where my clients feel at ease while having fun. As a photographer, I want my clients to feel comfortable and confident, so that their personality can come through and their features and characteristics can be captured."
Sam Khan, Sam Khan Image Works, 208 W. 29th St., Suite 408, NYC; (212) 873-2305;
www.imageworksnyc.com
RUNNERS-UP:
Barry Morgenstein, 135 W. 26th St., Suite 10C, NYC; (212) 647-1288;
photo@barrymorgenstein.com
;
www.barrymorgenstein.com
"He is the best, makes you feel so comfortable and the pictures are amazing." — Jody Bradley
"Barry brings out the best in you every time!" — Al Marochini
Nick Coleman, Coleman Photo Graphix, 448 W. 37th St., Studio 9B, NYC; (917) 447-8056;
nick@colemanphotographix.com
;
www.colemanphotographix.com
"Understands good 'headshot' versus good 'photo'" — Sean Gormley
"Fantastic work! Simple and spot on for what I needed in a headshot. I also felt comfortable being able to voice my thoughts regarding my headshots. I've worked with several photographers, and Nick's headshots capture my personality the best. Thanks Nick!" — Leigh Shannan
Rod Goodman, 379 Park Ave. South (at East 27th Street), 3rd floor, NYC; (212) 929-1654;
www.rodgoodmanphoto.com
"Rod 'RG' Goodman was such a sweetheart. He made me feel so comfortable during my 2 1/2 hour session. I am new to the city having had just moved to NYC from Boston and this was the first time I have ever gotten professional headshots. I am shy at times and he was so friendly and really talk to me and with his kindness and good eye he took so many beautiful shots that it was so difficult for me to choose just two. He offers packages that cater to all actor budgets. Warm, friendly and knowledgeable I will always refer actors to go to Rod for headshots." — Jocelyn Padilla
"Great shots- makes you feel so comfortable you come out better than you ever expected. He rocks and it's not about HIM—it about YOU!" — Susan Montez
Peter Hurley, Chelsea Arts Building, 134 W. 26th St., Suite 1203, NYC; (212) 627-2210;
www.peterhurley.com
—Natalia Tamzoke
Favorite Litho/Reproduction House:  Reproductions
"I believe Reproductions deserves the highest praise because they really care about quality and service," says actor Kelly Karavites of the winner for favorite litho/reproduction house. "Their staff is very professional and knowledgeable."
Other actors are particularly impressed by Reproductions' congenial and easygoing atmosphere. "The staff was professional and very helpful to me, but what really blew my mind above everything else was that they were patient with me," says actor Tyra Allen. "It was my time, and they respected that."
Reproductions' Cameron Stewart thinks that one factor in the company's success is its ability to adapt to the ever-changing needs of the industry. "We've been in business for 20 years in New York and 10 years in L.A.," he says. "As of November, we've been offering an online service, which took over a year to develop, because it's all customized. We're adaptable, and in addition to that we're also cutting-edge in terms of products we offer."
Reproductions, 70 W. 40th St., 3rd floor, NYC; (212) 201-7797;
www.reproductions.com
RUNNERS-UP:
Precision Photos, 260 W. 36th St., NYC; (212) 302-2770;
www.precisionphotos.com
"Great customer service, good prices, excellent results"  — Frederick Andersen
"Always deliver on their promises, best bang for the buck!" — Steph Van Vlack
Modernage Custom Digital Imaging Labs, 1150 Sixth Ave., NYC; (212) 997-1800;
www.modernage.com
"The representatives at Modernage are always polite and looking to serve you as best they can." — Michael Dauer
"Helpful, concerned and great quality!" — Jamie Heinlein
Colorworks, 55 W. 39th St., #706, NYC; (212) 382-2825;
www.colorworksnyc.com
"Really friendly, and always do a solid job" — Bix Bettwy
"Fast and friendly!" — Jill Knox
—Sri Gordon