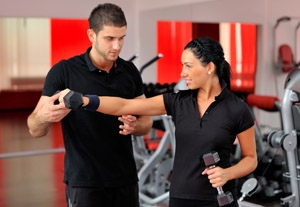 Here are the 2010 New York Reader's Choice results for categories dealing with health and fitness.  To look at all of the categories, be sure to visit the main page.
Favorite Gym:  New York Sports Clubs
New York Sports Clubs started off in 1974 as a squash club with one location. The gym now has 160 outlets throughout the Northeast—40 in Manhattan alone—offering everything from personal training to classes such as Zumba dance and neuromuscular integrated action.
"We've been part of New York for 36 years now," says Bob Giardina, president of New York Sports Clubs' parent company, Town Sports International. "Because exercise is so important to actors' careers, it's even more special for us to get this honor and know that they see the difference."
Actor Kristin Shields sees a big difference between New York Sports Clubs and other gyms. "The NYSC on 80th and Broadway offers a ton of classes throughout the day, which is perfect for an actor who doesn't have a 9-to-5 schedule," she says. "The employees are fun, the facilities are clean, and I love being able to watch Bravo as I run on the treadmill. Also, NYSC has locations all over the city, so it's easier to squeeze in a workout when I'm on the go."
For actor Kamal Jones, the appeal of NYSC is how easy it is on his wallet. "I voted for New York Sports Clubs because of its cost-to-benefits," he says. "I feel their price point is very reasonable considering what the gym offers, such as yoga, kickboxing, abdominals, cycling, and other classes. Also, another cool benefit for me is that I audition a lot in Philadelphia, Boston, and Washington, D.C., where affiliate gyms are available."
New York Sports Clubs, various locations, (212) 578-5700,
www.mysportsclubs.com
RUNNERS-UP:
Equinox, various locations, (212) 774-6363,
www.equinox.com
"The classes/instructors are the best you can get." — Lisa Barnes
"Offers full array of programs for every wish and need, is clean and pleasant to be in." — Amanda Tree
Crunch, various locations, (212) 533-0001,
www.crunch.com
"Actors this is the place to be if you want stay fit and have fun doing it. I'm addicted to their innovative classes." — Sarbani Hazra
"Awesome classes, hip atmosphere, workout variety, and great members!" — Casey Moeckel
Planet Fitness, various locations, (718) 852-0045,
www.planetfitness.com
"Affordable & Friendly" — James Holloway
"CHEAP!! No judgments, lots of equipment and space."  — Lee Mason
—Daniel Holloway
Favorite Yoga Class/Teacher:  Yoga to the People
The goals of Yoga to the People are summed up in its manifesto, which appears on its website: "There will be no correct clothes, there will be no proper payment, there will be no right answers, no glorified teachers, no ego, no script, no pedestals...." Greg Gumucio set out to make yoga accessible to everyone and opened the first Yoga to the People studio on St. Mark's Place in 2006. For a single class, the suggested donation is $10, and nobody keeps track of who donates how much. The studio's popularity comes not only from its affordability, but from its philosophy.
"I think they're keeping the spirit of yoga alive by not charging a ton for classes and making it available to anyone who wants to come by and practice," says actor Alyssa Mann. "This allows for a very cool environment where people are kind and grateful to be taking the class."
It is that sense of gratitude that keeps Gumucio's vision alive in the community. "Actors, actresses, musicians—if they can't help contribute financially, we find them spontaneously contributing around the studio," Gumucio says.
The future of his community vision is looking bright. Yoga to the People has two hot-yoga studios in Manhattan (which charge $8 a class), and new studios are set to open in Chelsea and Brooklyn in the next few weeks. "The goal is to make yoga accessible to everybody, everywhere," Gumucio says. "We also have podcasts that are free...so the idea is to reach as many as we can either by studio or through technology."
Actor Diana Cherkas says she'd never be able to afford to practice hot yoga regularly if she had to pay normal studio prices: "In a profession where we spend all day, every day, competing for roles, it's really nice to be in such a noncompetitive, no-pressure, encouraging environment."
Gumucio sees that support go beyond the studio. "Voting for YTTP is voting for themselves," he says. Back Stage  readers "are not voting for a particular style, but voting for a place they created."
Yoga to the People, 12 St. Mark's Place, 2R, NYC; 115 W. 27th St., 3rd floor, NYC; and 1017 Sixth Ave. (at West 38th Street), 3rd floor, NYC;
info@yogatothepeople.com
;
www.yogatothepeople.com
RUNNERS-UP:
Bikram Yoga, 143 W. 72nd St., NYC; 173 E. 83rd St., NYC; 797 Eighth Ave., 4th floor, NYC; and 182 Fifth Ave., NYC; (917) 573-9642;
info@bikramyoganyc.com
;
www.bikramyoganyc.com
YogaWorks, 1319 Third Ave., 2nd floor, NYC; 160 E. 56th St., 12th floor, NYC; 459 Broadway, NYC; and 138 Fifth Ave., 4th floor, NYC;
www.yogaworks.com
Laughing Lotus, 59 W. 19th St., 3rd floor, NYC; (212) 414-2903;
asklotusny@laughinglotus.com
;
www.laughinglotus.com
Jivamukti, 841 Broadway, 2nd floor, NYC;
info@jivamuktiyoga.com
;
www.jivamuktiyoga.com
Amber Paul,
amberpaulyoga@gmail
;
amberpaul.wordpress.com
—Mona Zhang