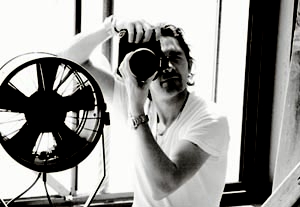 Paul Smith credits his success as a headshot photographer in part to his upbringing. The Los Angeles photographer grew up in Australia, where life tends to be a bit more relaxed, he says. In his career, he has found that his Aussie bearing helps put clients at ease and results in better headshots. "Once people are relaxed, they let their guard down and maybe you will catch something that someone else wouldn't have," says the Brisbane native.
Smith's talent and easygoing personality have won him numerous fans throughout the L.A. area. For the second year in a row, he has been voted Back Stage readers' favorite headshot photographer (session over $400).
Smith studied photography at Queensland College of Art and has been doing headshots for nearly 15 years. He enjoys photographing people, fashion, travel, and music. For almost seven years, he has worked out of his studio at the Brewery Arts Complex in downtown Los Angeles.
Most of his clients are referrals from agents, managers, and casting directors, and Smith gives each client individualized attention. "It's different for everybody. I don't have an exact way of doing things because every scenario is different," he says. What he always does, however, is listen to the client. He then not only figures out how to get the shots the client wants but also comes up with ideas the client might not have considered. "Get them what they want and then give them something more," he says.
"I don't put too much pressure on them," he adds. "It really becomes comfortable. All we are really doing is hanging out and getting good shots." That's not to say things always go perfectly, but Smith says the key is remaining cool. "Even if something goes wrong, there are always ways to fix it. Part of my job is problem solving. If you get uptight or rattled, the client is going to get rattled. Actors come in stressed out and nervous; it's a big deal getting pictures taken; it's a lot of money and a lot of effort. So you really do want to create that relaxed environment and not let anything shake you."
Smith doesn't see any new overarching trends emerging in headshot photography, but he says he's always working to improve his craft. "Me personally, I've just been trying to get better at lighting and getting more variety. I've got my style of shooting, and I try to mix it up a bit." And how would he describe that style? "Clean, fresh, a little bit edgy," he says. "You want to get them something really real and honest. I just try to get reactions and have a good time."
Smith thanks his clients for taking the time to vote for him. "My clients really do look after me. It's just nice to have them spend the time and go on [BackStage.com] and vote," he says. "That means that they really believe in what I'm doing."

Paul Smith Photography, 2020 N. Main St., Suite 241, L.A.; (323) 463-8864; www.paulsmithphotography.com
Reader comments:
"He makes you comfortable enough to truly be present in your photos. Not only that, but his work speaks for itself. The majority of my friends have chosen to shoot with Paul because we have seen his raw images and were impressed by them alone. His website shows his best work, but the raw photos his clients receive are equally impressive."
—Shea Depmore
"He is truly excellent. I was actually dreading having my headshot taken, since the last two photographers before him were a disaster. Paul immediately made me feel at ease—not a small task—and the result can be seen in the photographs. I was truly surprised and relieved. It was worth every cent. Impeccable!"
—Tara Lisa Haggiag
"Absolutely the best photographer I have used in 32 years. He knows what is needed and gets the job done. I was completely at ease and could take direction from him so easily. Thanks for taking a couple of decades off my face!"
—James Armstrong
"He is seriously a genius behind the camera. No one knows lighting and angles like Paul does, and he makes you feel so comfortable during the shoot that he's able to capture the real and natural you."
—Tara Shayne
"These are hands down the best headshots I've ever had. Shooting with Paul was fun and relaxed. He's a total pro and a super-cool guy. I hope he's doing this for years. I will never shoot with anyone else."
—Heidi Sulzman
Runners-Up:
- Theo & Juliet, (310) 973-7315,
www.theoandjuliet.com
- Vanie Poyey, (323) 856-6156,
www.poyeyphotos.com
- Brad Buckman, (323) 466-2700,
www.buckmanheadshots.com