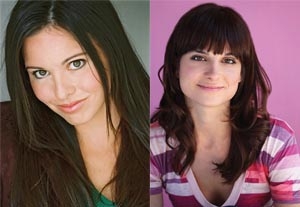 The idea for The Actor's Key was hatched in a studio guest house by two actors: Kristen Caldwell and Katie Shaw. Hailing from the East Coast, the two actors noticed something was missing from the workshops they were attending in L.A., so they decided to create their own. Caldwell, a high school teacher, and Shaw, from a family of educators, felt that the educational aspect of the workshop was important. Caldwell says, "I look at them as tutoring sessions."
Another aspect they focused on was atmosphere. So when a storefront that was basically a converted house became available for rent, they claimed their location. They hoped to to create a nurturing environment for the actors, "where you feel like everyone has your best interests in mind," Caldwell says. There's a garden and a kitchen, so the actors have plenty of places to mingle. "It settles [actors] to be in a comfortable place to learn and grow and meet fellow actors," Shaw explains.
They note these workshops are not for beginners; they are for serious actors who have training and just need that little extra coaching. Workshops begin with an approximately 30-minute Q&A with a guest. Then actors are called in for one-on-one sessions with the guest. The actors are provided with a library of sides to choose from ahead of time. Back Stage reader and actor Janet Gill says, "I love that you get to prepare ahead of time so you show your best work." After the one-on-one session, the actor is given written feedback to take home and work on.
Caldwell and Shaw credit their great instructors, readers, and staff—as well as the high level of talent attending the workshops—for the success of The Actor's Key.
The Actor's Key, 2019 West Magnolia Blvd., Burbank, CA 91506; www.actorskey.com
Runners-Up:
- Talent to Go, (818) 901-8606,
www.talenttogo.net
- G. Charles Wright, 411 N. Hollywood Way, Bldg. 29-R, Burbank, CA 91505
- Actor's Platform, Secret Rose Theatre, 11246 Magnolia Blvd., North Hollywood, CA 91601, (818) 523-8283,
www.dianechristiansen.com