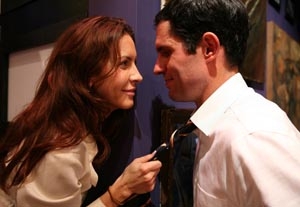 Neil LaBute may be among the most polarizing figures in American theater, but a broad segment of Back Stage readers was united in its praise for VS. Theatre Company's recent mounting of the playwright's 2002 work "The Mercy Seat."
The production, which ran this spring at [Inside] the Ford in Hollywood, was named a Critic's Pick by Back Stage theater critic Les Spindle, who wrote of the 9/11-themed two-hander and actors Johnny Clark and Michelle Clunie, "Director Ron Klier guides two fiercely committed actors in a knockout production that elicits profound ruminations on urgent issues."
---

READ THE BACK STAGE REVIEW OF 'THE MERCY SEAT'
---
Reader comments:
"Fantastic venue, acting was superb, and set design was high-quality."
—Marie Wong
"There wasn't a weak link in any aspect of the production." 
—Denise Olson
"High quality; best acting, stage design, and direction. I felt like I was in the living room of the players right up on stage with them." 
—Judy Becker

Runners-Up:
- "God of Carnage," Ahmanson Theatre
- "Love Sucks," Coast Playhouse
- "The Lieutenant of Inishmore," Mark Taper Forum
- "Next to Normal," Ahmanson Theatre