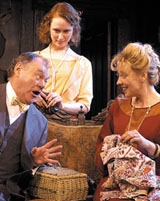 No playwright strives for obscurity, certainly not for his work. Obscurity, rather, is an unintentional achievement: As producing styles, fiscal realities, and audience preferences change, many great and good plays, temperamental and temporal to begin with, fall by the wayside. Memories fade. Time passes. Dust collects. Plays become obscure.
The end of the 20th century and the start of the 21st century, however, revealed a fascinating trend: artistic directors unearthing many fine plays consigned to dust for years and often decades. A dramaturgical nip and tuck, a forceful rewrite, a well-considered read -- and suddenly, old plays, overlooked for generations, come roaring back to life.
Which is not to say that in a nanosecond-paced, brand-driven economy, the mere rediscovery of a great, good, or even mediocre (if important) play guarantees sales. The resuscitation of the dramatically dead doesn't necessarily mean that audiences will be satisfied or even interested, and it doesn't necessarily mean that critics will be impressed -- although theatre critics arguably bear the greatest responsibility for encouraging the long overlooked to be found. The simple fact is that any New York theatrical publicist could announce tomorrow that an artistic director has found a great play lying utterly and tragically ignored, yet unless the playwright offered true market coinage -- a Tennessee Williams gem in the rough, say -- odds are the industry, to say nothing of ticket buyers, would greet the news with a collective yawn.
Which begs a question: How do companies specializing in reclaiming lost and languishing plays -- Mint Theater Company, Peccadillo Theatre Company, Metropolitan Playhouse, The Actors Company Theatre, and Theatre for a New Audience, plus Target Margin Theater and Keen Company, too -- turn obscurity into opportunity? How do they turn an audience's "I've never heard of that play" into "You've got to see this play"? To say it isn't easy is clichĂŠ, for nothing artistically satisfying ever is. Surely nothing is nobler than returning lost plays, long vanished from the public eye, to their rightful place in the theatrical canon.
Bank Mints a Stock in Trade
When the Mint Theater Company won a 2001 Obie and 2002 Drama Desk Award honoring its body of work, the conceit of theatrical reclamation, one long espoused by Artistic Director Jonathan Bank, achieved validation. In just a decade, the company had not only re-explored American plays long faded into the woodwork -- like "Miss Lulu Bett," which made Zona Gale the first woman to win the Pulitzer Prize in Drama in 1921, and "Alison's House," which made Susan Glaspell the second in 1931 -- but had offered a crash course in esoteric stage work, from Thomas Southerne's 1695 "Oroonoko" to George Aiken's 1852 "Uncle Tom's Cabin." Who could not admire the Mint's skill with curiosities -- like the 1906 Edith Wharton-Clyde Fitch adaptation of "The House of Mirth"?
It is curious that Bank does not wear his Americanism on his sleeve, for the Mint also balances its seasons with a British bent. For instance, it presented the U.S. premiere of Harley Granville-Barker's 1905 "The Voysey Inheritance" in 1999, and more recently, it reminded audiences that "Winnie the Pooh" creator A.A. Milne once brought brilliance to Broadway through works like "Mr. Pim Passes By" in 1921 and "The Truth About Blayds" in 1922. Both plays are currently alternating performances at the Mint through May 23.
"The reasons I pick these plays," Bank says, "is I'm interested in storytelling, in the well-made play, in plot-driven material, and in a particular type of narrative craft. Every playwright presumes to want to tell a story, but there's an inactive and passive way to do that and an active way. When I say 'plot-driven,' I mean the playwright poses a question for audiences to actively say, 'I hope he gets the girl' or 'I hope he decides to do' this or that. It's a way of writing a play not practiced with frequency or fluency by contemporary playwrights in my experience, and 10 years ago, when I started picking plays, the new plays available to me did not evidence that kind of craft. So, you look backwards in time, to a time when that craft was the norm. As someone who wants to tell stories, I also want the audience not to know how they end, so I don't do well-made plays that are well-known."
To commercial sensibilities, Bank's approach is brave: Most Mint productions can hardly be described as presold titles; most are not star-driven. Yet the Mint's carefully cultivated subscription audience, he says, is proof that the obscure possesses allures of its own. For instance, it mounted Arthur Schnitzler's 1911 play "Far and Wide" using a 1923 German translation, and brought in 10,000 people during two separate runs.
"I used to feel, quite honestly, we were a niche theatre and our audience was finite. I no longer feel that's true," Bank confides. "[But] in the last few years, it's become clear to me there is a large audience in New York that loves to go to the theatre, and I don't see any reason they wouldn't enjoy the plays we're doing. I understand it's harder for us to get a certain kind of audience -- what is new is, say, more interesting to a journalist or an audience member than what is old."
And he rejects the idea of using the term "classic" or "classical" to try to draw interest. "Plays that are 80 years old are not classics. The neglected play is just that -- a neglected play. If we're saying classic as in 'classical' -- as generally regarded as superior -- well, these plays aren't regarded as that at all. They're out of print, unproduced, and ignored."
Some might say Bank also sets the bar too high regarding "radical reinterpretations." Generally speaking, he says, they are "rarely about illuminating text, whereas my goal is to illuminate text. I follow the playwright's stage directions and make every effort to investigate what he tells me. You have to filter the information through your own sense and through the capacity of the actor."
And there have been exceptions. When the Mint revived "No Time for Comedy," a comedy by S.N. Behrman produced on Broadway in 1939 starring Katharine Cornell and Laurence Olivier, Bank says, "There's the character of Clementine the maid, who's like Aunt Jemima. The play had not been revived since its original production and I have no doubt that contributed to it. Well, I read the play, felt the story was interesting, and approached the Behrman estate and said I wanted to do the play, but wanted to fix the maid -- she's an anachronism. We got permission to rewrite the role with an Irish stereotype. I'm open to fixing anachronisms, but I consider my obligation to the playwright, always."
And what kind of actor demonstrates the "capacity" the Mint requires?
"Actors with a sense of style -- not actors who may be very talented and may have thriving careers in TV, film, and contemporary plays but who cannot show me they are believable in the world of the play. I don't think it's only a matter of craft. Sympathy for that world is what enables you to live in it; if you don't understand it, you can't play it -- it becomes style with no sympathy."
Pick a Pack of Peccadillo
Peccadillo Theatre Company Artistic Director Dan Wackerman says he's a "cheerleader for the American theatre," which is why his company celebrates only stateside dramatists. Since its 1994 founding, Peccadillo has examined the neglected works of many top 20th-century writers, from S.N. Behrman ("Jane," 1952) and S.J. Perelman ("The Beauty Part," 1962), to George S. Kaufman and Marc Connelly ("Beggar on Horseback," 1924), Dorothy Parker ("The Ladies of the Corridor," 1953, co-written with Arnaud d'Usseau), and Dawn Powell ("Jig Saw," 1934). In 2002, with Yangtze Repertory Theatre, it offered a bona fide obscurity -- John Colton's 1926 "The Shanghai Gesture" -- and now presents Elmer Rice's "Counsellor-at-Law" May 6-30 at the Bank Street Theatre, starring Tony-winning actor John Rubinstein.
Wackerman insists Peccadillo's picks have more in common than merely being American plays: They represent pieces of the modern American theatre's evolution, and by surveying their scope -- producing them to see how they fit in over multiple eras -- audiences will appreciate how far the American stage has come since the age of melodrama.
To find plays, Wackerman relies on a latticework of sources. He works, for example, with a dramaturg -- William Peterson, an English literature professor at Southampton College -- and spends a great deal of time at the library. Separating the classic wheat from the not-so-classic chaff, he says, is a matter of definition.
"When we say we do revivals of 'classic American theatre,' we mean it in the sense of enduring theatrical value -- yet not in the same sense of 'A Streetcar Named Desire' or 'Long Day's Journey Into Night,' which are produced again and again. Really, only a handful of plays are certifiable American masterpieces -- and 'masterpiece' is another difficult word. I think 'Counsellor-at-Law' is a 'classic' because it's a great piece of writing. Does it deserve to be revived? Yes, for if we restrict 'classic' just to masterpieces, you'll indeed do the same four plays. Few plays don't have flaws, but it doesn't mean they cannot be brilliant. We did John O'Hara's [late-'50s-era] 'Veronique,' and the dialogue is brilliant, but it has serious structural problems. Does that mean we shouldn't do it?"
Wackerman notes that one sign the mainstream is becoming aware of lost plays is the fact that "Counsellor-at-Law" was a suggestion from producer Fred Vogel, who runs the Commercial Theatre Institute.
"Fred felt it deserved a visible production, and even though we're Off-Off-Broadway, that's what it's getting. Fred is a great facilitator: He knew John Rubinstein had directed and starred in a production in Los Angeles, so he came to me and said, 'I've got an actor for you,' never dreaming what would come of it. But John leapt at the opportunity."
He then makes the point that Peccadillo's focus is as much on the play itself as on the play's genre.
"'Counsellor-at-Law' is a slice of life, written when realism was in vogue. It's 1931, the action is in a law office. A partner, George Simon, has come from the Lower East Side and sacrificed his idealism to get there. He's a deeply flawed, morally compromised man, and a rival attorney tries to disbar him for something he did to help a young man from the old neighborhood; essentially, he's at risk of disbarment for showing his idealistic side. The rival attorney is a WASP who resents George's success -- and that he married a Connecticut patrician who, it turns out, shares those class prejudices. She then realizes her marriage to this Jewish attorney wasn't what she bargained for, and so George's life unravels. It is melodrama and realism -- tightly plotted, suspenseful, very funny -- and a tapestry of 1931 urban life."
And long. Unlike the Mint's Bank, Wackerman often elects to cut old plays judiciously since, he says, they were "written in a style that makes them rather too much for contemporary audiences, who like their stories told with less embroidery. [But] you have to be careful not to unravel things, for that embroidery is also there for a reason: It can add depth and dimension. I really suspect audiences have shorter attention spans than they did 70 years ago. Two and a half hours today is a long show, whereas it wasn't considered unusual to spend three hours at the theatre."
Wackerman concurs with Bank regarding what sorts of actors are best fits. "To do classic American theatre, you need an actor who is classically trained -- who can speak a line, knows how to move and breathe. We need stage actors to do these older pieces, and an actor who throws lines away might still be a great TV actor or fine for a film, but will never put across a play in which language is so fundamental. In fact, I don't know that it can be taught -- it's something you either get intuitively or you don't. I'm talking about a certain kind of stage training that lots of younger actors don't get anymore. It's how to speak a line so it resonates."
Old Theatre for a New Audience
Just as Peccadillo's Wackerman had to define what makes a revival-worthy "classic," so did Theatre for a New Audience's Jeffrey Horowitz, the company's artistic director. Founded in 1979, TFANA, as it is called, elected several years ago to expand beyond its longtime roots in Shakespeare and put its toe in the less-assured waters of the obscure. Now, he says, on top of the Bard being TFANA's "cornerstone," other classics, including neglected "modern classics, and modern work whose language and narrative and themes are classical in nature," are on the company's agenda.
To date, this has manifested itself in interesting ways. The year after the Mint's production of Harley Granville-Barker's "The Voysey Inheritance," TFANA reintroduced the playwright's "Waste" to equal acclaim. The year 2001 brought a production of Edward Bond's relatively unfamiliar "Saved" to TFANA, and in 2002 came a production of Max Frisch's "Andorra," boasting a translation by Village Voice critic Michael Feingold. Now, running April 20-May 16 at the Lucille Lortel Theatre, comes "Engaged," an 1877 W.S. Gilbert play that hasn't had a major New York revival in more than 50 years.
"Around the early '90s," Horowitz says, "we kind of shifted to doing all classical work; in the late '90s, we began adding in modern classics, as well as contemporary plays that connect to classical plays through their use of language, narrative structure, and theme. So, for me, 'Engaged' very much belongs at a classical theatre. Gilbert is a great writer -- his language is in the same comic tradition as Jonson, Congreve, even Joe Orton. I think many things about Gilbert are very resonant now. In the play, he satirizes marriage; well, look at the current divorce rate, look at that uproar over gay marriage. Gilbert says money drives human relationships -- well, we are living in a time of enormous greed. In the play, Gilbert takes a type -- a Victorian theatrical type -- and turns it on its head. In that sense, things feel very modern, very much like theatre of the absurd. It's classical because he flips things around in order to say to us, 'This is who we really are.' "
Yet he dismisses the idea that TFANA's blossoming interest in neglected works is a sign of dramatic new artistic directions to come. Instead, Horowitz considers the neglected works on the company's plate as part of its overall mission to celebrate the classical. "We define a classical play as one which, over time, reflects different cultures in different times. Take 'Hamlet,' for instance: It reflects us, but it also reflected people in the 18th and 19th century. It's not a play with one truth, but one eternal truth, which also reflects one's own world, which is why a great production of 'Hamlet' 40 years ago we might find rather boring today. We've always been interested in not only doing well-known classics, but classics that have not been considered. You know, one of the things about New York is we tend to see the chestnuts -- the chestnuts that Lincoln Center Theater and Roundabout Theatre Company do. Well, one of the roles a nonprofit can also play is to bring audiences, as well as artists, to these rarely done works. That they're rarely done isn't the only criteria -- they obviously have to be brilliant, too. 'Waste,' when we did it, was the play's American premiere. That staggered me."
Is there a reason that all the less well known chestnuts TFANA has mounted so far have been British plays?
"Well," Horowitz replied after a contemplative beat, "we've also done Richard Nelson's 'The General From America,' which is a new play, for I also think of 'classical theatre' as, occasionally, new writing. We've also produced Suzan-Lori Parks, Elizabeth Swados, Eduardo Machado, Ntozake Shange, and the 'Andorra' translation was by an American," Horowitz says. "Is there a purely American play for us? I can't tell you that. But I can tell that there is no agenda -- if you're talking about American authors whose plays have become 'classical,' then those writers are quite obvious: Miller, Inge, Williams, Shepard, Wilson, Albee, and so on. But we have also never done plays from the Spanish Golden Age, the plays of the Jacobeans, the Restoration -- those are areas of neglect as well. There are, basically, more than just a few."
Doing Things TACTfully
Where Jeffrey Horowitz was "staggered" to learn that Harley Granville-Barker's "Waste" had never been produced in the U.S. before TFANA did it, Scott Evans, one of the three artistic directors of The Actors Company Theatre, known as TACT, finds himself "stumbling across plays" in his search for works to tackle.
But like Horowitz, the aim of TACT is not simply to resurrect, as if from the dead, the theatrically forgotten. Instead, Evans says, "Plays that still speak to us and have relevance to our lives today are more important than doing historic plays or recreating historic theatrical genres. There are a lot of old plays we just don't want to do -- they may be creaky or don't transcend their period in a way that would be meaningful to an audience. The fact is, some plays are of their moment and that moment passes, whereas some genuinely speak to the human experience. Our guideline is that we would not do a play that has had a first-class New York production in at least 15 years."
Such latitude has permitted this 27-actor ensemble to make a daring array of choices during its 10-year history. Few ensembles segue from comedy (Anita Loos' "Happy Birthday") to drama (Graham Greene's "The Potting Shed") so easily. Indeed, TACT tackles little-known homegrown work (Paul Shyre and John Dos Passos' "U.S.A.") as eagerly as British (J.M. Barrie's "The Admirable Crichton"), Russian (Alexander Ostrovsky's "The Family Affair"), French (Jean Giraudoux's "The Apollo of Bellac"; Jean Anouilh's "Mademoiselle Colombe"), and Italian playwrights (Luigi Pirandello's "Right You Are (If You Think You Are)"). Plus historically important plays (William Gillette's "Secret Service"; Anna Cora Mowatt's "Fashion") and plays, finally, that are just plain old guiltless fun (Jerome Lawrence and Robert E. Lee's "Auntie Mame").
Perhaps TACT can display this range because, unlike the Mint, Peccadillo, and TFANA, it performs concert versions of plays, not full productions. Evans says this makes it unique among such companies and offers some opportunities that full mountings do not.
"[They] are highly rehearsed and have production values -- lights, costumes, original music, and live musicians -- but the way we present the material is to spotlight the text: just the text, and the actor's craft. By highlighting the text, we think audiences can see the play in a very clear way. By stripping plays down to their text, an audience's imagination can complete them as a work of art."
But Evans disavows any idea that TACT "practices museum theatre." If anything, purism is the opposite of the TACT take on things. For one thing, he's perfectly willing to whip out the dramaturgical pruning shears because he strongly believes "the concert format doesn't sustain much more than a two-hour play, so plays that are considerably longer have to either be cut or we don't do them." To ensure the trimming process is in the play's interest, Evans, who directs most TACT shows, does it in phases. "I find some cuts before rehearsal, some in rehearsal, and some things will be returned to the play and some things will not. I like to hear the play in its entirety, too, before cutting it."
For example, he says, last year TACT did "Eurydice" by Jean Anouilh, based on the legend of Orpheus. "Well, French plays tend to be verbose anyway, but audiences today are certainly different from French audiences of the '40s, when they enjoyed listening to great discourse. Today's audiences haven't really trained their ears -- partly, I think, because we get so much more information so much faster now, so the reiteration or the subtle development of ideas is harder to sustain. So when we cut a play, we feel we're sharpening it."
It's finding plays, not determining how to treat them, that is TACT's hardest task. "We read hundreds of plays a year, plus we have a network of people who suggest things, and the actors are very helpful. But there are things we do and don't do. Yes, there's a great trove of European theatrical literature, but we feel we ought to offer audiences a mix. We don't do Tennessee Williams, because he's not that neglected. Last season, we did [Richard Brinsley Sheridan's] "The Rivals" -- although it's not particularly neglected, it doesn't get Broadway productions. During the 1910s it's hard to find good American plays; they tend to be melodramatic or simplistic or creaky. But the British plays are fantastic, like Shaw. Then there's the '20s, and American theatre suddenly gets a lot more interesting."
Evans asserts that the "major reason plays fall into neglect is economic -- many plays have huge casts that producers won't look at anymore because they're considered too commercially risky, whereas TACT can do plays by all sorts of playwrights -- Anouilh, Giraudoux, and Ostrovsky -- masters who speak to us still. We do quite a bit of Ostrovsky, in fact. Although he's a hugely popular playwright in Russia, he's always been a little eclipsed in this country because he died before Chekhov and at a time when the Russian novel was the most important thing going. But he started the Maly Theatre, you know, and for it, he wrote a new play for 36 consecutive years."
Giving Metropolitan Life
It is worth noting that all the theatre companies thus far discussed -- five, including Metropolitan Playhouse -- have been in existence for some years now. What separates Metropolitan Playhouse, however, is the fact that it has had numerous missions through its decade-plus history, as two artistic directors explored the canon of the neglected.
Under Founding Artistic Director David Zarko, for example, the company examined early American plays, then American plays from before 1914, American plays from before World War I, and American plays before 1920. Following Zarko's departure, Alex Roe, who has been artistic director for four seasons, decided not to abandon the idea of exploring the old, but to "pair old with old, new with new, and old with new, trying to see them all in relation to America's artistic development, with roots in European and classic theatre."
This elasticity of approach has yielded rich results. This season, for example, began with the first-ever New York revival of Clyde Fitch's 1909 "The City," quickly followed by Anthony Clarvoe's "Pick Up Ax," a play Roe considers "neglected and period, though it was written in 1990." (Full disclosure: This reporter served as dramaturg for "The City.")
Both plays, Roe says, deal with capitalism and moral corruption, plus, on a smaller level, with the push-pull of urban and suburban life. By putting the plays cheek by jowl on the season schedule, audiences can experience one subject and how it has been treated, theatrically speaking, over time. "I was a comp lit major in college, and I've always been interested in making connections," Roe says. "What's clearer than producing a classic play along with a modern play?"
Metropolitan's current show, "Arden of Faversham," running through May 15, is arguably a bit of both, being a 16th-century murder-cum-comedy of unknown authorship that, by dint of age and authorlessness, is almost the archetypical example of the neglected play now found and produced.
Finding plays that succeed in Metropolitan's diminutive, three-sided, 50-seat black box is a challenge, Roe said. "We tried to do repertory, but it strained us in two ways -- in lighting design, because we can't turn [a plot] over every other day, and in terms of overall management. There is also a question of audience: Will people want to see two shows related to each other in one day? We think an equal number would and an equal number wouldn't, so better to run two thematically related plays subsequently."
Like most neglected-play groups, Roe considers the treatment of the text to be the most important decision made in any production. "I assume we're going to ask about every play, 'What's playable now?' and 'How will this play?' because our responsibility is to create, first, a modern, playable piece -- an interesting play for a contemporary audiences -- and, second, our responsibility is never to violate the play, never to alter it from what it is or does at its core. If you go in always assuming you're changing things, you may not know what the play even was originally. Plays have internal rhythms in their dialogue, structure, in their assumptions about gender, race roles, and so on. If you just, willy-nilly, plow through with a pen because you're uncomfortable with it, you may miss something. To produce the best play we can, we're not changing the spirit of the play. If we don't like it that much, we shouldn't be producing it."
And despite the debate about playing time, don't worry about an audience's patience. "I don't ever think in terms of, 'Oh, I don't have time' in a play," Roe says. "It's like, look, if you want to read 'Jane Eyre,' read 'Jane Eyre' -- don't read the abridged version." At the same time, in an echo of the comments made by TACT's Evans, sometimes shortening a play can crystallize it. When Metropolitan revived "The City," for example, director Yvonne Conybeare eliminated most of the first act and lopped off the intermission, creating more of a cinematic experience for audiences than a traditionally theatrical one.
Whether the play is from 1990 or some time period several millennia ago, Roe concedes that Metropolitan continues to have a soft spot for neglected works from the mid-19th century on. "It's deadly to say 'pre-' anything in terms of what plays we do -- not 'pre-' 1914, 1920, World War I, or whatever. Yet it is true there was a melodramatic heyday, from about 1850 to about 1920, that is largely forgotten but incredibly rich. Names like Belasco, Gillette, and Fitch -- these fantastic, larger-than-life characters. People say Eugene O'Neill made American theatre forget a lot, that World War II made us forget a lot. I don't know if that's true. But I do know it won't be true when our work is done."