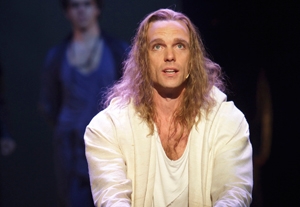 Some say theatergoing is a religious experience. This season Broadway producers are taking the adage literally.
With the rousing success of the spiritual satire "
The Book of Mormon
" and the glitz of "
Sister Act
" preaching the good news, three more musicals - "
Godspell
," "
Jesus Christ Superstar
," and "
Leap of Faith
" - are following the call in the 2011-2012 theater season.
If you believe art imitates life, it's no wonder religion is at the forefront of artists' and audiences' minds. You can't turn on the television without being confronted by faith-fueled political debates in the presidential primaries or the religious unrest in the Middle East.
"From time to time, one finds oneself in the arts tapping into something that others are feeling and experiencing too," says Des McAnuff, director of the third Broadway revival of "Superstar," set to open March 22. "It just seemed that this week in the life of Jesus and his followers that takes place in 33 A.D. was more pertinent and had more resonance for me today than it did even when the record came out."
Both "Godspell" and "Jesus Christ Superstar" had their debut in 1971, another time of spiritual renewal. Tom Wolfe called the 1970s the "Third Great Awakening," referring to the drug culture and the newfound focus on spirituality. "Godspell" premiered Off-Broadway, and "Superstar," which began as a concept album in 1969, came to Broadway that year.
Though there is no sure explanation for faith-based musicals taking center stage this year, these productions raise interesting questions about personal belief for actors and how the many iconic historical and cultural representations of religious figures can affect casting.
Casting Christ
Societal perception can be a consideration when casting recognizable figures, particularly in "Superstar" and "Godspell." There are countless artistic depictions of Jesus and his disciples, and aesthetics play a part in how audiences accept an actor in the role.
Paul Nolan, who plays Jesus in "Superstar," says his blond hair and blue eyes are probably not indicative of the real man, but his body and facial structure resemble depictions of Christ in many paintings and sculptures. "It's an image that people see thousands of times in their lives, whether they're conscious of it or not," he says, adding that his look can't hurt audiences' reception of him in the role. "I don't think that's the reason I was cast."
"Godspell" also features a fair-skinned Jesus, played by Hunter Parrish, who is a Christian. However, Parrish's appearance or beliefs had no effect on casting director Craig Burns' decision to choose him for the role.
"We were open to all types," says Burns, who works at Telsey + Company. "Those are the most fun shows to cast, because everyone is welcome. Then it becomes really about the talent and the personalities as opposed to trying to fit some cookie-cutter version of a role."
Playing the Part
Burns says some actors were deterred by the show's spiritual subject matter, but Parrish was attracted to the material because of his faith.
"I have a relationship with God and Jesus, and that's an important part of my life, but this show is not necessarily about religion," Parrish told Back Stage in October, adding that he hates the word "religion" and prefers the term "relationship." "It's about teaching people to come together and spread joy," he said. "Playing Jesus is sort of being the catalyst for that sentiment."
Director Daniel Goldstein does not view "Godspell" as a "religious show" but instead approached the Biblical text - it's based on the parables in the Gospel of Matthew - from a storytelling and multicultural angle. Because Parrish came to the part with a personal connection, Goldstein had to work with him to let go of some of his convictions in order to create the character, as opposed to a figure who was important to him on a spiritual level.
"The religious background of an actor is not actually of my concern even in a show where he's playing someone religious," Goldstein says. "My goal with any actor is to help them tell the story more clearly."
Christopher Ashley, director of "Leap of Faith," which opens on Broadway on April 26, finds the spiritual diversity among his cast an asset to the production. The show, loosely based on the 1992 Steve Martin movie, takes place at a revival meeting.
"It's very interesting seeing people have different responses to the story," Ashley says, adding that actors with religious knowledge helped with accuracy in depicting the event. "It's a story that works for people who are deeply devout and people who are deeply cynical, but I think what both of those groups share is a need to believe in something."
Though Nolan does not subscribe to any belief system, he has always felt a special connection to the character, a term he hates because the role is a real man. This production, which originated at the Stratford Shakespeare Festival in May 2011 and then played the La Jolla Playhouse, marks his third time in the role. "Unlike any other part before, I kind of always knew where it came from inside of me," he says.
McAnuff believes "Superstar" composer Andrew Lloyd Webber and lyricist Tim Rice have a secular approach to the material, and Nolan says his strong suit in the role is his "humanness," as the work focuses on the relationships among Jesus, Judas, and Mary Magdalene in the last week of Jesus' life.
"My duty as an artist is to first and foremost look at the material in front of me and understand what it is," Nolan says. "When you've got the responsibility of a religious figure that millions of people love and know, you have to not pay homage to, but at least pay attention to, what that is for people."
Parrish wants to refrain, however, from cultural biases. "People have their stigma for what Jesus is or what Jesus means," he says. "I'm staying far away from that, and I'm focusing on how much love he as a man had to offer."