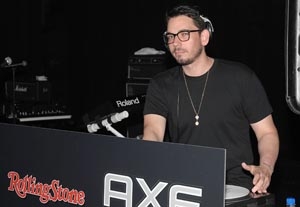 Multiple source are reporting that DJ AM was found dead in his New York City apartment this morning.
MTV has an upcoming "Intervention"-style reality show with DJ AM (aka Adam Goldstein) called "Gone Too Far."
Which means DJ AM survived a plane crash last year only to die in his apartment.
Publications are also saying that drug paraphernalia was found at the scene.
MTV has eight episodes of "Gone Too Far" in the can which could represent tragically ironic last footage.
"There's no reason why I should have lived or why I lived and they didn't," DJ AM said at press tour about the plane crash. "But I am alive and I'm here and I have to do something better with my life now ... I struggled for years as a drug addict and was fortunate to get help when I asked for it. I have managed to live a clean and sober life, something that takes work and something that I pride myself on. 'Gone Too Far' is my platform to help people, like I was helped—by giving back in a way."
The question for MTV now is whether to air the show -- and comes right after sister network VH1 canceled two reality series in the wake of contestant Ryan Jenkins being charged with the murder of his ex-wife.
– Nielsen Business Media