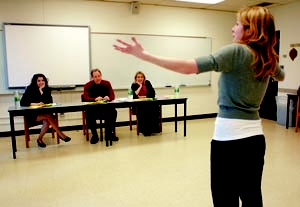 No matter how much research you do before applying for college acting programs, you may feel like you're only scratching the surface. There are so many components to the application and audition process—both undergraduate and graduate—that it can be overwhelming. The Internet can help you do an exhaustive search, but it can also leave you exhausted.
Everyone who has been through this particular wringer has his or her thoughts on the subject, and consulting such veterans can be helpful. Back Stage recently spoke with students and faculty at three colleges—
Indiana University Bloomington
, the
University of Florida in Gainesville
, and
Fordham University in New York City
—and their advice should make your search go more smoothly.
Narrowing the Field
A performer who already has an undergraduate degree but who wants an advanced diploma will likely enroll in a Master of Fine Arts program. But for those just graduating from high school, you'll first have to decide between a liberal arts program (where you'll study a traditional college curriculum in addition to your acting and theater-related classes and earn a Bachelor of Arts degree) and a conservatory program (where most of your school day will be spent perfecting your skills as a performer and you'll graduate with a Bachelor of Fine Arts).
Some colleges offer a hybrid of the two. Eva Patton, theater program manager at Fordham, explains that her school's B.A. program provides strong preprofessional training that comes close to a conservatory approach. "It's truly like the best of both worlds," she says. And Indiana University's BFA program in musical theater performance includes 65 credit hours of general education. Says the program's head, George Pinney, "I'm really interested in students who think globally and know an awful lot about the world, because that definitely comes into the rehearsal studio."
Next, you'll want to weigh other factors. Which schools fit your budget? Do you prefer a large urban campus or a small bucolic setting? Can you handle living far from home and family? How vital is it that you study in a major entertainment hub such as New York, Los Angeles, or Chicago?
Of course, no program, no matter where it's located, can guarantee you a successful career. Paul Favini, acting director of the University of Florida's School of Theatre and Dance, suggests that colleges outside the major hubs can do just fine in training actors who are ready to work professionally: "I have some students on TV. I have students who do plays. I have students who work all the time."
Pinpointing your long-term goals will help you further narrow your search. Stephanie Lynge had been a performer in New York City for 15 years when she decided to seek an MFA. She had done national tours and appeared in "Beauty and the Beast" on Broadway. She had also begun teaching acting classes, but she knew that having an advanced degree would take her further as an educator. Her search led her to Florida. The desire to teach "was something that this program did not pooh-pooh," Lynge says. "They are very supportive of it."
The Internet is the logical place to start your research. Francesca Arostegui, a senior at Indiana, recommends
CollegeConfidential.com
. Of course, a theater program's own website will offer thorough details on its curriculum and other matters. Patton advocates "reading deeply" rather than skimming. She says prospective applicants should read faculty bios and find out what productions the school has staged recently.
Reading closely will reveal potential make-or-break factors in your decision. For instance, does the program provide an industry showcase audition for graduating students? Does it cut a number of enrollees after the first year? Both of these were important considerations for Arostegui. She says of Indiana's "no cut" policy, "If I was going to spend tuition and work really hard, I didn't want to get cut after I'd been accepted."
Prepping the Audition
If possible, you should visit the schools you're most interested in—touring the facilities, chatting with faculty, and sitting in on classes. This can get expensive, however, especially if you're looking at schools across the continent. Many graduate school representatives attend the
University/Resident Theatre Association's
unified auditions, which take place annually in New York, Chicago, and San Francisco and allow you to audition for multiple schools simultaneously (it's where Lynge auditioned for the University of Florida). Some colleges hold their own annual auditions in New York and Los Angeles; others require that you audition on their campus. Indiana's audition for prospective musical theater undergrads also serves as a daylong introduction to the program and school.
Each audition's requirements will be a little different, so follow the instructions carefully. Many colleges require two contrasting monologues and perhaps a song. Musical theater auditions will likely include a dance call and ask for an up-tempo song and a ballad. For Arostegui's audition at Indiana, she had prepared a number of songs, which she was able to switch in and out as appropriate. She also had several backup monologues ready.
"Students tend to aim too high," says Favini of auditions. "What they really should be doing is showing their absolute strengths, even if that happens to be a narrow place right now. You don't have to show me A to Z. You're coming to school to learn how to go from A to Z."
As for songs and monologues to avoid, it seems that everyone has a different list. Some programs' websites list particular monologues or songs that are discouraged—overexposure being one of the bigger problems. That's why Patton advises against using speeches taken from books of audition monologues. But if you do, she says, be sure to read the entire play to understand the character's situation in context. Favini suggests avoiding monologues that are associated with a particularly memorable performance (Stanley Kowalski in "A Streetcar Named Desire," for instance), as performing them invites needless—and probably not flattering—comparison.
For her Fordham audition, Marguerite Frarey selected a monologue for the call girl Claudia in Tom Topor's play "Nuts" and another for Cressida in Shakespeare's "Troilus and Cressida." Frarey connected with the sentiment of Claudia's speech (though the character's circumstances were much different from her own); she found Cressida reminiscent of Shakespeare's Juliet, but the speech was not commonly heard at auditions. Both pieces seemed off the beaten path. So Frarey was flabbergasted when she learned that the auditioner preceding her would perform the same "Nuts" monologue. Complete originality, it seems, is impossible.
In preparing their auditions, some performers solicit feedback from teachers or peers. The monologues that Frarey used were ones she'd worked on in high school, so she didn't get additional coaching on them—though in hindsight, she says, it would have been helpful.
During and After the Audition
Remember, says Favini, your audition is essentially a job interview, so dress accordingly: "Students say, 'Well, you know, the graphic T, that's my look. I'm not a shirt-and-tie kind of guy.' And I say, 'I don't expect an artist to wear a shirt and tie. But if it looks like you're hanging out at your house on a Saturday afternoon, it doesn't look like you want the job very much.' "
During the all-day auditions at Indiana, says Pinney, he and other faculty members note how students interact with other applicants and how they behave with other people in the audition room. It's not smart, he says, to fail to thank the accompanist or to "snap the tempo in the accompanist's face."
You should strive to be in the moment during your audition and ready to improvise. Says Patton, "Sometimes someone will come in and we'll be having this great exchange. Maybe something funny will happen with the proctor and we'll all be laughing. We'll always greet them, because we'll know who's coming in the door. So we'll say, 'Hi, Joe. How ya doin'? Come on in.' And then he'll stop and do this awkward shift and say, 'Hello, my name is Joe....' And it's like, 'We know! We've been talking to you for 20 seconds. You don't need to do that introduction now.' "
After the audition, it's fine to send a note of thanks. But be cautious about initiating further correspondence unless you're certain that administrators and faculty approve. Patton suspects that applicants use such contact to make sure the school is keeping them in mind. "We have one student who's already emailed us six or seven times," she says, "and we know who she is. And it's not a good thing."
Other colleges welcome such correspondence. Lynge warned reps from her top schools that she'd dubbed herself "the Question Queen." "Most people were very positive about that," she says. "They were like, 'Good—you're thinking, you're interested. Ask away.' "
In any event, be sure your correspondence is sincere. Favini notes that sometimes students will say repeatedly, "Oh, you're my top choice," and then, when an offer is extended, they announce they're going with a different school. Not good form. And probably not good karma either.
Technologically Speaking
Interviews via Skype and similar online services are becoming more frequent for college acting programs, just as they are in business. They're not as beneficial as in-person interviews, says Favini, but they're useful in showing how comfortable a student is in front of a camera. Also, candidates who can't travel to auditions benefit from seeing the people they're talking to, making Skype an improvement over phone interviews.
Fordham and the University of Florida both allow audition submissions on DVD. At Indiana, a DVD submission is mandatory as one of the first steps in the application process. These submissions help the selection committee eliminate about half the candidates. Each submission is reviewed by at least two people. Says Pinney, "I'd rather not invite a student to campus when I know there's very little [chance] that the student would be accepted into the program. It saves a lot of money for everybody and a lot of time that way."
Pinney says students sometimes try to "make more of the DVD than what it actually is." His school has received discs on which the pitch of an applicant's singing voice has obviously been "retouched" via Auto-Tune. Sometimes "extra little gimmicks" have been added in an apparent attempt to impress. "I believe the most successful DVDs are simply [shot] in front of the camera," Pinney says, "giving a statement of why you want to do musical theater and just being yourself doing that—just being honest in the moment."
Patton acknowledges the limitations of DVD auditions: "It's definitely to someone's advantage to do it in person, because there are times someone will crash and burn the first time, and then someone on the faculty will see something and say, 'Why don't you try it again? Do this, do this.' And right before your eyes, they transform and do it, and it's like, 'Oh, my God—they're fabulous!' And we accept them. And you can't do that with a DVD."
Take a Deep Breath, Everybody
It's natural throughout the college application process to get bogged down in bureaucratic details and keyed up with nervous energy. Trying to do too much can add to the stress. "I knew some people who did auditions at, like, 11 schools," says Frarey, "and they were completely burnt out. They had not the greatest end of senior year because they were exhausted."
Reminding yourself why you're going through all the fussing and fretting can help put things in perspective. "It's important to be loving what you're doing," Frarey says. "And there were a couple times when I forgot that. I had a good audition...but I was really wrapped up in, like, 'I need to get into the school!' "
Lynge contends that you're best off when you give schools an honest picture of who you are as an artist and a student. "Don't do something because you think it's what they want," she says. "They're trying to get to know you and your talent, so show them."