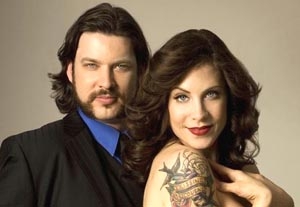 The self-described 'Power Couple of Burlesque,' GiGi La Femme and Doc Wasabassco have cut themselves a wide path through the New York theatre world with Wasabassco Burlesque.
From their duo's beginnings in a tiny raw space in Brooklyn, the performer and impresario have lately been headlining shows in Manhattan in clubs like the City Winery as well as venues up and down the East Coast with their two traveling acts, the "Wasabassco Medicine Show and Traveling Burlesque Revue" and "Wasabassco's Girls! Girls! Girls! – a Ladylicious Cabaret." But they've draw the greatest attention with their monthly show at the hip Under St. Marks Theatre in NYC's East Village, "Revealed."
"Revealed" is a carnivalesque ride that pushes burlesque to new heights. Hosted by the maniacal Bastard Keith and his sidekick/'stage kitten' Madame Rosebud, the show features a lineup of the city's best performers. On Wed., May 20th, that will include performances by: Anita Cookie, Peekaboo Pointe, Kobayashi Maru, Sapphire Jones, Stormy Leather, and GiGi La Femme herself.
We recently sat down with the dynamic pair to ask them about their speakeasy beginnings, tassel-twirling, and making out with Julie Atlas Muz. 
READ THE FULL STORY ON BLOG STAGE