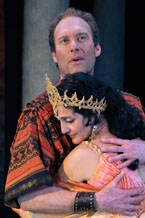 Shakespeare's Antony and Cleopatra presents several challenges, which may explain why it isn't staged that often. It is a long play and somewhat fragmented because the action swings back and forth between the political arena, where Antony must figure out how to outmaneuver the devious Octavius Caesar, and a more personal realm, emotionally charged by the all-consuming love affair between Antony and the ever-fascinating Cleopatra.
Even more significant is the fact that Antony and Cleopatra are larger-than-life characters who dominated the world of their time and have acquired an almost mythical mystique in the years since. Bringing them to life in all their complexity requires actors who are not only individually adept but who can make us believe their entire worlds revolve around each other. This Utah Shakespearean Festival production has one actor who is up to that task, and one who falls short.
Jacqueline Antaramian's charismatic Cleopatra simply grows more intriguing as the production unfolds. "Age cannot wither her, nor custom stale her infinite variety," Antony's lieutenant, Enobarbus, says of her, and the depth and range of Antaramian's performance verifies that observation. This Cleopatra can be petulant as a child one moment and regal as a queen the next, switching instantly from unpredictable, love-addled woman to cunning, manipulative head of state.
Unfortunately, Bill Christ is so stiff and self-conscious as Antony that he undermines any possibility of chemistry between the two lovers. To give Christ his due, he seems totally miscast; he's not up to portraying Antony either physically or vocally and struggles throughout with both movement and language. He's not helped by the bizarre, earth-toned tunic and pajama combination costumes David Kay Mickelsen has designed for the Romans in Egypt, which don't look good on anyone.
By contrast, Mickelsen's costumes for Cleopatra and her women, along with their jewelry and headpieces, are wonderful. Their warm, vibrant colors and light, crinkly material reflect the desert landscape where they live. The effect is enhanced by Lonnie Rafael Alcarez's golden lighting. These women largely carry the show and their scenes are lively and touching by turns. Leslie Brott's sharp-tongued, worldly wise Charmian and Afton Quast's sensitive, fiercely loyal Iras are perfect foils for Cleopatra. Dan Kremer's eloquent and cynical Enobarbus, Michael Brusasco's unscrupulous, double-dealing Octavius Caesar, Corliss Preston's pragmatic Octavia, and Ashley Smith's enigmatic Soothsayer stand out in the supporting cast.
Director Nagle Jackson has chosen an interesting frame for the story, having the Soothsayer onstage as it begins and ends as well as numerous other times throughout the play. This device gives fate the weight of almost an auxiliary character in shaping events and seems to be forced only once: when the Soothsayer is the one who delivers the fatal asp in the basket to Cleopatra. When Cleopatra prepares to die, she arrays herself like her own Egyptian tomb painting, a motif neatly duplicated in Christopher Pickart's set design.
This production has both grandeur and heart. What it lacks is the heat and passion of a love that has passed into legend.
Antony and Cleopatra runs in repertory June 26-Sept. 2 at the Adams Shakespearean Theatre, Utah Shakespearean Festival, 351 W. Center St., Cedar City, Utah. Tickets: (800) PLAYTIX. Website: www.bard.org.