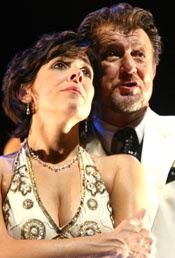 Mack and Mabel has some good songs. But reducing the show to little more than its score is not enough. The musical, which its co-creator, composer-lyricist Jerry Herman, has described as his favorite (as opposed to his Hello, Dolly!, Mame, or La Cage aux Folles) when fully produced, is two-and-a-half hours of dour, combative emotional turmoil between pioneer silent filmmaker Mack Sennett and his lover and star Mabel Normand. Director D. Lynn Meyers apparently thought a pared-down version would save the good parts and skip over the unsavory elements that have turned audiences off in the past. But without them, this 75-minute concert staging feels more like a mere collection of songs without enough sense of the characters (Michael Stewart wrote the original book) to bring it to life.
One-time TV star Gary Sandy (WKRP in Cincinnati) brings an irascible charm to the domineering Sennett, narrating the story of his past as it revolved around Normand. It begins in 1911 when he first established the basics of silent film comedy, a form Sennett perfected. His two-reelers featuring the effervescent and knockabout Normand made her a familiar face that was loved by moviegoers for the better part of a decade. But in this truncated version, with the likable Susan Nock playing the vivacious actress, there's precious little material to help us understand why they cared for each other.
Normand parted company with Sennett in the early 1920s for other opportunities. Instead, she gave in to the temptations of alcohol and drugs. She was caught up in a scandal surrounding the murder of director William Desmond Taylor; although she was apparently not involved, her career never recovered and she died at the age of 35. None of this drama is meaningfully reflected in this staging, which offers the dozen melodies Herman penned for the show — from the reserved "I Won't Send Roses" and the longing "Time Heals Everything" to the incongruous "Tap Your Troubles Away." The latter features an energetic dance routine featuring Patti James, Alexis Black, and Lesley Hitch. But, like much of the show, it's entertaining as a stand-alone number but has almost no connection to the story we keep straining to unearth.
Mack and Mabel benefits from Reba Senske's period costumes and Brian Mehring's movie-themed set. He has designed a gleaming white playing surface, approximately the dimension of a movie screen, surrounded by a litter of film canisters. Above the set, a film projector from the era occasionally comes to life, blinking and clicking directly at the audience. The actors, including Jeff Parker (as Frank Capra) and Adam Slemon, sit in tall director's chairs near the rear of the stage when not in the action. Spirited accompaniment is provided by music director Scot Woolley at a solo grand piano, placed upstage center.
As a simple concert of the music from Mack and Mabel, this is a well done, energetically performed production. As a re-creation of the two fallible and perhaps incompatible souls that inspired the show, there's not much satisfaction to be found.
Mack and Mabel runs Sept. 13-Oct. 1 at the Ensemble Theatre of Cincinnati, 1127 Vine St., Cincinnati. Tickets: (513) 421-3555. Website: www.cincyetc.com