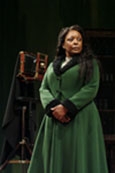 "How a person looks at a thing matters," declares Sarah Breedlove (L. Scott Caldwell), soon to change her name to Madam C.J. Walker and become the first self-made female millionaire in U.S. history. She accomplished this remarkable feat in less than a dozen years, rising from poor washerwoman, the first freeborn child of slaves, to one of the most powerful women in America. She is the subject of Regina Taylor's engaging if imperfect play The Dreams of Sarah Breedlove, now at the Goodman Theatre.
Taylor -- whose Crowns, a portrait of black women and their church hats, has been a major regional success in recent seasons -- has done a skillful job of depicting major social and cultural movements through the personal stories of her characters. The rise of the black middle class, beauty and self-image, and the racism that affects even those on the top rungs of society are all dealt with compellingly.
The production, which Taylor directed, does a generally strong job of creating a world unfamiliar to much of the audience. The acting is mostly strong, particularly Caldwell's towering performance as Sarah. She manages to portray the character's humble origins as well as the inner strength and stubbornness that drove her to build a business empire and that hurt her relationships with her daughter, A'lelia (Nikki E. Walter), and husband, C.J. Walker (Keith Randolph Smith). Caldwell is unquestionably the vital force that keeps the play together; her energy sweeps it forward, faults and all.
This is only the play's second production, after one at the Alabama Shakespeare Festival last year, and some kinks still need to be worked out. Some of the scenes seesaw between emotions without enough connection, lending them an almost melodramatic feel. Others come perilously close to histrionic kitchen-sink drama unbefitting the intelligent work in most of the play. Several scenes feature a character known as African (Smith), who dances with Sarah and later appears in her dreams to tell her secrets. This raised my hopes that the play would engage deeply with Africa and its legacy even in the lives of those many years out of slavery; unfortunately, the piece generally fails to capitalize on this arresting image.
These are all fixable flaws, however. As it stands, The Dreams of Sarah Breedlove is definitely worth seeing: It is intelligent and absorbing, not to mention beautifully designed and excellently performed. It's a treat to see a playwright of Taylor's distinction and ability explore her ideas on such a wide canvas; hopefully, she will be able to pull the play into even stronger shape.
The Dreams of Sarah Breedlove runs through July 23 at the Goodman Theatre, 170 N. Dearborn St., Chicago. Tickets: (312) 443-3800. Website: www.goodmantheatre.org.