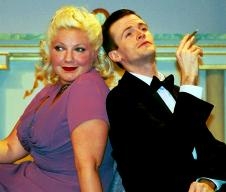 It is strange that Bailiwick Repertory, a low-budget, high-profile theatre notorious for delving into and celebrating the complexities of unconventional human relationships, should attempt a mounting of Frederick Lonsdale's The Last of Mrs. Cheyney (the general public may be more familiar with the 1937 Joan Crawford film than with the original stage version - there is in fact a 1929 film version as well). This 1925 three-act British comedy of manners is a massive undertaking that either deserves lavish sets and costumes or a uniquely inventive method of staging that would negate the need for so much set dressing. Regrettably for the too-young ensemble, director James Pelton has chosen a staid, slapdash, sparsely decorated box set (designed by Craig Choma) that looks sadly cheap and underdressed.
Mrs. Cheyney (Sara Walsh), a witty and sophisticated young widow, throws what is meant to be a lavish party. Unluckily, because of the lack of seating and the large cast (one art deco pouf for at least 10 people), the actors stand around miming whispers and gossip, with very little else to do but hold empty tumblers. A bit more business, or at least costumes that fit properly, would go a long way in making everyone seem less awkward in the setting. The actors are clearly uncomfortable; only a few are cast appropriately for their ages, and many don't have a handle on the dialect.
Though Ms. Walsh has a clear grasp of the received pronunciation of middle class British society, when she suddenly snaps into Cockney (for you see, she's no sophisticate - she and her pals, posing as butlers, are out to swindle the society snobs), the language becomes muddied. Walsh struggles with the Englishness of her demeanor, striving to be ever so droll and cheeky, that very little substance exists under the mannerism. Her scenes with love interest Arthur (Robert Kaercher) that should be filled with sexual tension and little bursts of escaping steam, are so bump-and-go fast that one can't find their attraction to each other through all the posing. Apparently, all one has to do to seem British is to stiffen the upper lip, toss the head while wittily chortling, and drape oneself across the chaise (which has a tendency to make alarming, rusty, springy noises when weight is applied to it).
A few actors do make things more interesting: Lori Myers is dryly clever as Maria, and Elise Kauzlaric throws herself into the drippy, sex-obsessed caricature of Joan headfirst. And things do start to get a bit better in the second act, as the actors relax into their roles a little.
The very notion, though, of including The Last of Mrs. Cheyney in Bailiwick's season is odd. While hoodwinking the rich and powerful is the basis for successful plots all the way back to Miles Gloriosus, The Alchemist, and Tartuffe, this particular script has never been what one would call ingenious. I regret saying this, but on the stage at Bailiwick is a production that more closely resembles community theatre than professional, and that is largely because of the choice of material.