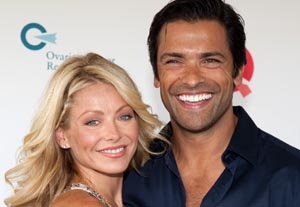 Kelly Ripa and Mark Consuelos will return temporarily to their roles on "All My Children."
Ripa made the announcement this morning on her current show, "Live with Regis and Kelly." She said the return is part of "AMC's" 40th anniversary celebration in 2010. 
Ripa played the role of 'Hayley Vaughan Santos' from 1990-2002. Consuelos played 'Mateo Santos Sr.' from 1995-2002. The couple, whose characters married on the show, became husband and wife in real life in 1996. They have three children together.
According to IMDb, "All My Children" started broadcasting on January 5, 1970.  Both actors are younger than the show itself; Ripa was born in October 1970, Consuelos in March 1971.
Ripa did not specify when the episodes in which they appear will air, or for how long. She said that "Live" will broadcast behind-the-scenes footage of the couple.