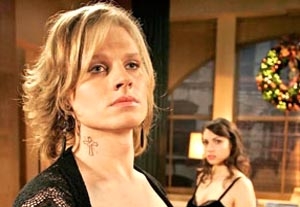 Today four prime-time network soap operas are made in New York. By January, that number will be cut in half, and could even dwindle to one.
CBS announced Aug. 4 that "Guiding Light" – which was cancelled in April and will end its 72-year run Sept. 17 – will be replaced with a revival of the game show "Let's Make a Deal." The next day came word that ABC will move production of "All My Children" to Los Angeles in January. That leaves "One Life to Live" and "As the World Turns" as the last two Gotham soaps left standing. But the ground beneath one of them looks less than firm after CBS president Nina Tassler told the New York Post this week that "ATWT" is "also having ratings problems" and that "she doesn't know when" the Eye network will make a decision regarding its fate. "It is one of those things where you watch and you talk," she said.
For the New York TV acting community, the loss of three productions in such a short period is less than encouraging. Holter Graham, president for the American Federation of Television and Radio Artists' New York local, sees a silver lining in the "AMC" move.
"I actually think that the move that ABC made shows a big dedication on the part of the network to keep the show alive in what is obviously a changing market," he said. "The fact that Wayne Brady's "Let's Make a Deal" is replacing it shows what is happening in daytime television. But I think it shows that while the network understands that it's a challenged market and understands that cost-cutting has to be done, they believe in them and they still want them to work."
Still, Graham says that the loss of two shows is "a blow to the simple math of work opportunity to the New York actor." Should a third show be lost, that math will look even worse.