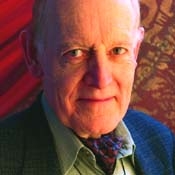 Tony Church, a founding member of England's prestigious Royal Shakespeare Company, died March 25 in London. He was 77. Cause of death is unknown.
According to The Denver Post, Church performed in more than 70 Shakespearean productions in 13 countries, and acted in 31 of Shakespeare's 37 plays. He spent seven years in television, radio, and repertory before becoming a founder member of the RSC in 1960, where he remained an associate artist until 1987. In 1988, he joined the National Theatre of Great Britain, where he took leading parts in The Winter's Tale, The Tempest, and Cymbeline.
In 1982, Church was appointed director of drama at the Guildhall School of Music and Drama in London. He later moved to Denver, Colorado, where he became an emeritus dean of the Denver Center's National Theatre Conservatory.
His television and film credits include, Lillie, Edward and Mrs. Simpson, and The Plague Dogs, and Krull.
--Lauren Horwitch, additional information from Stage News