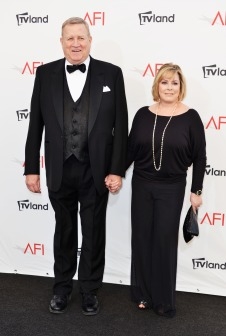 Bob Barker has some new competition in Los Angeles, at least when it comes to advocating for animal welfare.
Ken Howard, SAG-AFTRA co-president, and wife Linda are organizing a fundraiser for the Onyx & Breezy Foundation April 13 at James Costa's estate in the Hollywood Hills.
The Foundation, named in memoriam of founders Mark and Wanda Shefts' two late black Labrador Retrievers, provides direct grants to applicants with animals in need of food or veterinary care and funds spay and neuter programs.
The fundraising event, which is sponsored by Relativity Media CEO Ryan Kavanaugh's newly acquired FreeHand Dog food company and will feature performances from "American Idol" winner Lee DeWyze and Leslie Odom Jr. of NBC's "Smash," is the first held by the Foundation on the West Coast. It was five years in the making.
Back in 2008, the Howards and Shefts met at a Humane Society Fundraiser. "They were interested in growing their foundation and were looking for a celebrity spokesperson," said Linda Howard, a former stuntwoman. "They wondered if Ken would be willing. Ken, of course, said absolutely."
The couple, who have two rescue dogs, a poodle-terrier mix named Harley and a poodle-yorkie mix named Hannah, researched the Foundation. "We were both so impressed with how the donations were actually spent, the streamlining and how every penny that was donated went directly to an animal in need as opposed to salaries since everyone from the top to the bottom were all volunteers," said Howard.
The Howards' enthusiasm helped draw in some well-known performers with philanthropic experience. Kathy Bates, George Clooney, Charlize Theron, and Betty White have all signed onto the event's host committee. "The tie-in with all of them is that they love their animals," said Howard. "They appreciate their pets."
Ken Howard said he wasn't surprised by the enthusiastic response from the acting community.
"I always think of the performing community as being very giving and very orientated to good causes and I think this will be no exception," said the veteran stage and television actor. "How we take care of our animals is a very good indicator of how we are doing as a society. It is symbolic of how, as human beings, we go about treating each other."
Tickets for the event, which run from $150­–$250, are available online here.