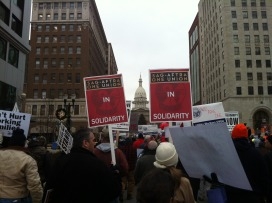 Actors joined the throngs of labor protesters around the Michigan capitol building in Lansing Tuesday in a vain attempt to dissuade Republican lawmakers from passing two right-to-work bills.
Labor officials believe the laws threaten members' livelihoods and will hamper organizing, while supporters say the legislation will boost the economy and help create jobs.
SAG-AFTRA has been organizing in opposition to the bill since it swiftly moved through the state legislature last week. The union started an online petition and encouraged its some 1,000 members in the state to call their lawmakers to express their opposition.
On Tuesday, union actors from as far away as the Upper Peninsula spent hours on buses to reach the capital and join the increasingly bitter protests against the two bills that cover private and public employees. Both are now heading to Republican Gov. Rick Snyder's desk for a signature after passing through the state House on Tuesday. They had earlier cleared the Senate.
"We're very saddened that it happened," Marcia Fishman, SAG-AFTRA's Detroit local executive director, told Backstage. "We're not happy with the process. And we're hopeful that with new legislators in in January, something could change."
Critics of the bills have been unhappy they were brought up during the lame-duck session of the state Legislature, before new members elected in November are sworn in in the New Year.
Meanwhile, Fishman said SAG-AFTRA members in Michigan were unlikely to feel an immediate impact. "It'll be more immediate for unions that have closed shops," she said.
The laws make it illegal to require financial support of a labor union as a condition of employment and would allow non-union employees to receive the same wages and working conditions as their union-member colleagues.
That's a concern of SAG-AFTRA, which is worried that non-union performers who reap the benefits of its contracts without joining the union or paying fees would have little incentive to become members.
"The challenge is an organizing challenge because you get performers who don't necessarily have to join after they become eligible," Don Livesay, the union's executive director for its branch in Utah and Arizona, two right-to-work states, told Backstage in a recent interview.
"They may choose to work job after job without joining, while our members are paying dues to cover the protections in the collective bargaining agreement that are covering them."
Livesay noted that there were incentives for performers to join the union, even in right-to-work states. "It's a question of professional integrity," he said. "You're going to want to be part of the largest, most powerful union in the country."