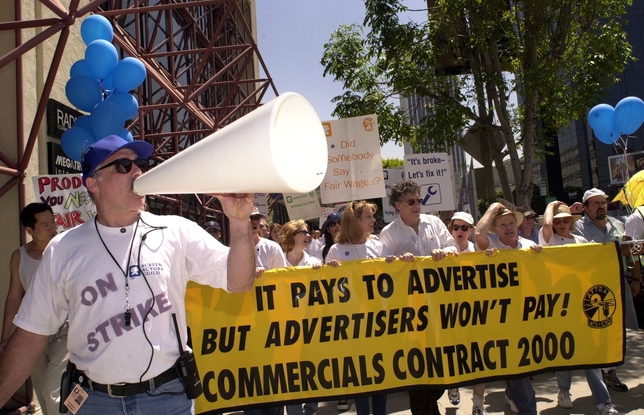 SAG-AFTRA has begun ratcheting up its preparations for the upcoming commercials contracts negotiation. Negotiators for the advertising industry say their side doesn't anticipate issues arising between the parties that could lead to a strike. But union members say it's too soon to tell how the national membership will react to any deal that's reached early next year.
With the union's Wages and Working Conditions Committee starting its formal consultation process this week, performers are expressing concern about ways to effectively monetize and track ad viewership. Under the current system, the union can track a specific ad if it's asked to by a performer who, say, is worried about it playing beyond the agreed markets. But pulling together the different sources of data—ranging from Nielsen ratings to actors' invoices—is challenging.
"What we really want to get to is where that process is automated," Ray Rodriguez, the union's co-assistant national executive director for contracts, told Backstage.
The union and advertisers have been testing the Gross Ratings Point ("GRP") Pilot Project, which grew out of the one-year extension of the current contract the parties agreed on in summer 2011. That system isn't ready yet and could be 18 months away from implementation, according to Douglas Wood, a partner at Reed Smith LLC in New York and the ad industry's lead negotiator.
The GRP system "isn't going to work if it costs more to work than the current system," Wood said in an interview. "The Model T still runs. We can live with this [current system] longer and wait to launch the Ferrari [GRP] once we get some of the technology issues resolved."
In addition to the union-industry GRP pilot project, Wood said there were two outside groups, Bain & Company and Booz, that were doing analyses on ad tracking. "It's an advantage to both sides to fix the tracking problem," he said.
Although there has been a labor dispute between the parties in the past, Wood said it was unlikely there would be a repeat of the costly strike from more than a decade ago.
"The relationship we have now with the union is much better than it was in 2000," he said. "It took years to get that trust level on both sides, but we have it. We meet very often now."
In 2000, he said, there was a disagreement over whether online advertising would be covered by union rules. After the strike, the parties agreed it would be. "That battle is done," he said.
Moreover, many of the issues surrounding the new media environment such as the rate for online advertising or online ads that get transferred to television, was decided in the 2009 contract, Wood said. "There's really nothing left to hash out."
This time around, "I don't see any real lines-in-the-sand kind of issues," Wood said.
"There'll be tough bargaining over wages and things like that. In the end, there'll be some compromises, there'll be some belly bumping, but nothing that I can see that will derail" the negotiations, he said.
"It'll come down to classic economic issues. These can [lead the negotiations] astray, but they have never been a reason for a strike in this industry."
In past negotiations, the unions have won a 0.5 percent increase in the employer contribution rate to the AFTRA health and retirement funds and the SAG pension and health plan, bringing the total contribution rate to 15.3 percent, according to the union. Wood said that figure could increase to 16 percent. "I would not at all be surprised if we would go to that level," he said.
Bill Mootos, a SAG-AFTRA national board member, said he couldn't guarantee members, who will have to ratify the new contract, won't take a tough stand. "Because of all the changes in the industry, we're at the point where new ideas need to come forward," said Mootos, who was elected from the Boston Branch. "It would be foolish to say this will be a breeze. We never know."
Still, Mootos said the union's position has been strengthened by the merger this spring. "I think the merger of SAG and AFTRA has been a huge benefit," he said.
Meanwhile, Wood noted that for the advertising industry, talent costs about $1 billion annually, or roughly 2 percent of the cost of ad making. With so much of the advertisers costs going to booking airtime, it's in the best interests of both parties to nail down an effective tracking system, he said. "Our motivation is very much pushed by our need to figure out the 98 percent" of ad costs.
Wood said the negotiation process will start slowly in New York around the end of January or early February 2013. "It gets pretty intensive early March," he said. "The last couple of weeks is when everything happens."