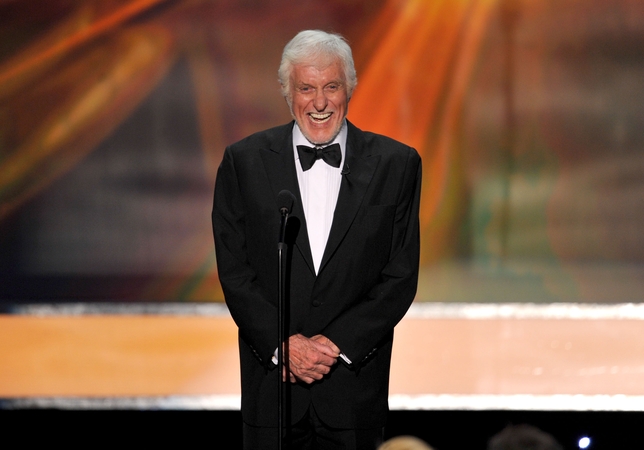 Dick Van Dyke will be the recipient of the SAG Life Achievement Award at the 19th annual Screen Actors Guild Awards in January, SAG-AFTRA Co-Presidents Ken Howard and Roberta Reardon announced today.

The award, considered the union's highest honor for career achievement and humanitarian accomplishment, is given annually to an actor who fosters "the finest ideals of the acting profession," according to SAG-AFTRA.

Over the course of a career spanning nearly six decades, the 86-year-old actor, singer, dancer, and comedian has won a Tony, a Grammy, and five Emmy Awards. His career was defined by starring roles in his eponymous sitcom "The Dick Van Dyke Show," Broadway and film versions of "Bye Bye Birdie," and movie musicals "Mary Poppins" and "Chitty Chitty Bang Bang," followed by dozens of feature films and the long-running series "Diagnosis: Murder."

"Dick is the consummate entertainer – an enormously talented performer whose work has crossed nearly every major category of entertainment," Howard said in a statement. "Stage, big screen, small screen, literally everywhere he has worked he has inspired millions of fans and has had a tremendously positive impact on the industry and the world. He is so deserving of this honor and I congratulate him."

He's been involved in nearly every aspect of the entertainment business. Before starring on stage and screen, Van Dyke hosted a radio show during his stint in the Air Force and later hosted a CBS morning talk show. He has also been a writer, producer, and director.

Van Dyke presented the Life Achievement Award to his "Dick Van Dyke Show" co-star Mary Tyler Moore at the 18th annual Screen Actors Guild Awards ceremony in January.

"With Dick, it's so much more than the proverbial 'triple threat,' " Reardon said in a statement. "He started his career as a radio announcer, game show host, and comedian and was a spokesman for Kodak, among numerous other roles over his nearly 60-year career. His contributions to the success of the business and to his fellow performers is legendary as is his work with a number of the leading ladies of our times, including Julie Andrews and Mary Tyler Moore — both previous Life Achievement Award recipients. His infectious laugh has warmed audiences for decades and is an unforgettable facet of his fabulous personality."

SAG-AFTRA, which formed earlier this year after the merger of the Screen Actors Guild and the American Federation of Television and Radio Artists, represents more than 165,000 actors, singers, dancers, broadcasters, and other performing artists.

The 19th annual Screen Actors Guild Awards will be broadcast live on TNT and TBS on Sunday, Jan. 27, 2013.