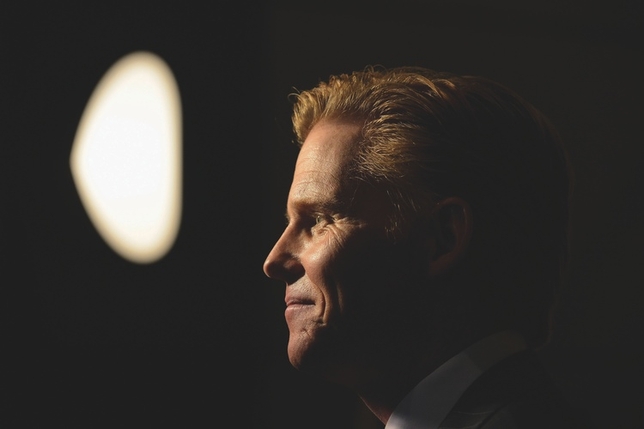 It's mission accomplished for Ned Vaughn, the outgoing executive vice president of SAG-AFTRA.
The Alabama-born Vaughn, who helped cement the SAG-AFTRA merger, is leaving union leadership in September. In an interview with Backstage, Vaughn said he was stepping down with a sense of satisfaction, which he believes union voters will share when they cast their ballots in the coming weeks. "The job I came to do is done," he said, "but of course the i's are never finally dotted, the t's are never finally crossed. Future leaders will have to address different challenges."
Vaughn had a long career in film and television before being elected to the Screen Actors Guild board in 2008. He was the founding leader of the Unite for Strength group, which was instrumental in pushing through the merger of SAG and AFTRA in March 2012. "We made something happen that people had attempted in various ways for about 60 years," he said. Vaughn admitted the union of the two organizations is not perfect. "Every aspect of the merger isn't necessarily as I would have prescribed it, but marginal things that may not have been my first choice, I can certainly accept those in light of the greater good that was accomplished."
Vaughn believes members are satisfied with the work of Co-President Ken Howard and his UFS group. "They're not inclined to change that," he said. "In a counterintuitive way, that can sometimes depress voter turnout." After five tumultuous years in union politics, Vaughn wants to step back and "focus on other areas" of his life. Still, he's running as a delegate to the union's first joint convention in September, and it's possible that he could be elected to one of the union's executive vice president or seven vice president positions during the convention. "That's not something I'm thinking about," he said. "I'm not looking to serve beyond the expiration of my term in September, other than as a convention delegate."
Despite stepping away from leadership, Vaughn remains active in the campaign. He's endorsed New York Local President Mike Hodge, who is facing a surprise challenge to his reelection from national Co-President Roberta Reardon. Vaughn called Hodge's Unite SAG-AFTRA Nationwide and UFS "sister organizations" and said he was backing the incumbent local president after years of working closely together. "I really value him," Vaughn said. "They [USAN] provide the kind of leadership I would want representing me if I were a New York member."
Vaughn wouldn't address the issue of regulating casting workshops, which has been raised by Howard's challenger Esai Morales. But he did join with Howard in opposing a loosening of the union's membership requirements. "You have to strike a balance between making union membership attainable for those who want to pursue the work at a career level but not opening the door so wide that you flood the membership with people who really aren't engaged in the work," he said.
As for the work of the union leadership, Vaughn is happy to hand off the reins. "I've made some lifelong friends," he said