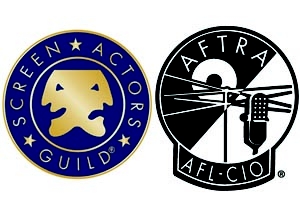 Members of the Screen Actors Guild and the American Federation of Television and Radio Artists must submit their completed ballots to be received no later than 10 a.m. PST on March 30, in order to cast their votes for or against the proposed
SAG-AFTRA
merger.
SAG and AFTRA sent the ballots and information packets to their members in late February. At least 60 percent approval is required to ratify the deal.
Opponents of the merger, including actors Martin Sheen, Ed Harris, Ed Asner, and Valerie Harper, are plaintiffs in a lawsuit filed last month in Los Angeles federal court to prevent SAG from calling an official vote. They claim that the SAG board neglected its duty to conduct an impact study on the potential effects of the proposed merger on members' health and pension benefits, and therefore demanded that ballots not be counted until the union conducts an actuarial study. Defendants in the suit are SAG, guild president Ken Howard, secretary-treasurer Amy Aquino, and vice presidents Ned Vaughn, Mike Hodge, and David Hartley-Margolin.
But on March 19, federal Judge James Otero canceled a March 26 hearing in the lawsuit, which is intended to void the vote. According to the court docket, the matter has been "taken under submission," and the hearing date is "vacated." Otero's decision therefore will be based on the legal papers that were already filed.

The Hollywood Reporter's Jonathan Handel
noted, "Taking the matter off [the] calendar does not signal the judge's decision, but may mean that he has reached one already." At press time, votes were expected to be counted on March 30, unless the court rules in favor of the plaintiffs.
In advance of the deadline, both unions have been holding local informational meetings for members across the country. Details of the proposed merger plan are available at SAGAFTRA.org.
"We spent well over a year creating this plan, and it involved the direct input of members throughout the country," SAG 1st National Vice President Ned Vaughn told Back Stage. "We worked very hard, and I'm confident that this is not only the best plan available but also the right plan to bring these two organizations together. I'm confident that members will approve merger. Still, I urge every member to make sure to vote right away. I don't want anyone missing the chance to join in this crucial step to protect our future together."