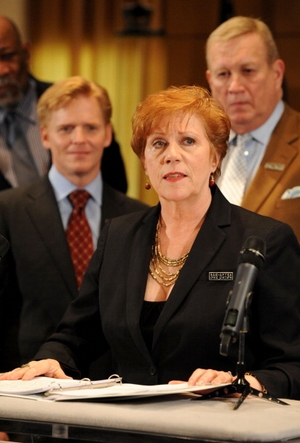 A surprise announcement has put the national spotlight on SAG-AFTRA's New York branch and made the local leadership race one of the most competitive—and potentially divisive—contests in the union's upcoming elections.
Roberta Reardon, who currently serves as the union's national co-president with Ken Howard, formally announced June 30 that she's challenging Mike Hodge for the presidency of the New York Local, SAG-AFTRA's second largest.
The announcement caught Hodge by surprise, but he wasn't the only one reeling from last week's developments. After serving together as co-presidents for more than a year, Reardon said she was astonished when on June 27 Howard announced he's backing Hodge's reelection bid. "I am surprised, but that's politics," she told Backstage.
Hodge, who's running on the Unite SAG-AFTRA Nationwide (USAN) slate, and Reardon were in talks earlier this year to run on the same slate—with Hodge seeking the New York presidency. But Hodge said Reardon abruptly requested he step aside. "We'd already agreed on most of the details including Roberta supporting me as [New York] president," Hodge said. "I know Roberta was disappointed that couldn't secure an endorsement for [executive vice president] at the convention."
Reardon— who said she is "pretty sure that I will be throwing my hat into that ring" for the EVP position at the union's September convention—is now running on the New York Coalition for Unity (NYC4U) slate. She's joined by Anne Gartlan, Holter Graham, Jim Kerr and Sue-Anne Morrow who are seeking the vice presidential slots. Some New York members have grumbled privately that the slate is AFTRA-heavy, with Reardon, Gartlan, Graham, and Kerr all long-term members of AFTRA's pre-merger leadership.
Reardon brushed aside the suggestion the race was becoming a SAG-versus-AFTRA contest. "The group of people that I'm running with really are from all points on the compass," she said. "They are proud SAG-AFTRA members."
She pointed to the wealth of negotiating experience on her slate. "This group has sat on every national negotiation in this union over the last 10 years, one way or the another," said Reardon, who served as chairwoman of the union's negotiating committee during its recent commercial contracts talks.
Meanwhile, Hodge pointed to his efforts in member education, outreach and fighting non-union work.
"We have created a number of different seminars and have grown them over time," he said. "It's an important part of what we do--making sure members have the best shot at sustainable careers."
He continued: "This campaign gives me the opportunity to talk with the members about all the wonderful things we can do now that we're SAG-AFTRA New York. We get a chance to set a new approach in so many areas--while remaining strong in the things we do well--like negotiations and enforcement."
For her part, Reardon said she "respects" Hodge, "but we just disagree about some fundamental issues."
"We are a very hands-on group and that's probably a difference," she said. "We've actually engaged in organizing campaigns."
She also warned about "the creep of unorganized [non-union] work."
"I think we really need to focus on reorganizing the commercials market, and maybe we can lead the way for the national effort."
Reardon has a national profile after spending the past year touring Locals with Howard to discuss the March 2012 merger. Still, Howard chose to back Hodge's bid for a third term. "There's a synergy there that is going to be extremely helpful for N.Y. members," said Hodge. Despite the snub, Reardon said she "works well" with Howard and supports his reelection as national president.
Ballots for the upcoming election are scheduled to be mailed July 16.