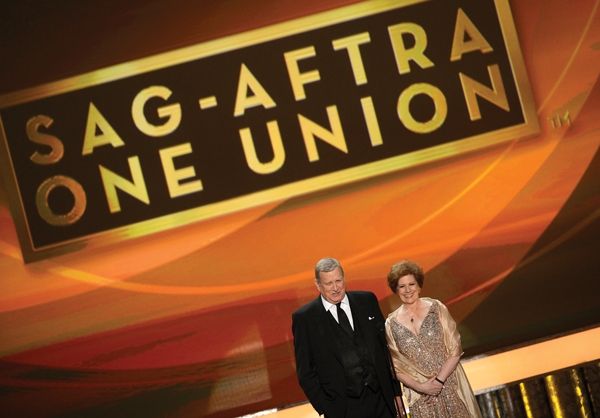 The successful conclusion of the commercials contracts negotiation has turned attention to the upcoming SAG-AFTRA elections. Procedures for the upcoming leadership vote are still being worked out, but the union will cease using a co-presidency.
Now, former SAG president Ken Howard and former AFTRA president Roberta Reardon serve as the merged union's co-presidents. Reardon, who was chairwoman of the negotiating committee that worked out the tentative deal with the advertising industry, declined to comment to Backstage about her plans for the presidency.
Howard has told Backstage he'll "probably" run again.
"It's my inclination because it assures a certain continuity," he said in a recent interview. "It would be hard for me to be unseated as an incumbent [who is] seen as successful."
SAG-AFTRA's national board will meet April 20–21 to vote on the tentative commercials deal.
A tentative schedule shows that the nominating petitions become available May 15, with June 14 being the deadline to submit them and June 17 being the eligibility cutoff for members to be in good standing so they can vote. July 16 the ballots are mailed, and Aug. 15 is the deadline for the receipt of the ballots. The union's first joint convention is set for September. A spokesperson for the union said that the official notice of nomination, election, and schedule for all of the union's 2013 elections will be distributed to the membership in early May.
Reardon and Howard could both make a strong case for the union presidency. Reardon was recently elected to the board of trustees of the National Labor College and also serves as a vice president of the AFL-CIO, which gives her added influence in the labor movement. Moreover, having led the negotiations with the Joint Policy Committee, Reardon has much to gain if the deal is approved and becomes popular with members.
Howard can also point to capstones in his union leadership.
He said, "I really ran [in 2011] on a single platform—to get this merger done. These first negotiations, I would think, will make it even clearer that this was the right move."
Howard, an Emmy- and Tony-winning actor, also has a feel for the needs of the rank and file of the some 165,000 SAG-AFTRA members.
"In our union we have members who are multimillionaires and others who are working barely above the poverty level," he said. "It shouldn't be about these two institutions; it should be about the membership."