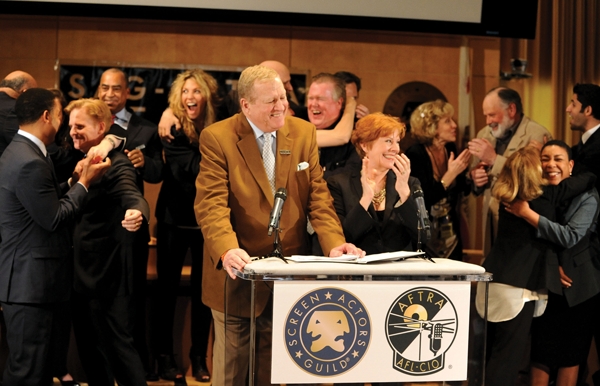 The success of last year's merger of SAG and AFTRA should be judged on the outcome of the union's collective bargaining, starting with the pending commercials contracts deal.
That's according to Ken Howard, who was re-elected president of SAG in 2011 on the promise to complete the merger, which both unions' membership overwhelmingly approved March 30, 2012.
SAG-AFTRA's talks with the advertising industry, which are set to conclude by April 7 in New York, are the first test of the organization's new collective bargaining power, said Howard, who is now co-president of SAG-AFTRA with Roberta Reardon.
"The real reason, far more than any other, for merging these unions was the strength we need to have in collective bargaining," he told Backstage. "You never want to have two separate unions representing the same workforce because the management will exploit it, one against the other."
In previous negotiations with the Joint Policy Committee, which represents the ad industry, SAG and AFTRA negotiated jointly but as separate entities. This year was the first time advertisers dealt with the merged organization. "Joint bargaining—it sounds good until, you know, there's real pressure," said Howard. "You do want to be in complete control of the workforce, and that was really not the case [before the merger].
"These first negotiations, I would think, will make it even clearer that this was the right move."
SAG-AFTRA can point to other accomplishments after its first year. It signed the first-ever industrywide agreement with major record labels that covers music video dancers and performers. It helped defeat Proposition 32 in California, which would have banned corporate and union donations to candidates, and has helped pass film and television tax incentives in various states.
"We are laying the foundation for expansion in several other contract areas, and we have had the ability, for the first time, to review and assess our entire operations with a view towards the needs of our membership nationwide," David White, SAG-AFTRA executive director, said in a statement. "SAG-AFTRA can now pursue the labor pool in all areas of media and entertainment with a single, focused strategy."
Still, there are issues to work out, Howard admits. He calls the merger of the unions' separate pension and health funds, which have yet to develop some form of reciprocity, a "pressing" concern.
Reardon said members shouldn't expect too much information before all the details are worked out. "I would not expect partial reports to be made public, but I can assure you we are deep in discussions," she said.
P&H benefits had been a major stumbling block in the merger, which Howard worked on for three years after first getting elected in 2009. But the rancorous opposition has died down. An anti-merger lawsuit was withdrawn last spring, and now opponents tell Backstage that while they still disagree with the deal, they've learned to live with the outcome of the vote.
The commercials contracts deal is a warm-up to the theatrical-television agreement renegotiation that will happen in summer 2014. In both negotiations, Howard said the union now has an ace up its sleeve. "It's all about strikes," he said. "You always want to avoid that, but the only leverage that unions have is work stoppage."
There will be another round of union elections before the negotiations with the Alliance of Motion Picture and Television Producers in 2014. Voting is set to take place in the lead-up to SAG-AFTRA's first joint convention in September. Howard said he'll "probably" run again.
"It's my inclination because it assures a certain continuity," he said. "It would be hard for me to be unseated as an incumbent [who is] seen as successful. I really ran on a single platform—to get this merger done.
"There are a lot of things to sort out, but I actually think it's moved quite smoothly."