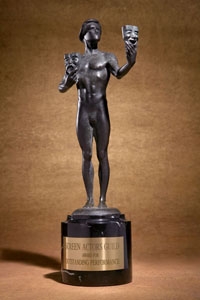 Organizers of the upcoming Screen Actors Guild Awards are encouraging members to vote electronically for the nominees and winners.
Paper ballots for nominations for the 19th annual honors are set to be mailed to the nomination committees. The 2,100 members of the two committees, which decide film and television nominations, should receive them shortly after they're mailed Nov. 21, the union announced Tuesday.
The nominating committees, which also have the option of voting electronically, must have their ballots in by Dec. 10. The nominees will be announced two days later. Final voting information will be mailed to all eligible voting members of SAG-AFTRA on Dec. 31. Members must have paid their November dues by Nov. 30 to be eligible to vote, an official noted.
Due to the size of the union's membership, paper ballots will only be mailed to those who requested them. Those requests must be made by Jan. 14, and the deadline for voting is Jan. 25, with the results revealed during the awards telecast from the Los Angeles Shrine Exposition Center two days later.