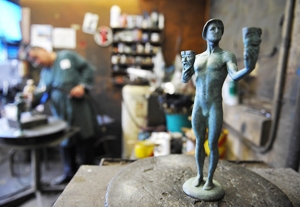 Less than a month after awards season has ended, it's already time to look ahead to 2012's acting honors. The nominating committee for the
19th Annual Screen Actors Guild Awards
, which will determine the nominees for this year's outstanding performances in film and primetime television, was selected by random drawing on March 16, SAG Awards Committee Chair JoBeth Williams announced on Friday.
Submissions for nomination consideration will open on July 9 at
sagawards.org/submissions
. Producers, studios, networks, agents, managers, or publicists may submit a performance from 2012 for consideration in a category of the actor's choosing, with the actor's permission. Actors may also submit their own performances. Beginning this year, submissions may be made online only. Submissions close on October 25.
Nomination ballots will be mailed to SAG members on November 21, and are due by 12 p.m. PST on December 10.
Nominations for the 19th Annual SAG Awards will be announced on December 12 at the Pacific Design Center's SilverScreen Theater in West Hollywood. The announcement will also be shown live on TNT,
TNT.tv
, and
TBS.com
.
Once the nominees have been announced, all active members of the Screen Actors Guild may cast their votes to determine this year's outstanding performances. Final balloting information will be mailed to members on December 31, and final votes must be sent in by noon on January 25, 2013. (In lieu of online voting, SAG members may request paper final ballots between October 1, 2012 and January 14, 2013.)
TNT and TBS will simulcast the Screen Actors Guild Awards ceremony live from the Shrine Exposition Center in Los Angeles on January 27, 2013.
Of the industry honors presented to performers, only the SAG Awards are selected entirely by actors' peers in the Screen Actors Guild. The SAG Awards' separate film and television nominating committees are randomly selected each year from around the country. This year's nominating committee will be notified of their selection by mail on April 2. To be eligible to serve on one of the nominating committees, SAG members may not have served on the same nominating committee in the past eight years and must have paid their November 2011 membership dues by March 9, 2012.