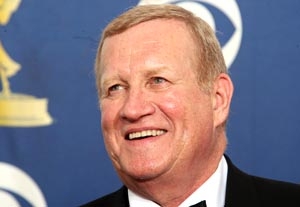 Members of the Screen Actors Guild have elected Ken Howard as their new president, the guild announced Thursday evening.
Howard received 12,895 votes on 27,295 ballots, taking 47 percent of the vote. Anne-Marie Johnson received 8,906 votes for a 33 percent share, Seymour Cassel won 4,838 votes for 18 percent, and Asmar Muhammad drew 402 votes.
Howard ran as a moderate on the Unite for Strength platform, promising a break from the leadership of outgoing president Alan Rosenberg, who had endorsed Johnson.
Rosenberg's tenure as president was marked by, among other things, a hostile relationship with other Hollywood unions, such as the American Federation of Radio and Television Artists and the Writers Guild of America West. Howard's election represents a dramatic change in that regard.
"One of the first things that I'm going to do is to reach out to the heads of the other guilds, to try to start mending fences and building support," Howard said shortly after news of his victory came. "We're going to also do that within the union, to bring more unity. That's a big order. We have about a year to do that before going into the beginnings of negotiations [for the next film and television contract]."
Howard wasn't the only Unite for Strength actor elected to national office. Amy Aquino defeated incumbent Connie Stevens, also on the Membership First slate, to become the guild's new secretary-treasurer. Both she and Howard will begin two-year terms Sept. 25.
From the Hollywood division, Martin Sheen, Ed Harris, Elliott Gould, Ed Asner, Anne-Marie Johnson, Connie Stevens, Diane Ladd, Dulé Hill, Hill Harper, Nancy Travis, and Marcia Wallace were elected to three-year terms on the national board of directors.
Elected to one-year terms as Hollywood board members and national board alternates were Gabrielle Carteris, Jenny O'Hara, Michael O'Keefe, Clyde Kusatsu, Dawnn Lewis, Doug Savant, Michelle Allsopp, Alan Rosenberg, D. W. Moffett, Joe Bologna, Robert Hays, Jason George, L. Scott Caldwell, Clark Gregg, Patrick Fabian, Bill Smitrovich, Ellen Crawford, Stacey Travis, Mandy Steckelberg, Renee Taylor, Bernie Casey, and John Carroll Lynch. 
The moderate wing of the guild, led by Howard and Aquino, extended its majority on the national board.
Mike Hodge was elected president of SAG's New York division. He succeeds Sam Freed, who did not seek re-election. "I am thrilled," said Hodge. "We absolutely have a mandate to work and build for our members."
Hodge defeated Mitchell Green, who ran on the Solidarity and Gains NOW slate, which was aligned with the MembershipFirst. Like Freed, Hodge is a member of United Screen Actors Nationwide, the moderate block that has held control over the New York board for years.
"The New York membership could not have a better representative as president than Mike Hodge at this critical time in the guild's history," said Freed. USAN swept the New York board race, with all 13 of its candidates winning election. Freed, Sharon Washington, Liz Zazzi and Monica Trombetta were the top vote getters, earning them three-year seats representing New York on the guild's national board. Manny Alfaro, Dave Bachman, Marc Baron, Justin Barrett, Sheila Head, Joe Narciso, Jay Potter, John Rothman and Kevin Scullin also won division seats, and one-year positions as alternates on the national board.
Hodge said he hoped to find common ground with his former opponents. "I would like to extend a hand to those who did not win, and reach out to them about the possibility of addressing their concerns," he said.
John Carter Brown (Chicago), David Hartley-Margolin (Colorado), Dave Corey (Florida), Scott Rogers (Hawaii), Helen McNutt (Philadelphia), Mary McDonald-Lewis (Portland), and Don Ahles (San Diego) all won three-year terms on the national board in regional elections.