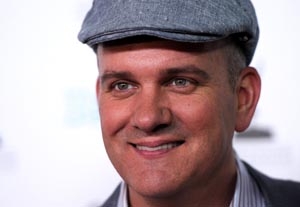 The SAG Foundation presents a Q&A with Mike O'Malley. With a prolific career encompassing theater, film and television, Mike O'Malley is a man of unstoppable talent in front of and behind the camera.
O'Malley currently stars in the critically-acclaimed television series "Glee." He plays 'Burt Hummel,' the father of a gay son, played by Chris Colfer. O'Malley received an Emmy Award nomination for his work in the role, written specifically for him by series co-creator Ryan Murphy.
O'Malley was seen in the film "Cedar Rapids" alongside an all-star cast of Sigourney Weaver, Ed Helms and John C. Reilly. He will soon be seen in the major motion picture "So Undercover" with Miley Cyrus, Jeremy Piven and Kelly Osbourne. O'Malley has also recently wrapped filming the comedy film "Geezers!" alongside Tim Allen and J.K. Simmons.
O'Malley's accomplished acting career is matched by his writing talent, displayed by his guest writing work for the Showtime drama "Shameless," starring William H. Macy, Joan Cusack and Emmy Rossum. In addition, he penned the upcoming independent film "Certainty," slated to premiere in 2011.
Other film and television credits include, "Eat Pray Love," "Leatherheads," "28 Days," "Pushing Tin," "The Perfect Man," "My Name is Earl," "Yes, Dear" and "Life with Roger." He is also an accomplished playwright, who wrote the off-Broadway plays, "Three Years From Thirty" and "Diverting Devotion."
The event will be Tuesday, June 28th from 7-9 p.m. at the SAG Foundation Actors Center, 5757 Wilshire Blvd, Mezzanine Level, Los Angeles.
RSVP: Conversations@sagfoundation.org or 323-549-6668.