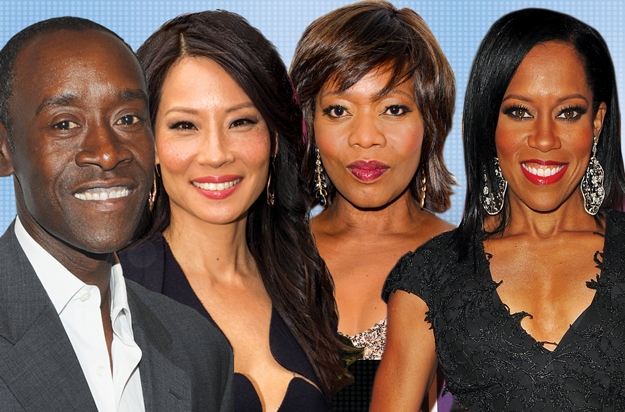 According to conventional wisdom, there are few surprises left during awards season. With the nominees seemingly preordained, what gets sharp tongues fluttering and fingers typing is who misses out. And in the television world this year, the Screen Actors Guild Awards didn't fail to disappoint, while the NAACP hit some high notes with its Image Awards nominees.
"SAG might want to send a memo to its voters with this part underlined: 'We encourage you to use your remote. There are many and varied television series with wonderful actors in them. You'd be surprised,' " The Hollywood Reporter's Tim Goodman wrote after the nominations were announced, technical "glitches" and all, last week.
Goodman took issue with SAG's failure to include a category for supporting actor roles for television and its lack of recognition for critically acclaimed series such as Showtime's "House of Lies" and HBO's "Girls" and "Treme." SAG's decision not to recognize "Treme" or Don Cheadle's performance as Marty Kaan, a cutthroat consultant bending the rules for his clients, on "House of Lies," Goodman chalked up to a "race thing."
"There's an unbelievable amount of brilliant acting on television," Goodman wrote. "Just do better next time."
SAG's nominators are clearly trying to learn from their mistakes. This year, for instance, they nominated "Homeland" in three categories after shutting out the Showtime drama last year before it went on to win four Emmys. But the SAG nominees still suffer from a sense of same old, same old, with repeat nominees such as Edie Falco, Alec Baldwin, and all those "Modern Family" people.
When the NAACP announced its Image Award nominations, however, there was a sense of freshness. The civil rights group singled out Cheadle and "Treme" for nominations and also TNT's "Southland," giving recognition to Regina King and Lucy Liu for outstanding actress and outstanding supporting actress in a drama series, respectively, after the cast was blanked by SAG. The Image Awards also recognized critically lauded shows such as "Happy Endings," "Scandal," and "The Good Wife."
Kelley Carter, an entertainment journalist and television critic, said the awards shows are playing to different groups of people.
The SAG nominees are chosen by members of the actors' union, whom Carter called "a very small fraternity."
"I feel like they're very insider baseball in a lot of cases," she told Backstage.
The Image Awards, whose 2012 nominations weren't without criticism, also have a different criterion. "It's more of a social award than just a performance award," Carter said. "Because the consideration is different, you'll see them take a bit of a risk in naming people."
For instance, the NAACP singled out Lifetime's miniseries "Steel Magnolias" with seven nominations. The drama, which is a retelling of the story of a group of close friends in a small parish in modern-day Louisiana, received just one SAG nomination—Alfre Woodard in the outstanding performance by a female actor in a television movie or miniseries category—and was shut out in the Golden Globe nominations.
The resonance of the Image Awards, according to Carter, has a lot to do with the organization giving them out. Instead of fellow actors and performers, the nominees are chosen by the NAACP, the nation's oldest and largest civil rights group. "This is the group that made it possible for you to vote or use whichever bathroom that you want to," Carter said. "That makes it bigger than the award itself."