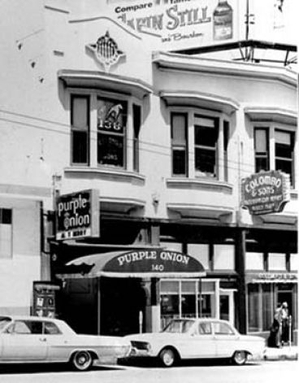 San Francisco comedy landmark the Purple Onion, the famed 60-year-old nightclub that began as an influential Beat-era music venue and became a defining voice in the city's comedy scene, is closing. The building at 140 Columbus Ave. in North Beach has been sold and its new owners are reportedly shutting down the club at the beginning of October.

Since its opening in 1952, the club has hosted legends like Woody Allen, Lenny Bruce, Richard Pryor, Robin Williams, and nearly every comic in the Bay Area. The late Phyllis Diller made her standup debut on the Purple Onion's stage. The Smothers Brothers, Zach Galifianakis, and Moshe Kasher are among the acts who have recorded comedy albums and DVDs there.

The intimate 80-seat basement venue and its upstairs counterpart, Caffé Macaroni, will close Oct. 1, Purple Onion owner Mario Ascione confirmed to San Francisco's Uptown Almanac last week. The club was served an eviction notice by the building's new owners, who are reportedly taking over the space on Oct. 28. Ascione did not reveal the names of the buyers, and said that he does not have any plans to reopen the club in a new location.

"If anyone understands the power and inanimate magic of a room, it's comedians," Kasher told the Comic's Comic in reaction to the news. "There is something powerful about a room that has hosted decades of comedy and has soaked up generations of laughs. The Purple Onion had comedy ectoplasm dripping down its walls. I recorded my album there and have performed there more times than I remember. Always you could feel the shadows of Lenny Bruce and The Smothers Brothers and Phyllis Diller dancing around your set."

The club operated on a weekend-only schedule in recent years, with sold out shows thanks mostly to social media and word of mouth -- a sign that while the Purple Onion's shuttering will leave a substantial void, the city's DIY comedy scene may now be strong enough to fill it.