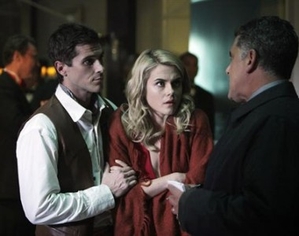 In the aftermath of Hurricane Sandy, the Mayor's Office of Film, Theatre and Broadcasting announced that it would put a halt on film permits issued for exterior shoots at least through tomorrow, Friday, Nov. 2. The dictate extends throughout all five boroughs.
In anticipation of the storm, The Huffington Post reported that filming was put on hold for a number of television shows, including "666 Park Avenue" (pictured, which suffered severe damage to its sets),"The Good Wife," "Law & Order: SVU," and "Smash."
The Mayor's Office announced Nov. 2 that filming permits would be issued once more beginning Nov. 5 on a case-by-case basis. For updates check www.nyc.gov/film or the office's Twitter account @madeinny.