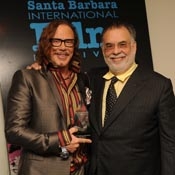 As the 24th Santa Barbara International Film Festival took over the seaside city from Jan. 22 through Feb. 1, the American Riviera was flooded with Oscar winners, breakout talents, and more than 200 films. With a lineup including American, foreign, surfing, and nature films, the festival opened with Rod Lurie's Nothing But The Truth. The political drama follows a journalist (Kate Beckinsale) who reveals the name of a covert CIA agent and defends her principles under pressure.
This year tribute was paid to past and present Oscar-nominated actors and directors -- including Clint Eastwood, Kate Winslet, PenĂŠlope Cruz, Kristin Scott Thomas, Mickey Rourke, Viola Davis, Richard Jenkins, Melissa Leo, and Michael Shannon. Fest director Roger Durling noted that honorees were asked well in advance to participate, but it was somewhat of a surprise that so many were Academy Award nominees this year. "It is a celebration every day of actors, and it's a showcase for them to look back," Durling said. "It's not just about a particular performance; it's about the career."
The tribute ceremonies blended a Q&A about the craft with montages and clips of honorees' work and presentations by a friend or colleague. Despite the acclaim and extensive credits, some of the award winners still found it difficult to watch themselves. "I've always had a problem seeing myself on screen," Montecito Award recipient Winslet said Jan. 23 at the Arlington Theatre, where many of the tributes were held. "I just can't get quite used to it." Agreed Cruz, winner of the Chopin Outstanding Performer of the Year Award, "It is always a little strange." At the Jan. 24 event she added, "When I like a movie, I can forget about it and see the whole thing." The American Riviera Award's Mickey Rourke said he's never in a rush to see himself: "I like to maybe [watch a film] four or five years [later]. I watch myself shave in the mirror every day; I don't get a vacation."
One of the six Virtuosos recipients couldn't resist a bit of self-critique: Davis said she thought her appearance in a scene from Doubt was unflattering with her weight gain and watering nose. But she added, "I'm happy for the Academy Award nomination; I'll take it."
For Durling, the goal of the Virtuosos evening Jan. 28 at the Lobero Theatre was to highlight actors who have been toiling in the wings for a long time and had a breakthrough year. "We have seen their faces and don't know who they are, and all of a sudden they're being recognized for their work," he said. Those actors included Jenkins of The Visitor, Leo of Frozen River, Shannon of Revolutionary Road, and Rosemarie DeWitt of Rachel Getting Married. Unable to attend due to a surgery was Happy-Go-Lucky's Sally Hawkins.
During the panel, Davis pointed out that they were the faces of the "working actor," having experiences like making $250 a week in theatre. "This is it; this is what it looks like," she said, to which Jenkins quipped, "Depressing, isn't it?"
Afterward at a cocktail party, some of the honorees offered advice to struggling actors. Said, Shannon, "Well, there's only one way you can decide to do this with your life: if you're madly in love with it." DeWitt added, "Everyone's ship will come in. [If you can handle] instability and living hand-to-mouth, you can do anything." Jenkins pointed out that there is no single path to success: "Just follow your heart. Everyone has got their own story."
Though their career and education journeys might be different, actors come together for their collaborations, according to Lucky Brand Modern Master Award winner Eastwood. "I think everyone comes to the same place; you really only learn how to teach yourself how to act," Eastwood said during the Jan. 29 presentation for his award. That sentiment has created among actors a confidence in his directing. "It is us who are lucky to honor Clint Eastwood," Sean Penn said as he bestowed the award on his Mystic River auteur. "He's the director actors dream about.... You can feel his trust like a tidal wave."
The 2009 SBIFF Director in Residence, David Fincher, received praise at an event Jan. 30 two of his actor collaborators: Taraji P. Henson of The Curious Case of Benjamin Button and Jake Gyllenhaal of Zodiac. Gyllenhaal said Fincher, famed for his tough technique, didn't want people to know he has a huge heart, figuratively giant brain, and eye like no other. "Unlike his actors, his movies will never grow old," Gyllenhaal added.
Director Danny Boyle participated in a "Conversations With..." Q&A after screenings of his films, including current best picture contender Slumdog Millionaire. Also among the fest activities were annual panels on writers (It Starts With the Script), producers (Movers & Shakers), and women in Hollywood (Creative Forces: Women in the Biz).
The diversity of festival's lineup was reflected in its winners: the South African feature Skin won the Santa Barbara Independent Audience Choice Award; the novel adaptation Poppy Shakespeare took the Panavision Spirit Award for Independent Cinema; A Woman in Berlin nabbed best international film; Amar a Morir earned the Nueva Vision Award; and Belgian-made Tulpan was honored with the Eastern Bloc Cinema Award. The Bruce Corwin short-film awards went to the live-action Love You More and the animated This Way Up. Yes Madam, Sir won two awards: best documentary and the Fund for Santa Barbara Social Justice Award. The festival closed with Jeff Balsmeyer's Lightbulb, a true story about two friends who invent a popular gadget.
What separates the Santa Barbara festival from others? Durling had one idea: "Despite the fact you have these big stars coming, it still has this laid-back quality. That is never going to change."