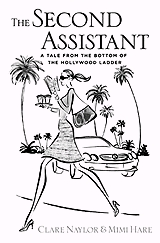 Book the Job: 143 Things Actors Need to Know To Make It Happen
by Doug Warhit
Acting coach Doug Warhit structures his "how to" book in short, snappy, bite-sized pieces. Bold headings indicate the subject of each of the 143 tips, and the main point is reiterated in an even briefer comment at the end of each segment. While this structure limits the material's depth, it makes reading the book quick and easy. You could easily digest a tip a day while waiting for your morning coffee to brew. I would suggest reading it while you are cooling your heels in an audition waiting room, but Warhit has other suggestions for you in there. Many of the tips are more pertinent for new actors, fresh to the business, but there is enough variety to appeal to the mid-level actor, as well.
The book's larger sections include Auditions, The Business, Acting Technique, Working on the Set, and Breaking Free of Barriers. There is a bounty of targeted advice here, and though Warhit sometimes wanders a little into self-help territory, many of his ideas are pertinent and practical. In Auditions, he hits on familiar points such as dressing for the part and whether to shake a casting person's hand, but he also presents some unique tools, such as detailing a visualization actors can do the night before an audition to help them succeed. Among other things, The Business advises making a road map to success. This simple exercise could do much to focus an actor's efforts into attainable and specific goals. Acting Technique and Working on the Set have their share of useful information, but the last section, Breaking Free of Barriers, is my personal favorite. This section is ripe with exercises and questions to consider, all designed to push you into rethinking your motives for pursuing the acting life. Refreshingly, Warhit also delves into common actor traps such as beating yourself up, laziness, negativity, and procrastination. "When you procrastinate," he says, "you single-handedly guarantee the annihilation of your dreams."
On the back cover, the words "What's Stopping You?" are printed in bold black letters. This book does a good job of helping actors answer that question and re-energize themselves for the long haul. Warhit's quick read is a no-nonsense guide for those in need of a swift kick in the pants.
--J.A. Eliason
Dau Publishing, 2003. $16.95
Inside the Royal Shakespeare Company
by Colin Chambers
Can creativity and institutionalism ever be reconciled? Those companies or individuals who have ever tried to do so will find enlightenment and inspiration in Colin Chambers' encyclopedic recounting of the socioeconomic history of England's world-renowned theatre company. The author, who served as the company's literary manager from 1981 to 1997, examines the continual turmoil within the RSC leadership in light of modern Britain, from Thatcher's Conservatism to the New Labour. As in so many other endeavors, artistic triumph and integrity cannot trump finances, and the swapping out of one company leader in favor of the next became a motif as frequently seen as onstage doublets and hose.
Meanwhile each artistic director, from Peter Hall through Michael Boyd, faced the paradoxes of modern theatre: invention and tradition, spontaneity and planning, art and tourism. "Too much interference by the chair inhibits the creativity of the institution; too little threatens its capacity to endure," writes Chambers. And, "Subsidy could make a theatre complacent, yet, without it, the experiment could not happen or be sustained."
How much to tie actors to a company structure? The RSC experimented with three-year contracts and with visiting celebrities. Must stage design keep up with, if not lead, artistic interpretations? The growth of the plastics industry changed the way set shops worked, enabling more three-dimensional work onstage. How much should Shakespeare remain "traditional"? Hall gave Peter Brook space to run experimental programs, "without the pressure of a particular public outcome"; Hall's signature style of "a puritan realism accompanying a new public and political inquiry" gave way to Trevor Nunn's "more private and personal scrutiny, a more romantic speaking style, and a sharper, more intensive use of color"; Buzz Goodbody believed the theatre should be aimed at reaching the public, fulfilling a social imperative. What of following meter? Hall focused on verse, breathing, alliteration, and antitheses; when Brook returned to the company, he found the actors reluctant to experiment and seeking security in their immersion in verse.
Actors will profit from reading about the struggles of theatre managers. Management may learn from, without needing to experience first-hand, the mistakes of the experts. Designers will delight in the attention Chambers pays to stagecraft. This book is a literate and detailed look at a modern legend.
--Dany Margolies
Routledge, 2004. $34.95
Lucille Lortel: The Queen of Off-Broadway
by Alexis Greene
The word to describe this biography of producer Lucille Lortel is "pleasant." While not overly worshipful of its subject, the book offers less insight into her character than a reader might hope for. Perhaps this is because the copyright of the book belongs to the Lucille Lortel Foundation, Inc. Perhaps Lortel was simply a private person, and no greater information on her personality and motives is available. Considering her achievements, however, one wishes for a bit more detail about her thoughts on theatre and maybe a bit less detail concerning what outfits she wore to premieres.
Author Alexis Greene has a very readable style. But surely a biography with such a likely specific readership should have concentrated more on Lortel's producing career, on the fascinating people and plays her life was filled with, than on her early life and romances and all the various world trips she took. Almost a third of the book is through before her producing work in the theatre is mentioned. This lack of insight into Lortel's character, and the author's choice of focus, is unfortunate, and yet people who are interested in this subject will still find much of interest.
After a slightly successful career onstage and on-screen, the young Lucille Wadler married rich businessman Louis Schweitzer. He disapproved of her acting career but bankrolled her first attempt to produce. The location was the second floor of a barn in her Westport, Conn., backyard--a site that became known as the White Barn Theatre. She conducted a series of readings, early tryouts, and performances of all kinds there for more than 40 years, including works by such artists as Sean O'Casey, Federico GarcĂ­a Lorca, Langston Hughes, and Yukio Mishima. In the mid-1950s she and her husband became owners of the Off-Broadway Theatre de Lys. It was here she made her name, championing such plays as The Threepenny Opera, Cloud 9, and The Destiny of Me, and playwrights such as Athol Fugard. Toward the end of her life she became a major financial donor to theatre charities, and she garnered more or less every New York theatre award except a Tony.
A couple of the book's more humorous stories include how Lortel would admonish actors from the audience in the White Barn Theatre to "speak up, dear," and how the reason she may have left theatre critic Clive Barnes $50,000 in her will is because she was worried he was poor as she didn't think he dressed well. In the final analysis, this is a mostly interesting biography of a very interesting woman--a decent introduction to a major patron of the arts.
--Terry Morgan
Limelight Editions, 2004. $32.50.
Making It on Broadway: Actors' Tales of Climbing to the Top
by David Wienir and Jodie Langel
In the cult film classic Mommie Dearest, Faye Dunaway, as Joan Crawford, callously defeats her young daughter in a swimming match, then dismisses the exhausted girl's complaints with, "Nobody ever said life was fair." Switch the word life with the phrase a Broadway career, and you have the essence of this incisive but depressing portrait of the disappointments and struggles allegedly facing actors yearning to forge stable careers on the Great White Way.
The authors interviewed more than 150 actors--ranging from stars such as Chita Rivera and the late Ann Miller to working performers who are not celebrities. Following an introduction by Jason Alexander, the bulk of the text consists of direct quotes from the actors, ranging from a paragraph to a few pages, grouped according to topics. The title is somewhat misleading, as the book goes off onto several tangents, such as one chapter that amounts to a laundry list of "bloopers"--tales of dropped lines, stage mishaps, and missed entrances. Another chapter gives shocking anecdotes of actors behaving unprofessionally onstage, going so far as bringing on dildos or exposing their private parts. There are also numerous quotes speaking of sexual harassment being routinely tolerated in this "touchy, feel-y" environment. But as the overall purpose of the book is supposedly to outline career challenges for prospective actors, most of these tabloid-like passages seem marginally relevant at best.
More to the point is the oft-repeated plight of actors winning Tonys or having major career breakthroughs, only to find themselves repeatedly going back to square one, competing with inexperienced newcomers at auditions, and living in shoebox-size apartments infested with rats and cockroaches. As if all of this weren't discouraging enough, the book goes into extensive detail about the devaluation of actors in the post-Webber era, with spectacle favored over characterization, and recognizable show logos taking the place of marquee names in a corporate-driven industry. Betsy Jocelyn relates the incident when a stranger suddenly came up and offensively started giving her "notes" about her portrayal following a Beauty and the Beast performance; it turned out he was on the Disney Board of Directors. Gerry McIntyre's revelations of living in a storage facility and bathing in a friend's bathroom, describing himself as a 41-year-old gypsy, is a real eye-opener. There's humor and a fascinating array of surprisingly candid comments from the actors, so the book is unquestionably a good read. At the same time, this is scarcely a book to inspire hopeful performers. It paints such a bleak portrait of working on Broadway that young actors who read it might think of switching their career focus to supermarket cashiering or purchasing a hefty supply of razor blades.
--Les Spindle
Allworth Press, 2004, $19.95
The Second Assistant
by Clare Naylor & Mimi Hare
With the success of The Nanny Diaries, the current literary fad seems to be the underling's tell-all expose, thinly disguised as fiction. In The Second Assistant: A Tale From the Bottom of the Hollywood Ladder, authors Clare Naylor and Mimi Hare make almost no effort to camouflage the Hollywood elite they write of. Simply referring to Harvey Weinstein as "Harvey" and Robert Redford as "Bob," it doesn't take an entertainment insider to know whom they are talking about. Naylor and Hare are screenwriters; together they authored The Accidental Husband, starring "Uma" and set for release later this year. So the novel reads more like a screenplay, heavy on superficial exterior setups and short on any subtext or internal conflict.
Assistant begins as its main character, Elizabeth Miller, a young idealistic political science major, abruptly leaves her job in Washington to move to Los Angeles and work for Scott Wagner, the hot new agent at the aptly named The Agency. When Lizzie first arrives, she knows nothing about the film world, so the first few chapters involve many of her bungled mishaps: Lizzie accidentally puts her boss' call through to the mailroom, Lizzie angers the wrong assistant, Lizzie gets too drunk at a work party. As we follow her through her many demeaning travails as an assistant, we can't help wonder why she's putting herself through this. She seems to have no interest in film other than to mingle with the occasional celebrity and ogle at the latest Dolce & Gabbana line. Indeed, Lizze's transition from bright congressional intern to shallow Hollywood star-gazer is remarkable. She uses her rent money for hair highlights and her food money for Jimmy Choos. Even Lizzie realizes she has no purpose--that is until she meets the friendly Starbucks barista who just happens to have a fabulous screenplay and is looking for the right producer. When Lizzie sets out to get the film made, the novel finds its legs.
I just happened to have the pleasure of reading this book while lying on the beaches of Hawaii, and it was absolutely the perfect situation. The Second Assistant doesn't set out to be anything but a frivolous guilty pleasure. While many of Naylor and Hare's assessments of L.A.'s everyday machinations are spot-on--including everything from dog park etiquette to getting reservations at the hottest restaurants--there's really very little insight to be gained. Long on style and short on substance, The Second Assistant is perfect if you are looking for a fun, brainless read.
--Pamela Bock
Viking Press, 2004. $21.95
Tales from Development Hell: Film-Making the Hard Way
by David Hughes
After a few chapters of David Hughes' new book, it becomes apparent that it's not surprising there's a lack of good films out there--it's surprising there's any. The 12 chapters detail movies that were at one point on the fast-track to being made that, for one reason or another, dropped into oblivion. The reasons are generally the same: egos, money, and the ongoing stupidity of studio execs are popular scapegoats. There are the occasional "happy" endings in which a movie finally gets made, but after reading the behind-the-scenes drama, it's difficult to rejoice too much.
Hughes, the screenwriter of several unproduced scripts and the author of several books, including The Greatest Sci-Fi Movies Never Made, understands the business with just the right balance of cynicism and optimism. His book is exceedingly well-researched and answers a lot of questions: What's going on with those rumored Indiana Jones and Batman sequels? Whatever happened the much-hyped big-screen versions of the hit book The Hot Zone and the comic The Sandman? What the hell went wrong with Planet of the Apes? If there is anything to complain about--aside from a couple of errors in the copy--it's that Hughes raises too many questions that aren't answered. While he has some excellent inside sources (he gets one producer to frankly admit, "We should have made a better movie"), he relies an awful lot on Internet rumors and Web sources who hide behind cheesy nicknames.
Still, there's a lot of great trivia to be found. The revelation that the Beatles once hoped to star in an adaptation of The Lord of the Rings, with John Lennon wanting to play Gollum, is worth the price alone. My advice, however, is to not read more than a chapter in one sitting. Through no fault of Hughes', the tales of woe start to all sound the same, as each film suffers the same problems. The theme of Hughes' book is also repeated ad nauseum: The writer will always get screwed.
--Jenelle Riley
Titan Books, 2004. $21.95
You Can Bank on Your Voice: Your Guide to a Successful Career in Voice-Overs
by Rodney Saulsberry
Rodney Saulsberry is a successful voiceover actor who's written his first how-to book for aspiring v.o. artists. The author's impressive credits include animation, movie trailers, promos, narration, and numerous commercial campaigns, and he certainly knows his subject. Saulsberry offers advice on classes, demos, auditions, getting an agent, and mic technique. He also includes exercises and copy to practice with. It's a well-intentioned book and worth the quick read (at 129 pages) if you're interested in breaking into this area of acting. However, it will not teach you how to be great actor, the most important quality to being a successful voiceover artist, and it does not offer enough detail to really explain what's required or how difficult v.o. is to break into.
My biggest complaint is that Saulsberry spends more time on chapters about his $10,000 home recording studio (which most actors can't afford), his Mercedes (which, again, most actors can't afford), his vanity license plates (A1VOICE, which he has since ceased using as he realized how obnoxious it was), his snazzy haircut, and tooting his own talent, than he does on those sections devoted to training, putting together a reel, and voiceover technique. For example, his one-and-three-quarter-page chapter on demo reels doesn't mention that the norm is to have separate reels for animation and commercial or what exactly makes a great demo or how long it should be. The author unfortunately writes too much about himself, who, as talented as he sounds, is not as interesting or as helpful to readers as his insights about his trade. He also has tried to encompass too much in such a brief amount of pages. I'm not sure how helpful his sections on investing money or switching agents are to those readers who just want to know how to break in and don't have an agent to begin with.
What I like about this book, and why I still recommend it, is that it offers readers a true inside look into the voiceover business and explains the dozen areas of v.o.--from animation to commercials to looping to voice prompts--and what skills are required for each. He also paints a detailed picture of what novices can expect when they show up at auditions or jobs. I also liked his chapter on casting directors sharing their firsthand advice with his readers. I wish he did the same with both demo reel producers and v.o. instructors or included suggestions from his peers.
If you're interested in what the life of a top voiceover actor is like and want an overview of what it takes to get to the top, this is a good primer. But, please, take a good voiceover class or two if you really want to immerse yourself and, above all, work on becoming the best actor you can be.
--Jamie Painter Young
Tomdor Publishing, 2004. $16.95.
Risky Business: Financing & Distributing Independent Films
by Mark Litwak
By the title alone, it could be interpreted that entertainment attorney Mark Litwak's Risky Business: Financing and Distributing Independent Films might not sound like the encouragement most independent filmmakers crave. Inside the book, however, readers will find a wealth of information that will save them time and money--or prepare them to spend what needs to be spent--through the course of their filmmaking adventures.
Though Litwak does little to defuse the unavoidable bomb of legal mumbo-jumbo for filmmakers, he prepares the beginner for the inevitable. He includes many examples of "boiler plate" legal documents and contracts that would serve indies well, from the inception of their ideas through final distribution of their completed films. Litwak's advice includes the forming of the production company--and tips on what kinds of companies to form given the production needs--strategies for raising money, direction in dealing with film markets and festivals, finding a distributor, and even what to do in the face of the undesirable possibility of arbitration.
Included are valuable resources such as the "Filmmaker Self-Defense Check List," outlining the basic legal pitfalls of fundraising and distribution, and a "Check List for Investors," preparing money-gathering filmmakers for the questions they will inevitably face from potential backers. Also included is contact information for countries and states that have "incentive programs" to bring film dollars to their locales.
Independent filmmakers who want to put their budgets on the screen rather than in an attorney's pocket and who want to get their films sold should own Risky Business, read it before gearing up for production, and consult it frequently to make sure that all the correct legal steps are being taken. Though it does not tout itself as a replacement for legal counsel, Risky Business will surely answer many questions for first-time--and experienced--filmmakers and reduce hours spent on the phone with an attorney.
--Ben Rock
Silman-James Press, 2004. $26.95.
The Guerilla Film Makers Handbook
by Genevieve Jolliffe & Chris Jones
It is hard to understand what is intended by Genevieve Jolliffe and Chris Jones' cover image of a bomb, its fuse almost burned out and about to explode, on The Guerilla Film Makers Handbook, their 700-page monster of a manual for beginning filmmakers. Are they saying that guerilla films are destined to blow up in one's face, or even to bomb?
Regardless, the British writing team (which has made three films most American audiences will not have seen) has packed the book with useful information, making it an excellent reference for filmmakers. It consists of interviews with professionals in every craft within the film industry, including extensive sections on training, development, organizations, finance, talent, production, postproduction, distribution, aftermath, and case studies. They have spoken extensively with every kind of motion picture professional that one could think of--begging the question of whether the true "guerilla filmmaker," making their film without many resources, is the best audience for this general-purpose book.
Also obvious is the authors' self-indulgence when they spend a staggering 83 pages telling their own story in the "case studies" section, giving fewer than 10 pages each to the filmmakers behind indie sensations Thirteen, Donnie Darko, and The Deep End. Still, their story is an entertaining enough read, reaffirming many of the challenges that low-budget filmmakers face daily.
Though thoroughly informative, The Guerilla Film Makers Handbook ultimately suffers from subject matter that is constantly changing. For instance, their summary of video formats fails to include the newly ubiquitous formats of DVCPro 50 and 24P mini DV, doubtlessly because those formats didn't exist when the book was written. As the world of guerilla filmmaking evolves at eye-popping speed, books like this have an increasing challenge to stay current and relevant. Despite that, this book has a lot of good information that all filmmakers would benefit from knowing.
--Ben Rock
Continuum, 2004. $29.95
Short Films 101: How to Make a Short Film and Launch Your Filmmaking Career
by Frederick Levy
A lot has been written over the years regarding "how to make films," and "how to break into Hollywood," but little has been written that combines them. Short Films 101: How to Make a Short Film and Launch Your Filmmaking Career succeeds in covering both subjects. Eschewing the forensic (and boring) details while adopting a more anecdotal approach, Frederick Levy gives would-be up-and-coming filmmakers hope.
Short Films 101 is loaded with inspiring interviews of the people who broke into Hollywood careers by making short films, as well as those who are currently moving up through the studio system on the backs of the short films they made. He speaks with filmmakers such as Eric Kripke, director of the comedy short Battle of the Sexes, who is still trying to land a studio project; Eduardo Rodriguez, whose horror short Daughter landed him a three-picture deal at Miramax; and Luke Greenfield, whose comedy short The Right Hook won him the directing duties on the Rob Schneider feature The Animal--and subsequently the teen angst film The Girl Next Door.
Levy offers advice on how filmmakers can make the right kind of shorts for the careers they want to have, as well as tips on how to get the film seen by the right people. He even spends a large portion of the book discussing the physical production of a short film--basically how to get it made for as little as possible.
Levy gives his readers everything but the short films themselves. In addition to recounting the stories of how they were made--always on a shoestring-- the readers are given the full shooting scripts and the budgets, all of which give the readers good foundations on which to tell some stories of their own.
--Ben Rock
Pedigree Books, 2004. $14.95.