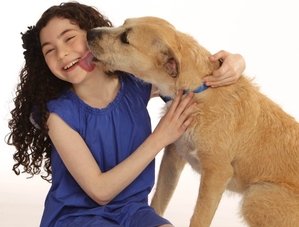 The producers of the "Annie" revival now in previews faced two very big challenges on the road to Broadway: finding a triple-threat little girl to wear that iconic red wig, and finding the right canine companion for her. "Annie's Search for Sandy" chronicles the surprisingly heartwarming search for the right dog to play Sandy.
Hosted by Al Roker, the 30-minute TV special follows Bill Berloni, a Tony Award honoree known for his work as Broadway's leading animal trainer, as he searches shelters across the U.S. to find the perfect dog—a throwback to his work on the original "Annie," when Berloni discovered the first Sandy at an animal shelter in 1977. He has subsequently found all of his Broadway stars at local shelters. His discovery for this production of "Annie" is a 2-year-old terrier mix named Sunny from the BARC Municipal Shelter in Houston. Remarkably, Berloni found Sunny just 24 hours before she was scheduled to be put down.
In addition to documenting Berloni's search, the special also shows him working with the new Annie, Lilla Crawford, as they prepare Sunny for his debut. Viewers will also learn a few training tips as well.
"Annie's Search for Sandy" will air on NBC stations around the country on Saturday, Oct. 27, and Sunday, Oct. 28.