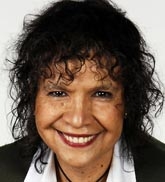 Clearly the turning point for Trezana Beverley was for colored girls who have considered suicide/when the rainbow is enuf. She walked off with a 1977 Tony Award for her powerhouse performance in Ntozake Shange's groundbreaking piece. But the award's impact wasn't as long-lasting as she might have hoped. Doors opened, but they didn't stay open. "It's very hard for a woman of color in this business, even with a Tony," she says. "Also, you need the right team of people working with you. I was young and I didn't have that. I enjoyed a brief moment of exposure and success. Theatre companies approached me and asked me who I wanted to work with, and then it fizzled out. It's important to take full advantage of the opportunities. When the whirlwind was over, it was over."
Now, 32 years later, a revised version of the play, starring Grammy winner India.Arie, is slated to open at Broadway's Circle in the Square Theatre on Sept. 8. Not surprisingly, Beverley has some thoughts about it. "Once a play is out in the universe," she says, "like a song it becomes public domain, open for different interpretations and different arrangements. I think that's healthy and important. Now granted, not all arrangements are the best or top the first one. But certainly many are interesting. I know that Ntozake Shange has written some new material for this production, and I'm sure India.Arie will be great in whatever she does, because she is an artist-singer."
Beverley adds, "You know, to the best of my knowledge there was never a video made of the original Broadway production. A PBS version was shot in Florida but it included men, which was not the original intent. I think it would be a great idea to shoot the original play with some of the original cast so that there would be an archive for posterity."
Beverley admits that starring in for colored girls was a career high point. Yet she has never stopped working — as an actor, director, and writer, and as co-founder and artistic director of her own company, OdD Socks Productions. At the moment, she is featured in Marko the Prince, an anti-war play about the conflict in the former Yugoslavia in the early '90s. It is being produced by the Immigrants' Theatre Project and presented Off-Broadway at the Barrow Group Theatre. Beverley plays Mila, a Christian Serbian mother, swathed in shapeless black clothes, with a secretive past.
"I can do many characters," Beverley says. "I'm of African-American background but I have an interesting look, and I thought it would be fun to take on Mila. And, of course, it's an opportunity to keep my craft honed. I thought it was a good part." She gives credit to Marko's director, Marcy Arlin, for casting a black woman as a Serb.
Still, there are challenges. Marko is the third play in a trilogy, and while the second play presents Mila as a cruel figure, this one only hints at it. "Here Mila is a sweet worrywart," Beverley explains, "a typical mom fawning over her son, and then suddenly she turns and you see the hidden part. My challenge is not to make her too saccharine. She's a genuine mother, but at the same time she's had an intriguing past and she's working hard to keep her secrets from her son, especially about his father. It's all a two-edged sword. She loved her husband, but he was abusive. But then she was a collaborator. When is she acting? When is she telling the truth? It's finding the balance without having a lot of scenes to work with."
Beverley suggests that parts of the play evoke Greek theatre, particularly a funeral scene in which Mila is so overwhelmed with grief, she howls and bellows and beats her chest, though Beverley says she doesn't find the scene especially daunting: "They say African Americans do well with Greek theatre because we're such passionate people. It just seems that people who are hot emotionally are from that part of the world or Latin America. I'm comfortable with large characters. I just did Medea" with Take Wing and Soar Productions in Harlem. "I think God knew something I didn't know, so I was already being prepped."
Beverley is also a comedian and a singer, though she says people rarely see her that way. She recently opened her cabaret act, The Music in Me, at the Triad in New York. But typecasting comes with the territory, she admits, especially for an actor who wins a Tony early in her career for a show as intensely dramatic as for colored girls. "You get labeled," she says. " 'This is the heavy dramatic diva. That's what she does.' It's been the bane of my existence over the years. I'd welcome the chance to be a funny lady."
Beverley is also drawn to experimental theatre. Ten years ago she formed OdD Socks to develop a highly physical form of theatre she dubs "DanzActing." To date, the company has incorporated the technique in such productions as Salome, Julius Caesar: An African Experience (an adaptation of Shakespeare), and an original work she wrote, A Song for Mara, which is about a homeless woman. "I have not starred in any of them," Beverley says. "In my theatre I'm a writer and director but not an actor. I think directing myself would be very difficult."
A Black Momma Rose
Even as a child in Baltimore, Beverley knew she wanted to act. At NYU's Tisch School of the Arts in the late '60s, she "gravitated towards what we called the avant-garde," she recalls. "Actually, it was pretty much the end of the avant-garde." After graduating, she found an artistic home with theatre companies run by experimental theatre artists such as Andrei Serban and Joseph Chaikin.
"I made $55 a week," she laughs. "Today you pay more than that on a trip to the post office. Of course, the cost of living was very different then. Also, I was fortunate in that I was always connected with arts programs. I worked with the New York State Foundation for the Arts — I worked in schools. I've been able to supplement my acting career with teaching." Beverley is currently a guest director and teacher on the drama faculty of the Juilliard School.
She's also been focusing her talents on directing and, to a lesser extent, writing. She wrote a solo show for herself, The Spirit Moves, which she has performed on the college circuit and in theatres nationwide the last four years. But for the most part she has taken a behind-the-scenes role and has found it a satisfying experience, directing at PlayMakers Repertory Company in Chapel Hill, N.C.; SUNY Purchase; Painted Bird Productions in Philadelphia; and other theatres.
Asked if she has experienced age discrimination, Beverley says the problem is not fewer roles, but the kind of roles that mature women are offered. For example, she may find herself auditioning for characters who are 80-plus — actors over 50 get lumped together, she says — while true senior actors are passed over. It's unfair on two counts, she notes: "I can make myself look like anything, but I'm still vital, I still dance. There are many actresses in midcareer who are getting these roles when there are plenty of wonderful older actresses who are lucid and vibrant. Give them the opportunity. But we're so youth-obsessed."
If she had her druthers, Beverley says, she'd love to tackle Blanche in A Streetcar Named Desire. And then there's Momma Rose: "I have actually been working on Gypsy with a music director for the past few years. I sing 'Rose's Turn' in my cabaret act. I would love to be the first black Momma Rose, like Pearl Bailey was the first black Mame."
A television series has its allure as well, "if I could be funny," she says. "But I'd love to play a brilliant lawyer too. Had I not gone into theatre, I probably would have gone into law."
If she could return to the time after she won her Tony Award, Beverley says, she would accept roles that she foolishly turned down: "I was offered parts in plays and movies that I refused because I felt I just didn't look like those characters. Taking those roles would have helped my image. But I put myself in a box. We don't have to put ourselves in boxes. Others will do it for us."
Marko the Prince runs through July 13 at the Barrow Group Theatre, 312 W. 36th St., NYC. Tickets: (212) 352-3101 or (866) 811-4111 or www.theatermania.com. Info: www.immigrantstheat.org.