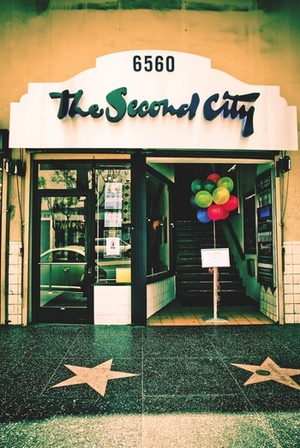 All performing arts have their institutions. In comedy, few are more venerable—or more respected—than the Second City, the five-decade-old theater and training company that launched the careers of countless comics, from Elaine May to Bill Murray to Tina Fey. And few are more influential than Funny or Die, the video website founded in 2007 by Will Ferrell and Second City alum Adam McKay. Sketch comedy would not exist as it is known today without the Second City. And no site has done more to set the standard for the form's migration to the Internet than Funny or Die. It only makes sense that the two organizations would join forces.
They now have. Next month Second City Hollywood and Funny or Die will launch their first-ever collaboration—a 12-week course in creating short comedy videos for the Web that will be co-taught by Second City instructors and Funny or Die staffers. The pilot program—which will take students through every step of the process, from writing to shooting to postproduction—is limited to 10 students and already sold out. If successful, it could prove to be the first of many such classes, potentially filling a void in comedy training and helping to prepare comics for the realities of a world in which the ability to create one's own content is a vital skill.
"I certainly know as an actor and a comedian and a writer, the way that Hollywood has changed is that when people are talking about you for a job or for the possible opportunity to come in and meet with them, the first thing that they do is type your name into the Internet," said Joshua Funk, artistic director at the Second City Training Center in Hollywood. "They want to see what videos you've done, they want to see what you've written, they want to see who you are. If comedians and actors and writers today aren't taking advantage of that, they're just lessening their chances of finding their next job or their next opportunity."
Funny or Die Creative Director—and former head writer on "Saturday Night Live"—Andrew Steele agreed with that sentiment, noting that links to Web videos have largely supplanted pictures and résumés as the material most distributed when seeking a job in comedy. But, he added, comedy in digital video form is a natural outgrowth of the live-performance model that Second City has taught for generations.
"The two worlds are sort of becoming one world, the video world and the stage world," Steele said. "They're really getting closer and closer because of the Internet, so it sort of made sense to us."
The joint training venture focuses on comedy fundamentals and also on the idiosyncrasies of creating for the Web. Steele pointed to simple techniques and formats that are known to drive traffic, such as straight-to-camera delivery, lists, and—of course—cat videos. Funny or Die will host students' final products on a special page on the site.
While students won't be expected to have deep knowledge of filmmaking techniques or access to expensive software and equipment, prerequisites for the course require that they have the ability to shoot and edit video. Those skills are increasingly important to anyone looking to establish a career in comedy.
"I have writers here on my staff who know nothing about editing," Steele said. "If they're good writers or good actors, they don't have to know this stuff. But there's no doubt that it helps."