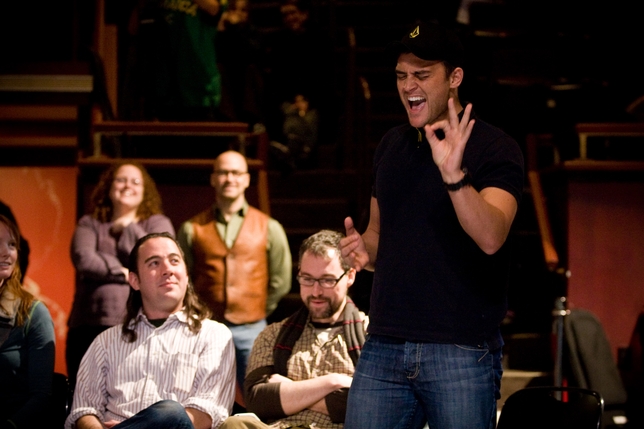 Every year, some of theater's finest actors, composers, playwrights, and directors gather for "The 24 Hour Musicals." They spend an intense day (and night) creating musicals and performing them in front of an audience, but usually, their hard work ends after the performance.
For documentary filmmakers Elisabeth Sperling and Trish Dalton, their involvement lasted much longer. Their film of the 2009 edition, called "One Night Stand: Creating a Play in a Day," will be screened in select movie theaters on Wednesday.
Tina Fallon created "The 24 Hour Plays" in 1995, and in 2008, The 24 Hour Company launched "The 24 Hour Musicals." Sperling was at a holiday party when she first heard about the event. "The idea that people were coming up with their ideas out loud in a conversation so you could listen in on how artists come up with their ideas really appealed to me," said Sperling, who was asked to film the process and create a five-minute video to show before the plays were performed so the audience could see the creation process.
Then Dalton came on board, drawn by the caliber of talent involved. One of the actors whose challenges are depicted in the film is Richard Kind. Kind was cast in "Islands," which has a book by Jonathan Marc Sherman and music and lyrics by Julia Greenberg and Robin Goldwasser. Kind played a man who wanted to move to Staten Island after getting caught in a Ponzi scheme. He had a long and wordy song to memorize in less than a day.
"I was at Second City so I know how to improvise," he said. "If I didn't get the words right, I went on talking. I could get out of it. When you're doing a song, there are boundaries. You have to have the words. You've got to get the notes. I did not know how I was going to do it. And I did it."
Kind says that sometimes when acting for television, the biggest goal is to get the words out, which he refers to as "soap opera acting." "That is why doing theater is so much more enriching," he explains. "It's so much more fulfilling because you really get to delve and dig into a character."
Performing in the 24 Hour Musicals was more like soap opera acting, but because of the live audience, there was also the added adrenaline. "It's really like a roller coaster," he says. "You go up up up and then you're at the top and there's the anticipation of going on and that first drop down is scary. You're really screaming, but it's a thrill ride."
Dalton and Sperling were surprised that all four musicals came together. At 7 a.m., one group only had one song, and the actors were already coming in. "We would interview the actors throughout the day and they couldn't remember their lines," Dalton said. "They couldn't remember their songs. They were about to go onstage. It was 6 o'clock and they still couldn't sing their songs through and they were freaking out."
Dalton and Sperling had their own challenges getting the film made as well. Raising money was difficult in the midst of the recession so they worked on the film while managing other jobs. They held fundraising parties, started a Kickstarter campaign, and finally finished the film in 2011, when they were able to enter the festival circuit. The struggles of the participants of "The 24 Hour Musicals" inspired them because they also went through those moments of thinking they were in the middle of an impossible task. "You may have 1,000 creative ideas during a day," Dalton said. "Our film suggests choose one and do it. Commit to it. It's not so much coming up with a genius idea as it is making it work."
Dalton and Sperling hope that people who see the film realize that Broadway's top talent struggle just as much as everybody else. "Some of us have this idea that artists are some kind of geniuses and they get this lightning strike idea," says Sperling, "but you can see in this movie how these people got their ideas. They got their ideas from looking at the props, from looking at the actors, maybe remembering some TV show, or thinking about what it was like to be a brother. Something that is accessible to everybody. That's how they got their ideas. And then they just had to make something from it. And I think it makes the audience feel like they can do anything."