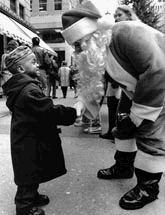 'Tis the season when many of us are hoping to find a way to give the gift of our time and talents to those in need. While organizations always welcome donations, now more than ever, budget cuts have them needing your volunteer talents as well, literally to keep their doors open. It's also a great way to meet like-minded people if you're single, or get involved as a cast, class, office staff, or couple. As a family, you can teach your kids the value of volunteering, plus it's a great way to express holiday spirit or keep the holidays from being a little lonely and isolating. Back Stage has found a diverse collection of opportunities for readers to be cast as holiday helpers this year. You may notice we are running this annual feature earlier, in order to make sure there are volunteer opportunities from Thanksgiving through Christmas, Chanukah, and Kwanzaa.
Yes, Virginia, There Is a Santa Claus
If you've ever thought of being Santa for a day, the New York Post Office wants you. Operation Santa Claus began in the 1920s, when postal workers decided to pay out of their own pockets to answer the request letters children sent to Santa. You can visit Manhattan's General Post Office to read these special letters and answer one, or as many as you can, at the James A. Farley Building at West 33rd Street and Eighth Avenue. You can sit in the Operation Santa Claus temporary office and read letters, or grab them and go. You can also go as a group or a family. If you want to get involved outside New York, first see if there is a local version where you live. If not, you can write to Operation Santa Claus, James A. Farley Building, 421 Eighth Ave., Room 3023, New York, NY 10199-9998 and a volunteer will send you as many letters as you ask for.
While New York Cares is well-known for its yearly coat drive (check www.nycares.org in December to find out what businesses are providing drop-off points for your coats, or how to volunteer to sort coats), there are other ways you can help. One program in need of volunteers is the Secret Santa Program. If you think your holiday shopping is tough, imagine making sure over 20,000 children and teens get presents during the holidays. If you're feeling like performing some elfin magic, you can organize children's letters, send and track packages, coordinate pickups, and handle other logistical tasks. Check the New York Cares website for updates on how you can get involved with this very large and well-organized clearinghouse for volunteer jobs all through the year.
Even though it's far from Christmas Eve, there are already Santa sightings in NYC, and that's because of the red-and-white sidewalk Santas ringing their bells for Volunteers of America, a national, not-for-profit, spiritually based organization providing local human-service programs and opportunities for individual and community involvement. Volunteers of America programs serve individuals and families in some 300 communities across the country, and volunteers have an important role in the success of these programs. Volunteers actively engage in many services, delivering meals to the elderly in their homes, reading mail to residents of nursing homes, and providing other services that make a real difference in people's lives. VOA engages more than 41,000 volunteers nationwide each year. If you visit www.voa.org, you can click on "Where We Are" to find the local office nearest you and see how you can get started.
You can also volunteer with the U.S. Marine Corps Reserve Toys for Tots program. In 1947, Maj. Bill Hendricks (USMCR) noticed that no charity existed for distributing toys to deserving children during the Christmas season. With his help, toys were collected and distributed, with more than 5,000 toys going to children in the Los Angeles area the first year alone. Walt Disney then designed a logo in 1948 to help the project flourish and it's been used ever since. Toys for Tots has grown into a nationwide effort, coordinated by U.S. Marines, to help disadvantaged children learn the meaning of giving through the gift of a new, unwrapped toy. Over 30 million toys were distributed in the past four years alone.
If you'd like to help, place a new, unwrapped toy in any of the toy collection barrels located within your community. Volunteer your time and assistance in collecting, sorting, and distributing toys, too. Or you can contact your local Marine Corps Reserve unit and arrange to have a collection barrel placed at your place of work or business (or your apartment building or holiday party). You'll find the nearest Marine Corps Reserve organization in your area listed in the local telephone directory under "U.S. Government." While you're there, if you'd also like to say a "thank you" to our servicemen and women, you can check with bases or recruiting offices in your area to find out how you can write letters or best show your support. You can also contact veterans' hospitals wher you can perform during the holidays, or visit now and during the year.
I Can Do That
In the spirit of the upcoming season, there are many ways you can join in Gay Men's Health Crisis' annual celebrations in support of adults and children living with HIV and AIDS. Founded in 1981, GMHC is the oldest AIDS service organization in the United States. Donations collected during Wrap & Rap With GMHC and Barnes & Noble (now in its 10th year) fund GMHC services to thousands of men, women, and children living with HIV and AIDS in NYC, as well as treatment education, HIV prevention, and advocacy programs. Weekend and weekday night shifts at the Chelsea store (where GMHC first started W&R) are three or four hours long. During December, volunteers are needed to gift-wrap books, CDs, and other purchases, while also providing shoppers with general information about HIV and AIDS as well as volunteer opportunities and ways they can support GMHC. If you would like to volunteer, call Krishna Stone at the Volunteer Center at 1-212-367-1016, or email krishnas@gmhc.org.
There are also many other ways for you to help during the holidays. Most events will be held at GMHC (119 West 24th St., between Sixth and Seventh avenues). The rooms for volunteer orientations will be posted in the lobby of the GMHC building. If you are interested in volunteering, you can also call the GMHC Holiday Volunteer Events Line at 1-212-367-1014, or email at VolCtr@gmhc.org.
During November and December, GMHC will host a number of holiday parties and gift-bag giveaways for their adult clients, as well as events where the clients are children and families. You may be asked to set up the room, decorate, prepare food, clean up, register guests, check coats, or fill, wrap, and sort gift bags. For the Nov. 26 Thanksgiving Dinner (for adult clients), preparation goes on Nov. 24, 25, and 26 at GMHC's 12th-floor kitchen, with work shifts running three to four hours.
Preparation for the Dec. 12 Holiday Dinner and Gift Giveaway (for adult clients) runs Dec. 8, 9, 10, 11, and 12. The Gift Wrapping Party for preparing the adult gift giveaways is on Dec. 11. You'll be wrapping and sorting gifts, then stuffing 500 gift bags. In-kind donations are especially needed for events involving goodie bags for kids, and are accepted anytime before Fri., Dec. 19. They need 50 to 350 goodie bags, filled with wrapped candy and little toys, to give out at the party, plus decorations with holiday themes (i.e., Chanukah, Christmas, Kwanzaa). There are no formal shifts for delivering in-kind donations, since you create your own time (possibly working with family and friends) to prepare and deliver the donations. Preparation of the bags for the holiday party for kids and parents is Fri., Dec. 19. Volunteers for transporting food platters to the church where the party will be held and lifting cases of canned goods are also needed on Sat., Dec. 20.
The Westside Ecumenical Ministry for the Elderly (WEME) Mainstream Nutrition and Health Center is a multi-service, not-for-profit agency dedicated to enhancing the quality of life and the independence of nearly 600 frail, homebound, elderly clients on Manhattan's Upper West Side. Many clients have outlived friends and family; many are extremely isolated. As part of the Meals on Wheels program, WEME delivers nutritious meals to its clients, with special meals on holidays. Volunteers make weekly visits to homebound seniors for additional conversation and companionship and, because the holidays can be a particularly lonely time, participate in holiday and seasonal handmade greeting-card outreaches.
WEME is currently looking for volunteers who would like to become involved with its holiday outreach. You need not be an artist to become involved. Cards should be about six inches high, on paper light enough to fold (and please, no heavy glue or glitter). Seniors come from a wide variety of religious and nonreligious backgrounds, so cards should only depict general holiday or seasonal themes. (You can also get together as a group and throw an art party to make cards; it's a great family project, too). Though the focus is on greeting cards, there is also a need for volunteers to bake cookies for the holidays. Because of space constraints at its offices, WEME relies on the generosity of volunteers to work in their homes and offices, and is deeply grateful for your help. Cards can be sent or delivered to 263 West 86th St., New York, NY 10024. For more details, please call Beth Mandelbaum, coordinator, at 1-212-874-3750 ext. 16, or email Beth at bethatweme@yahoo.com.
Dorot
Dorot -- which means "generations" in Hebrew -- is a not-for-profit agency that extends a lifeline of support to homebound and homeless elders. It bolsters their autonomy, reconnects them to the community, and helps them live with dignity at home for as long as possible. Dorot's 22 programs serve over 10,000 elderly and their caregivers each year, with an intergenerational emphasis that benefits both elder and volunteer. Dorot's volunteer force is among the largest in the United States. There are many ways to volunteer individually or as a group/family; visit www.Dorotusa.org to learn more.
On Wed., Dec. 3, from 6-9 pm at Dorot (located at 171 West 85th St., near Amsterdam Avenue), volunteers are needed to make outreach calls to seniors inviting them to participate in the Dorot Hanukkah Package Delivery. Volunteers can arrive between 6 and 8 pm because orientations are ongoing. On Dec. 14, Dorot will have its annual Hanukkah Package Delivery. Volunteers are invited to come between 10 am and noon to deliver a Hanukkah package and visit with an older person on the Upper West and East Sides. To participate on the East Side, preregistration is required, as space is limited. For families interested in volunteering, Dorot has a "Family Circle" program, including crafts for children ages 3-11, and a family-friendly orientation. Please call to register in advance.
There is also a gift-wrapping program to benefit Dorot at Barnes & Noble. Volunteers are needed to help gift-wrap books for the holidays. You'll help spread the word about Dorot's services for the elderly to the community, raise funds for Dorot programs, and have fun all at the same time. You can also volunteer for the Shop and Escort Program. Escort a senior to a cultural event, a medical appointment, or shopping and running errands (a two-to-four-hour, weekly, bimonthly, or monthly commitment). Share your artistic talents with Dorot, too. Do you sing? Dance? Work with an acting troupe? Play an instrument? Dorot's seniors can be your best audience. Volunteer to perform at its naturally occurring retirement community. For more information, contact Lisa A. Horowitz, CSW, director of volunteer services, by phone at 1-212-769-2850, or by email at lhorowitz@Dorotusa.org.
A Tisket, a Tasket
One of the magical things about the theatre is how it's steeped in tradition. One of Equity's annual traditions (and one where you can both be creative and help those in need) is producing baskets for the annual Stephen J. Falat Holiday Basket Project. Since 1986, volunteers have delivered baskets (actually large, colorful shopping bags) filled with clothing, books, CDs, candy, toiletries, etc. to local hospitals and AIDS organizations to brighten the holidays for people living with AIDS. What started as a delivery to one hospital is now a project named in honor of its creator, who died of AIDS, but whose choice to get involved continues in a legacy of gifts. This year, over 2,500 baskets will be delivered to more than 20 hospitals, AIDS hospices, pediatric AIDS centers, and HIV community services in the New York metropolitan area. All merchandise in the baskets is new and donated by corporations and individuals. Donations for baskets are welcome in any quantity. Volunteers fill baskets in December at the Equity Audition Center. Members can drop by and be put to work between auditions. All donation deliveries go to: Stephen J. Falat Holiday Basket Project, c/o AEA Audition Center, AEA, 165 West 46th St., 2nd fl., New York, NY 10036.
Baby, It's Cold Outside
Under the wing of the Craft Yarn Council of America, Warm Up America! helps volunteers use their crocheting/knitting skills to help make blankets to donate to Red Cross chapters, AIDS facilities, battered women's shelters, social service organizations, and communities around the country. You don't even have to make a whole blanket; you can donate a single 7" by 9" rectangle that will be combined with others nationwide. CYCA supporters already include many performers, as knitting and crocheting on film and TV sets has become a very popular trend. Visit www.craftyarncouncil.com and click on Warm Up America! for the patterns and colors easiest for the council to work with (if you're mailing in pieces), or call 1-800-662-9999 for more information. You can also make scarves, hats, mittens, baby blankets, and baby hats for preemies to donate to groups and hospitals in your neighborhood giving clothes to those in need. You can also try gathering a group of friends, classmates, neighbors, or co-workers for an old-fashioned holiday sewing bee.
Whether you're a knitter, quilter, crochet enthusiast, costume designer, or sewing specialist, all are needed to hand make blankets for Project Linus (named for Charles Schulz's security-blanket-toting tot), which has 300 chapters throughout the country. This group is unique because it distributes only new, handmade, child-friendly blankets to individuals in need. As Linus would say, "Happiness is a warm blanket." Contact the group at www.projectlinus.org, or by calling 1-309-664-7814.
Hugs for Homeless Animals will provide a list of local animal shelters in need of donations of blankets or comforters to warm animals as they're transported to shelters. Blankets don't have to be homemade, but they are a great way to make use of your yarn or fabric scraps if you design or sew. Visit www.h4ha.org/snuggles for more information. If you love working with animals, you can also look in the Yellow Pages for your local animal shelter and volunteer. Some ideas to offer include becoming a foster "parent," providing temporary care to an animal that's waiting to be adopted or on a waiting list for shelter space, or to those animals needing extra attention like newborns, nursing mothers, or injured animals. You could also offer to walk shelter dogs or sew beds for cats and dogs to sleep on (so when they're adopted, they'll have a familiar place to take with them).
Even in the winter months, volunteering is a great way to help the Central Park Conservancy keep Central Park clean, green, and beautiful. Each year, more than 2,500 volunteering New Yorkers give themselves the gift of nature, and you're welcome to help out regularly, pitch in a few times a year, or even for just one event. Opportunities include visitor services, public outreach, docent (tour guide), special events, horticulture, maintenance, or administrative work. Even when the weather outside is frightful, your volunteering would be delightful. Contact Marcy O'Dell at 1-212-360-2752.
Shop Till You Drop
Thrift stores selling gently used clothing, bags, housewares, furniture, and much more are also a great way to make your gift dollars do double duty. Buying vintage and kitsch is very popular, especially in the NYC area, and there are so many stores with great stock to choose from that benefit worthy charities. Whether you have a black belt in shopping or you've always thought you could do well working in retail, many of these stores also need short-term volunteers to make those cash registers ring. Dress for Success needs volunteers to help clients shop (you know you always thought you'd make a great personal shopper!) in their locations, as well as donations of office-caliber clothes, especially plus sizes, for low-income women to use for winter job interviews. You can volunteer to help clients in NYC or nationwide by visiting www.dressforsuccess.org. There, you'll also find links to many other groups looking for clothing donations and volunteers.
Since monetary donations fluctuate (especially in a fluctuating economy), charitable organizations now rely more on thrift stores, gift catalogues, and cards to generate needed dollars. Businesses also want to do their own charitable part; for example, when you buy UNICEF holiday cards from Pier 1 Imports, 100% goes to UNICEF. One package of holiday cards ($10) buys four kids school supplies for a year, or gives 27 children antibiotics when they have pneumonia. Many cosmetic companies, like MAC, with its Viva Glam lipstick, now have products where your gift purchase generates a charitable donation. Housing Works, Vintage, and the Salvation Army (www.salvationarmy.org) are just a few of the many NYC thrift stores in the Yellow Pages and online.
Food Glorious Food
Citymeals-on-Wheels provides nutritious meals for homebound elderly New Yorkers on weekends, holidays, and at times of emergency, when these vulnerable seniors would otherwise go without food. One in four elderly New Yorkers is living alone, too poor to buy food, or too frail to shop and cook for themselves. Volunteers are so important in times like these to provide the extra contact and connection the elderly need to feel someone still cares. You can review the opportunities to volunteer and complete an application online at www.citymeals.org. Meals on Wheels Association of America, whose website is at www.mowaa.org, can also connect interested volunteers to over 3,200 U.S. programs.
City Harvest is devoted to providing emergency food to hungry New Yorkers. Founded in 1981, it's the largest and oldest food rescue program in the U.S. Caterers, restaurants, bakeries, markets, and even holiday party-throwers can donate food while being protected from liability. City Harvest distributes to more than 800 emergency programs in the five boroughs, providing healthy meals to about 200,000 people weekly. The group delivers thousands of pounds of food daily, with 14 trucks on the road 24 hours a day. There's a Greenmarket Team collecting from farmers and vendors, an Office Team meeting once a week to provide much-needed office support, and a Special Events Team gleaning aisles at food shows. You can sponsor a canned-food drive anywhere there's a place to display a poster and collection carton, or you can include a request for cans on your party invitation or as part of the cover your cabaret/comedy show or theatre performance. Another way to help feed the hungry is by asking the owners of your favorite restaurants and coffee bars if they'd like to become a City Harvest food donor. The group will put you to work for as little or as much time as you can give, so go to www.cityharvest.org or call 1-917-351-8700 for more information.
God's Love We Deliver's mission is to improve the health and well-being of men, women, and children living with HIV/AIDS and other serious illnesses by alleviating hunger and malnutrition. While the holidays are a time of year when its kitchen volunteer lists fill quickly, GLWD also asks that you consider buying your cards and gifts from its online store and catalog, and that you volunteer during the rest of the year, when it's much harder to get people to work (morning shifts are especially tough). GLWD's vans pick up hot meals from distribution centers and deliver them across the five boroughs daily; help is needed in that area as well as in food preparation. The holiday hotline number is 1-212-294-8169, and the volunteer services line is 1-212-294-8104. You can also visit www.godslovewedeliver.org.
It Takes a Community
NYC's Jewish Community Center in Manhattan (JCC) can provide you with a large list of projects, both nonsectarian and Jewish. Its mission has volunteerism at its heart, with many ideas to practice "acts of loving kindness," especially during the holidays. From expanding the presence of JCC volunteers in NYC public schools to tackling issues affecting our world, JCC Works (the new name for its volunteer program) offers a diverse variety of opportunities for "tikkun olam" (healing the world). JCC serves as a clearinghouse for volunteer opportunities offered by community organizations and institutions. Express your interests and you'll be matched with the right organization. For information, contact Rachel Nadelman, director of JCC Works, at 1-646-505-5742, or by email at rnadelman@jccnyc.org.
If you're in any area of entertainment, one community organization needing your support is The Actors' Fund of America. The fund was started in 1882 to provide for the welfare of all entertainment professionals. At that time, there was a great prejudice against people in the theatre. Thankfully, times have changed, but the fund continues the tradition of "taking care of our own." A hand is always welcome at the fund's Aurora Residence on West 57th Street, providing supportive housing for special low-income groups, including seniors, working theatre professionals, and people with AIDS. Office help is also needed at the fund's headquarters in Manhattan. Get involved by calling the national headquarters in NYC at 1-212-221-7300. Another way to support service organizations is to buy your gifts from the merchandise choices on their websites or in their catalogues. BroadwayCares.org/catalog is a great example of an online store with one-stop shopping for cards and gifts celebrating the theatre.
Teach Your Children Well
Each year, as we present to you both established and grassroots organizations, we try to spotlight at least one up-and-coming theatre group benefitting children, where volunteering and performance go hand in hand during the holidays and throughout the year. Whether you volunteer there or use the group as a model for your own theatre-oriented community outreach, you'll soon see why "Good Morning America" and NY-1 News, along with performers like James Earl Jones, Wynton Marsalis, and Michael Douglas, are excited about the Children's Theatre Company.
Inspired by the concept of "artists-in-service," CTC Artistic Director Mehr Mansuri observes, "CTC has redefined for me the purpose of the arts. I was indeed starving as an actor, but not physically starving, rather, spiritually starving." CTC choreographer and NYC Rockette Karida Griffith adds, "To work, whether paid or as a volunteer, with a spirit of service to community, gives purpose and meaning to life."
Rooted in the belief that early experiences with the arts have a profound effect on children's development, the CTC nurtures children's participation in their life through the performing and visual arts, combined with community-service-oriented volunteering. Utilizing a model called "Assets-Based Community Development" (ABCD), CTC sees artists and families, not agencies or institutions, as the primary builders of community. The group also views its audience as playing a vital role in helping to raise these young performers, because ticket donations help to fund classes and performances that raise children's awareness of how they can give back to the community.
In four years of service and performance, this celebration of volunteerism has performed with statesmen, speakers, and storytellers as diverse and venerable as Nelson Mandela, Harry Belafonte, and the cast of "Sesame Street." You may recently have seen CTC performers (ages 4-17) in NYC participating in their Cans Instead of Candy food drive during Halloween (benefitting City Harvest). CTC's holiday calendar is inspired by the United Nations' theme calendar (it features Human Rights Day, World Habitat Day, Race Unity Day, Women's Rights Day, etc.). The children participate in a multidisciplinary program of drama, dance, music, and art, culminating in a performance showcase and full art gallery exhibition. The oldest (ages 15 to 17) also participate in the CTC teen internship program, offering two hours of community service and helping in stage management, production design, and production assistant duties, all under the supervision of professional artists.
Now in its fourth year, the company's Winter Showcase, opening Jan. 17, will include a live orchestra and highlight the best of CTC. "Three by Dr. Seuss," a collection of one-act musicals based on stories by the famed author, offers "The Lorax" and "Yertle the Turtle," both with original music by Lory Lazarus (composer for PBS' "Barney"), and "The Sneetches." Theatre space for this production and for CTC is donated by the Baha'i Unity Center in NYC.
The Children's Theatre Company welcomes inquiries from artists, children, families, and audiences who wish to be of service within this framework of artistic collaboration, expression, and service. Volunteer positions are available in every area of production and administration. For more information about the Children's Theatre Company, please visit its website at www.childrenstheatrecompany.org, or call its administrative office at 1-212-633-6629.
If your favorite organization isn't on our list, its volunteer shifts might have already been full, or it might not have gotten information back to us by press time. Remember, groups are hard at work in the field, so it may take them a while to return your calls and emails; you may need to try again. If you don't see programs here that are a perfect fit for you, many volunteer coordinators are open to fashioning jobs to fit a volunteer's interests. As always, Back Stage wishes you all the warmth of this holiday season and a great New Year!