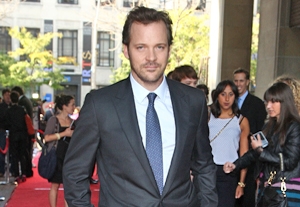 Peter Sarsgaard has played his fair share of, shall we say, ethically dubious characters. From his brutal killer in "Boys Don't Cry" to more vaguely menacing roles in "Flightplan" and "The Skeleton Key," the actor excels at making audiences question what's under the polite surface. In fairness, Sarsgaard has also played his share of good guys, earning laurels for his portrayal of The New Republic editor Charles Lane in "Shattered Glass." But the actor admits he hasn't made any films that his 3-year-old daughter Ramona (with wife Maggie Gyllenhaal) can watch anytime soon. "I don't have a single movie for her," he says with a laugh. "At least Maggie has 'Monster House' and now 'Nanny McPhee 2.' She can't watch anything of mine."
The one exception is Sarsgaard's latest film, "An Education," which he says Ramona will be able to watch when she's a teenager. Written by Nick Hornby and Lynn Barber, based on a memoir by Barber, the film is a bittersweet coming-of-age story starring Carey Mulligan as Jenny, a girl growing up in 1960s England. Sarsgaard plays David, the seductive older man who charms Jenny and her parents, introducing her to the world of high fashion, Paris, and sexuality. As the film progresses, Jenny learns that David is not all he appears to be. It would be a challenging role for any actor, but Sarsgaard manages to make David a sympathetic, almost tragic figure. He spoke frankly to Back Stage about the pitfalls of the character—which means, be forewarned: Spoilers lie ahead.
On religion:
Sarsgaard was the first actor cast in the film, without an audition—which is strange, considering that David is English and Jewish and Sarsgaard is neither. "Playing English, that didn't seem like a big deal to me," admits the actor. "But it's interesting they cast me instead of a Jewish actor. I'm married to a Jewish woman, and my child is de facto Jewish. I'm around Jewish people; I observe Jewish holidays. I see the ways very clearly in which I'm not Jewish." Ultimately, Sarsgaard decided it was something he couldn't concentrate on. "It's not something that can be acted," he says. "And if you do go to act it, you'll be slightly offensive." Also, he acknowledges that David could be lying about his background: "I totally accept that there's another element in casting me. I'm playing someone who's fabricating, and I am playing at being English and Jewish. You always feel like a little bit of a fraud, which is a good thing for that character. They could have cast an English, Jewish actor, but perhaps it would have been too comfortable. Something about me is very uncomfortable."
On the accent:
Sarsgaard worked with several coaches (primarily Neil Swain in London) to perfect the British accent—but again, he points out that David might be lying about where he's from. "I do feel like there's a possibility his accent is not his accent," he reveals. "Lynn Barber said there was something strange about the way he spoke; his accent would change or was not placeable at times. I get the feeling he may have been putting on an accent with her." Early on, Sarsgaard discussed with director Lone Scherfig allowing his accent to slip occasionally, but decided against it: "That's a limitation of being an American in that role. People would just think I was doing a bad accent."
The most difficult scene:
The pair does not become sexually active until after Jenny's 17th birthday, which marked the age of consent at the time. On their first night together, David awkwardly suggests using a banana to make love. "When I first saw that on the page, I thought, 'That scene is getting cut.' There was no way—it would just seem like I would have to make fun of myself as a character in order to play the scene," Sarsgaard admits. "Then I thought about it, and you're laying there with this 17-year-old girl, and it's the moment. It's a lot of anxiety for the guy. I think he might realize that's not what he wants from her. The first time we did it, I picked up the banana and made a joke out of it. Then we realized it would be better if she did, because it was her way of accepting him and a nice ending to the scene. It's one of the most honest interactions we have."
The ultimate betrayal:
Jenny soon discovers that David has his share of secrets. (Spoiler warning.) He steals to fund his extravagant lifestyle and, in a heart-wrenching scene, she comes upon his wife and small child. The wife, played by Sally Hawkins, informs Jenny that there have been many other women before her, and that at least one even got pregnant. Sarsgaard has an interesting take on the scene. "I actually think that Sally Hawkins in that scene might be lying," he reveals. "Think about it: A young girl comes up to your door, and you know she's the girl. How? Because I've told her. I really don't think there's a procession of women walking up to her. So the first thing she says to her is basically, 'There's been so many like you, sweetheart. You're not pregnant, are you? Because we've had that happen. He's gone deep with a lot of people. See ya.' " Sarsgaard, who didn't share his theory with Hawkins, admits that many people disagree with him: "They figure I think that way because I think as David. But I guess, to me, the most interesting read on that is she's showing her bitterness. I've thought that from the moment I read it. And even if it is true, it's venomous. So why say it? The bigger truth of it is: I can't stab you in the forehead, because I'll go to jail. So instead, I'm going to decimate you."
On David's motives:
One factor that makes "An Education" so unique is that David has genuine feelings for Jenny; he's not just pulling a scam. "There are a lot of people that did not get to experience their childhood," Sarsgaard reasons. "I think with David, it's less about wanting to fuck a 16-year-old than wanting to be one. He's moment by moment, so living in fantasy. There are men who go out and casually destroy people's lives, and they're cold-hearted about it, and it's more about sex and domination. That would have been harder for me to play. But I identified with him. He's tragic because he's never going to be able to live his life if he doesn't pay attention to what his life actually is and not pretend."  
Outtakes
-Other films include "Garden State," "Jarhead," and "The Dying Gaul"
-Reteamed with "An Education" star Carey Mulligan last year in his Broadway debut, as Trigorin in "The Seagull"
-In 1996, performed in a staged reading of Tennessee Williams' "Spring Storm," an early work that had never been produced before, and is thus listed in the published play as originating the role: "How many actors my age can say they originated a role in a Tennessee Williams play?"