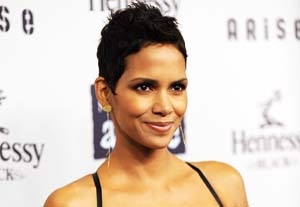 Most actors working in Hollywood would be thrilled to deliver a single solid performance in a film. The versatile Halle Berry delivers three in her most recent effort, "Frankie and Alice." In the film, directed by Geoffrey Sax and based on a true story, Berry takes on the character of Frankie Murdoch, an African-American exotic dancer who suffers from dissociative identity disorder, sharing her body and mind with two distinct alter egos. While one of Frankie's multiple personalities is compassionate toward and even protective of Frankie, the other—the racist and maniacal Alice—has plans to assume control of Frankie and become the dominant personality. Berry's performance is a balancing act, creating three distinct characters sharing a single body and mind. Surrounded by a cast of dramatic heavyweights—including Stellan Skarsgård as Frankie's psychiatrist Dr. Oz and Phylicia Rashad as Frankie's mother—Berry shines, demonstrating a consistency that is astonishing considering her character's complete lack thereof.
The film was a labor of love for Berry, who has been attached to the project since its inception and worked for 12 years to get it made. Upon hearing about the character, Berry says, "I was fascinated; I was ignited. I thought, 'That would be a great acting challenge.' The thing that was different about this acting job was that I've never had to perform three characters at once. That was the scariest part of it for me, and I think my greatest challenge was to try to seamlessly slip in and out of them at a moment's notice. That terrified me." As for playing a stripper, she jokingly adds, "I knew I could strip, that wasn't hard. But the other part, that was quite challenging."
In addition to the role's inherent challenge, Berry says she strove to make the film because it was the kind of deep and complex story that attracts her—an attraction that she attributes to her mother, who, coincidently, is a retired psychiatric nurse. "I do think that because I grew up with a mother who was very involved in the world of psychiatry, that's why I have the affinity to play characters that are deep and somewhat troubled, complicated, and a bit tortured," Berry notes. "I think that I really have a lot of sympathy and empathy for those characters based on some of the stories my mother would tell me and her commitment to really helping people like that."
Along those lines, Berry saw "Frankie and Alice" as an opportunity to illuminate the often stigmatized and misrepresented issue of mental health, a concern that she is passionate about. She says, "For most of my life, I've seen people who are mentally challenged and emotionally handicapped get ridiculed. I thought that this was a dark area that needed some light."   
Outtakes:
-Won an Academy Award for best actress for "Monster's Ball" in 2002
-Other films include "Die Another Day," "Jungle Fever," and the "X-Men" movies
-Was an executive producer on the films "Introducing Dorothy Dandridge," in which she starred, and "Lackawanna Blues"